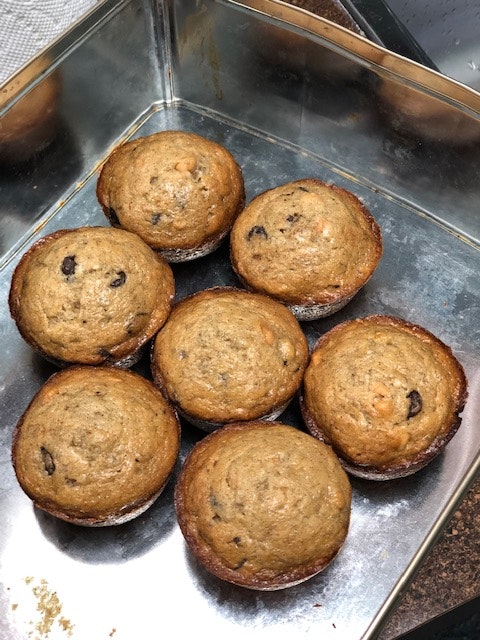 On Monday, March 11th, 3DPT hosted our 3rd annual Muffin Madness contest!  We invited employees, patients and friends to stop by and submit 6 of their best muffin creations to be judged on taste, appearance, texture and creativity.  Judges tasted every recipe and muffins were also made available for purchase for a charitable donation.
After many taste tests (yum!) and deliberation, the winner was determined to be…
3DPT's own Jeff Sallade!! Jeff's banana, chocolate & peanut butter chip muffin topped with a banana cream cheese icing glaze was the crowd favorite this year.  The presentation was spectacular and the taste was even better.  With all the donations and funds raised by muffin sales, we were able to raise $191, which was matched by 3DPT, for a total of a $382 donation to Jeff's charities of choice:  The Fellowship Alliance Chapel Benevolent fund and the Perinatal bereavement program through the Virtua Foundation!
Below is the recipe for the winning Muffin.  Our friend and registered dietician, Lynne Nugent from Know it All Nutrition (www.knowitallnutrition.com) suggested a few simple healthy substitutions to cut down on calories and fat (healthy substitutions are in red). Enjoy!
Banana, Chocolate and PB Chip Muffin
with Cream Cheese Icing
Makes 24 muffins; serving size 1 muffin
Calories:  472  (396 without icing)
Fat:  20 grams (17 grams without icing)
Ingredients:
Healthy substitutions are shown in RED
1 Stick of butter 

(1/2 stick, or 4 tbsp of butter)

1 ¼ cups sugar 

(3/4 cups of sugar)

2 large eggs 

(4 egg whites)

4-5 extremely ripe bananas, mashed so there are no big chunks (the riper the better!) 

(3 bananas)

1 tablespoon of vanilla 

(1 tsp vanilla)

½ cup of buttermilk (you have to use buttermilk!)
2 ½ cups of flour 

(1 ¼ cup of all purpose white flour and 1 ¼ cup of wheat flour)

1 tsp each of salt and baking soda

¾ cup applesauce

1 ½ tsp cinnamon
3 cups of chocolate chips 

(1 cup of choc chips)

1 ½ cups of peanut butter chips 

(1/2 cup of PB chips)
Using healthy substitutions:
Calories:  222
Fat:  6 grams
For the icing:
(Instead of adding icing, sprinkle powdered sugar on top of muffins!)
8 oz cream cheese
1/8 cup of sour cream
2 tbsp butter
1 tsp vanilla
1 mashed ripe banana
2 cups powdered sugar
Pinch each of nutmeg and cinnamon
Directions:
Mix butter and sugar in a Kitchen Aid Mixer.  Add eggs one at a time until blended.  Add bananas, vanilla and buttermilk and blend.
Combine flour, salt, baking soda and cinnamon, then add 1 cup at a time until well blended.  Add chocolate and peanut butter chips and mix gently.   Bake at 365 degrees for 25-30 minutes, depending on your oven.  Insert a toothpick and when it comes out clean, they are done.
For the icing:
Combine cream cheese, sour cream and butter until smooth.  Add remaining ingredients and mix vigorously until smooth.  Spread onto cooled muffins.
Categorized as: Articles