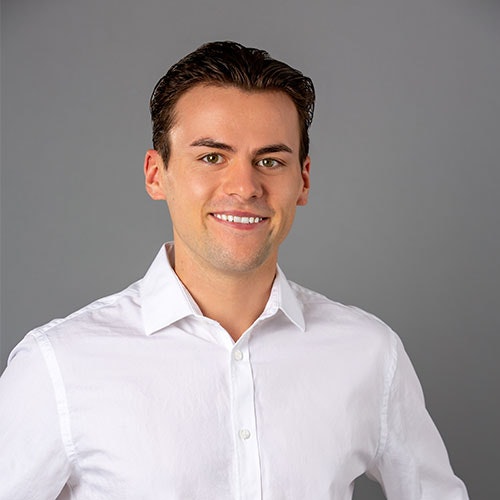 Education:
Doctorate in Physical Therapy, University of the Sciences
Bachelor's in Health Sciences, University of the Sciences
Devon Preparatory School, Devon, PA
Continuing Education:
Personalized Blood Flow Restriction Rehabilitation
Ageless Grace Trainer
Treatment Areas of Interest/Specialties
The different parts of our bodies work together and every system provides their humble contribution to make us whole. Above all, the brain and the body truly form a mind-body connection that really excites me. I find the neuromusculoskeletal (brain-muscle-bones) combination is one that, in my opinion, is the most important for successful physical therapy. One of my biggest areas of interest is incorporating these systems together to maximize a person's ability to heal themselves, with the mind and the body. This special approach holds true regardless of the underlying condition; ranging from neurological conditions like a stroke or spinal cord injury to sports and orthopedic conditions like sprained ankles and/or knee replacements.
Why I became a physical therapist
Physical therapy impacted my life, directly and indirectly, in so many positive ways that my dream of becoming a doctor of physical therapy is now a reality. My desire to be the best physical therapist I can be is fueled by the desire to help people become the center of their own lives. Many people seek physical therapy because of a serious medical condition or an injury that is making them a spectator in their life, but as a physical therapist I seek to help them become the star again. Quality time spent helping patients either return to normal or find a new normal, and to get the most out of their life, is vitally important to me. The indescribable feeling I get when someone tells me "they are able to live pain-free now because of physical therapy…", or "they can walk again", or "they can do things they couldn't do before" – that is why I became a physical therapist.
What do you feel are the most important qualities in a physical therapist?
I was taught that "good is the enemy of great". Every licensed physical therapist has the same base-line information that is considered "good enough". In order to be "great", however, there are intangible qualities that must be incorporated. Five characteristics I think make the great ones are: empathetic, genuine, relatable, indefatigable, and modest.
Personal interests/hobbies
My interests include fitness, photography, live music, and exploring the outdoors – especially Maine. I love to play (and yes, watch) chess to keep my mind sharp. I am passionate about the world of cooking: I love to eat and cook too.