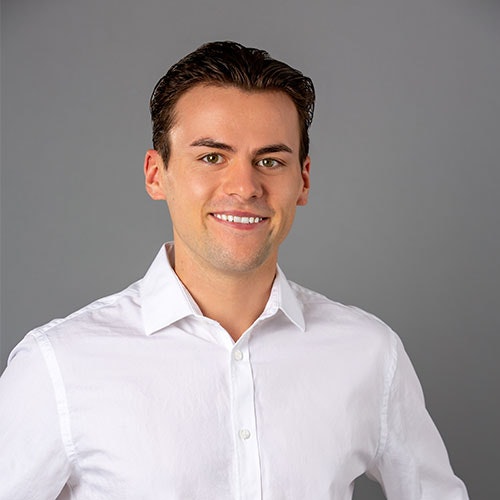 Gabriel Pallante
PT, DPT, IAMTC, IADN Cert. Specialist
Education
Doctorate in Physical Therapy, University of the Sciences
Bachelor's in Health Sciences, University of the Sciences
Devon Preparatory School, Devon, PA
Certifications
Dry Needling Certified Specialist
Manual Therapy Certified
Complete Vestibular Rehab Certified
Continuing Education
Blood Flow Restriction Therapy
Ageless Grace Trainer
Treatment Areas of Interest/Specialties
My primary interest is in the axial skeleton – meaning everything in the center of the body. I enjoy working with the head, jaw, spine, and pelvis. I work well with people from all walks of life and of all ages. Most of my experience in orthopedics, and I am interested in neurological conditions or sports specific injuries.
Why I became a physical therapist
Physical therapy has made an amazing impact on my life personally. I experienced many injuries growing up from a variety of sports, and each time the PT had me back to the way I was before (if not better). My mother has experienced many falls over the years, one resulting in surgery. When her outcome was looking bleak, her physical therapist was able to help her restore function and recover better than expected. I want to help heal people through movement, exercise, and education the way that my family and I have been helped.
What I feel the most important qualities in a physical therapist are
Some of the most important qualities of a great physical therapist that come to mind are the 3 C's of PT, confidence, communication, and creativity. Many patients that come to physical therapy are looking for help. Confidence helps people become confident in themselves and their potential to heal. Communication is key for a therapist to be able to build a rapport with the patients and educate them without the usual barrier of medical jargon. Creativity, because not all people are the same, so each condition may present differently and patients may respond differently. It is important to take a creative approach to keep treatments interesting while maximizing outcomes.
Personal interests/hobbies
My interests include fitness, photography, live music, and exploring the outdoors – especially Maine. I love to play (and yes, watch) chess to keep my mind sharp. I am passionate about the world of cooking: I love to eat and cook too.