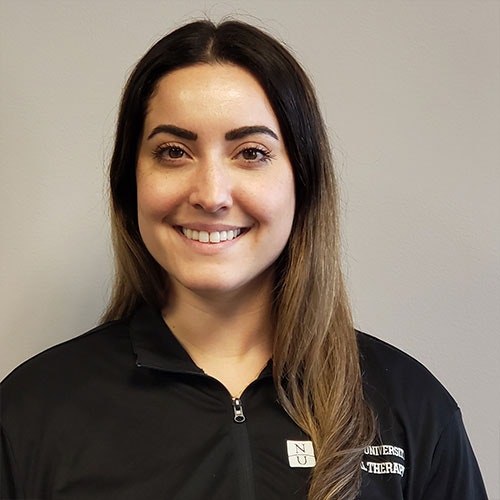 Education
Doctorate in Physical Therapy, Neumann University
Bachelor of Arts, Arcadia University
Oakcrest High School
Treatment areas of interest/specialties
Post-operative

Total joint replacements: hips, knees, shoulders
Rotator cuff repairs
ORIFs after trauma

Geriatrics

Strength & endurance
Balance training & fall prevention

Sports rehabilitation: lower extremity
Why did you become a physical therapist
I played college soccer and unfortunately tore my ACL in back-to-back seasons (yes, the same one). This led me to many hours of rehabbing in physical therapy and spending time with my PTs. I sustained these injuries during my second and third years in college, but because of my PTs, I had the strength and courage to return to soccer for my senior year. This experience sparked my interest and passion to pursue PT as a profession and help others overcome difficult and sometimes, life-changing, injuries.
What do you feel are the most important qualities in a physical therapist
In my opinion, the ability to build rapport with people (in general) is the most important quality of being a great PT! This allows a PT to develop a strong relationship with their patients and make them feel more comfortable throughout the rehab process, which isn't always linear. Compassion, patience, and providing genuine encouragement are also super important qualities for a PT to have, in any rehab setting, in order to deliver the best quality of care and provide the support necessary for patients to achieve their goals.
Personal interests/hobbies
Listening to podcasts and audiobooks, reading, traveling, skiing, live music, trying new restaurants, enjoying time with friends/family, walking around my town (Pitman!), and spending time at home with my husband, Jack!