3DPT Holiday Food and Clothing Drive
November 23, 2022

-

December 14, 2022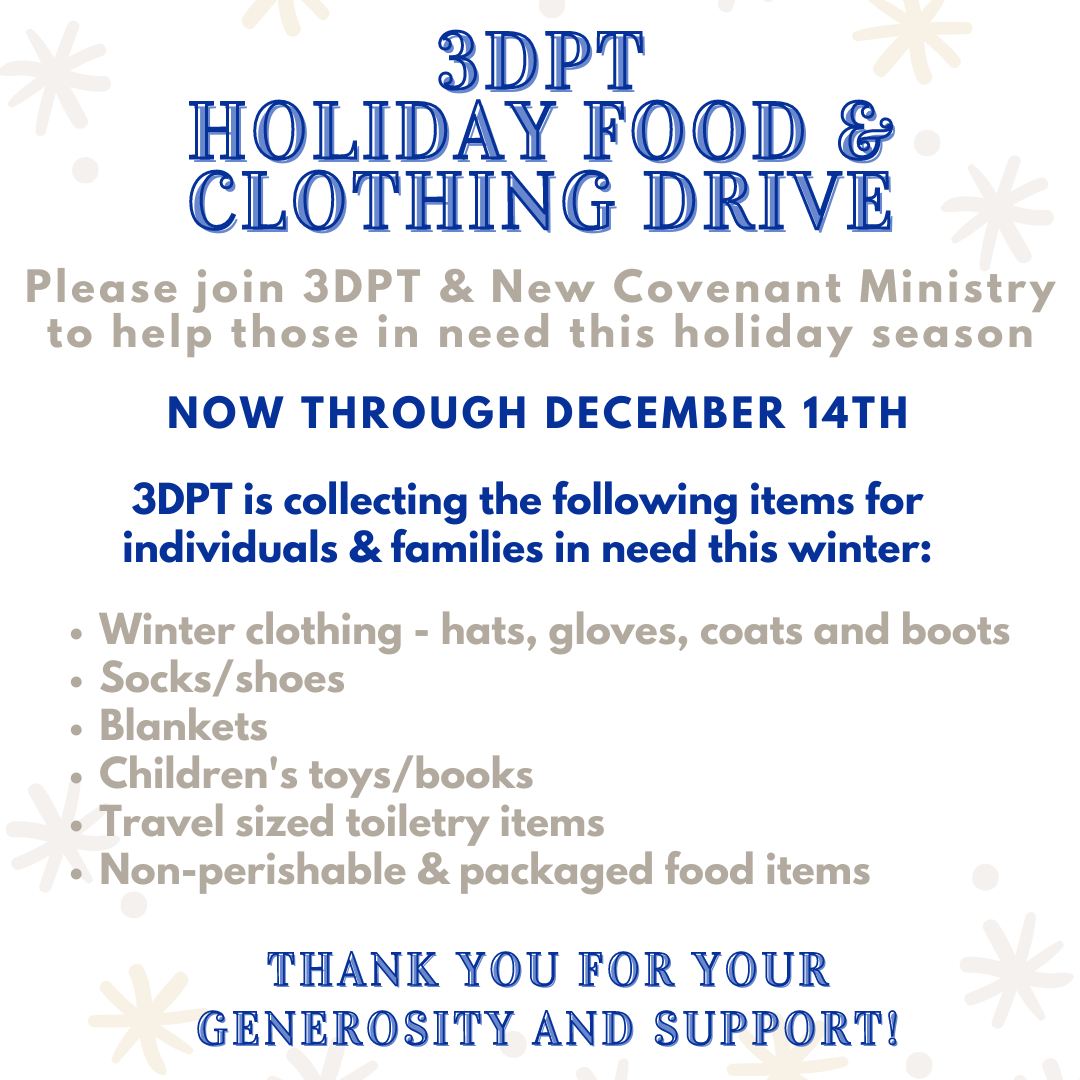 Looking for a way to give back this holiday season?
Help us show some love & support to those in need this holiday season by donating to 3DPT's 𝙃𝙤𝙡𝙞𝙙𝙖𝙮 𝙁𝙤𝙤𝙙 & 𝘾𝙡𝙤𝙩𝙝𝙞𝙣𝙜 𝘿𝙧𝙞𝙫𝙚 and/or our 𝙏𝙤𝙮𝙨 𝙛𝙤𝙧 𝙏𝙤𝙩𝙨 drive!
In addition to collecting new, unwrapped toys for 𝘛𝘰𝘺𝘴 𝘧𝘰𝘳 𝘛𝘰𝘵𝘴, every 3DPT clinic will also be collecting non-perishable foods, clothing items and more in partnership with New Covenant Ministry. We will be assembling care
packages and organizing the donated items to be distributed to homeless in Camden and Philadelphia this winter.
Every 3DPT clinic has a 𝘛𝘰𝘺𝘴 𝘧𝘰𝘳 𝘛𝘰𝘵𝘴 and food/clothing collection box! Please consider donating the following items until 𝐃𝐞𝐜𝐞𝐦𝐛𝐞𝐫 𝟏𝟒𝐭𝐡:⠀
– Winter clothing (hats, scarves, gloves, coats, boots)⠀
– Socks/Shoes⠀
– Blankets⠀
– Children's toys/books (new & unwrapped for 𝘛𝘰𝘺𝘴 𝘧𝘰𝘳 𝘛𝘰𝘵𝘴)
– Travel sized toiletries ⠀
– non-perishable and packaged food items⠀
Thank you for your support and generosity