NOMINATE 3DPT for Best of Burlington County!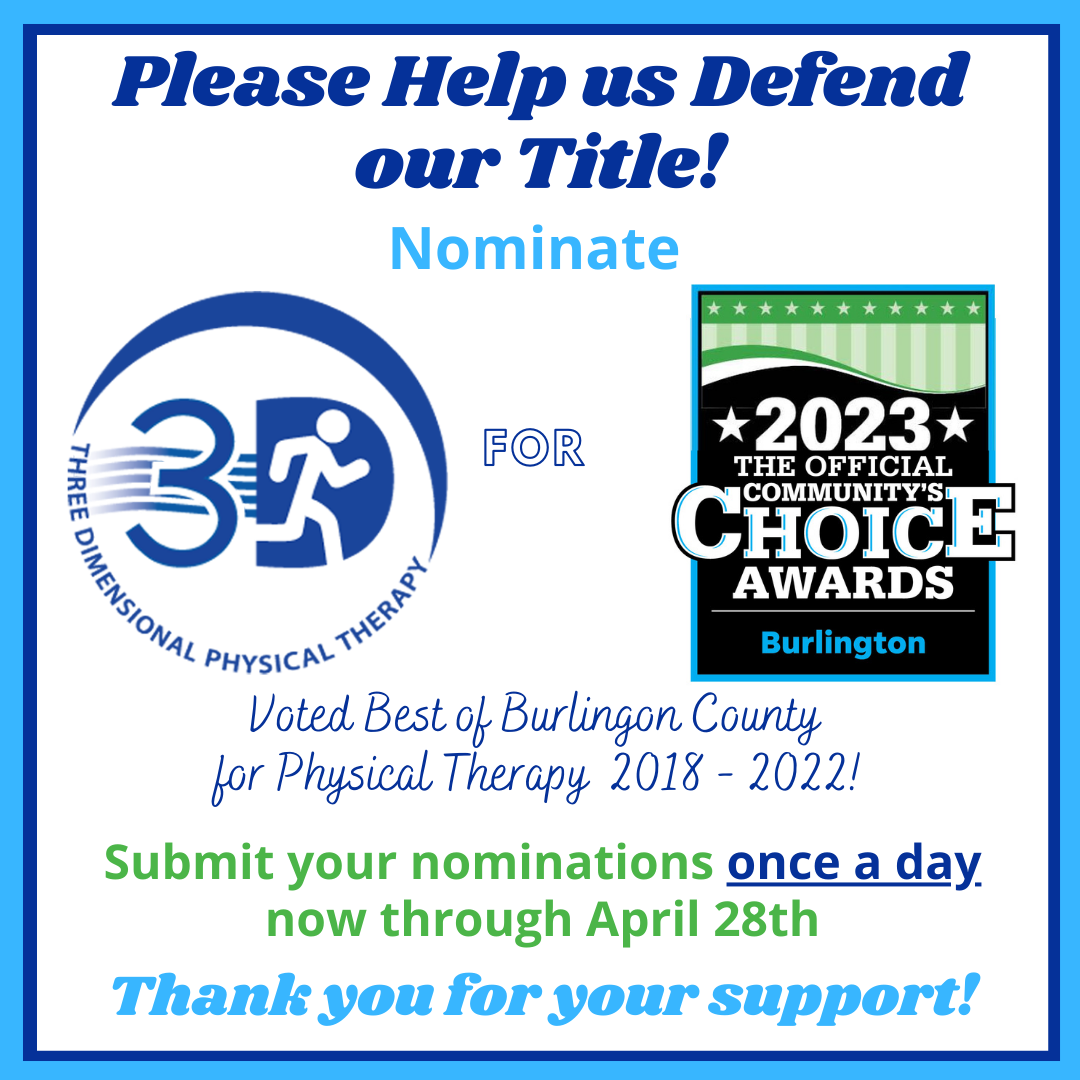 The Burlington County Times is running their annual 𝘽𝙚𝙨𝙩 𝙤𝙛 𝘽𝙪𝙧𝙡𝙞𝙣𝙜𝙩𝙤𝙣 𝘾𝙤𝙪𝙣𝙩𝙮 contest where readers can nominate and vote for their favorite local businesses
3DPT has won for 𝘉𝘦𝘴𝘵 𝘗𝘩𝘺𝘴𝘪𝘤𝘢𝘭 𝘛𝘩𝘦𝘳𝘢𝘱𝘺 for the past 5 years and we're hoping to defend our title and win again in 2023 with your help!
First we need your nomination…
𝐇𝐞𝐫𝐞'𝐬 𝐡𝐨𝐰 𝐭𝐨 𝐧𝐨𝐦𝐢𝐧𝐚𝐭𝐞 𝐲𝐨𝐮𝐫 𝐟𝐚𝐯𝐨𝐫𝐢𝐭𝐞 𝐛𝐮𝐬𝐢𝐧𝐞𝐬𝐬𝐞𝐬:
1. Click HERE to visit the BCT website 
2. Click on the 𝘉𝘦𝘢𝘶𝘵𝘺 & 𝘏𝘦𝘢𝘭𝘵𝘩 category
3. Scroll to 𝘗𝘩𝘺𝘴𝘪𝘤𝘢𝘭 𝘛𝘩𝘦𝘳𝘢𝘱𝘺 𝘤𝘭𝘪𝘯𝘪𝘤 and 𝘙𝘦𝘩𝘢𝘣𝘪𝘭𝘪𝘵𝘢𝘵𝘪𝘰𝘯 𝘧𝘢𝘤𝘪𝘭𝘪𝘵𝘺; Type in 3 𝑫𝒊𝒎𝒆𝒏𝒔𝒊𝒐𝒏𝒂𝒍 𝑷𝒉𝒚𝒔𝒊𝒄𝒂𝒍 𝑻𝒉𝒆𝒓𝒂𝒑𝒚 for both!
4. We'd also love a nomination in the Top Employers categories, 𝘌𝘮𝘱𝘭𝘰𝘺𝘦𝘳: 101-500 𝘦𝘮𝘱𝘭𝘰𝘺𝘦𝘦𝘴, 𝘖𝘷𝘦𝘳𝘢𝘭𝘭 𝘭𝘦𝘢𝘥𝘦𝘳𝘴𝘩𝘪𝘱, and 𝘗𝘭𝘢𝘤𝘦 𝘵𝘰 𝘞𝘰𝘳𝘬!
Don't forget to nominate your other local favorite businesses too!
(BONUS: if you nominate 25 companies, you'll be in the running for $250)
Submit your nominations 𝗼𝗻𝗰𝗲 𝗮 𝗱𝗮𝘆 now through 4/28. The top nominated businesses will move to the voting round in June
Thank you so much for YOUR SUPPORT!
Our patients and friends make us want to be 𝘵𝘩𝘦 𝘣𝘦𝘴𝘵 everyday 😍