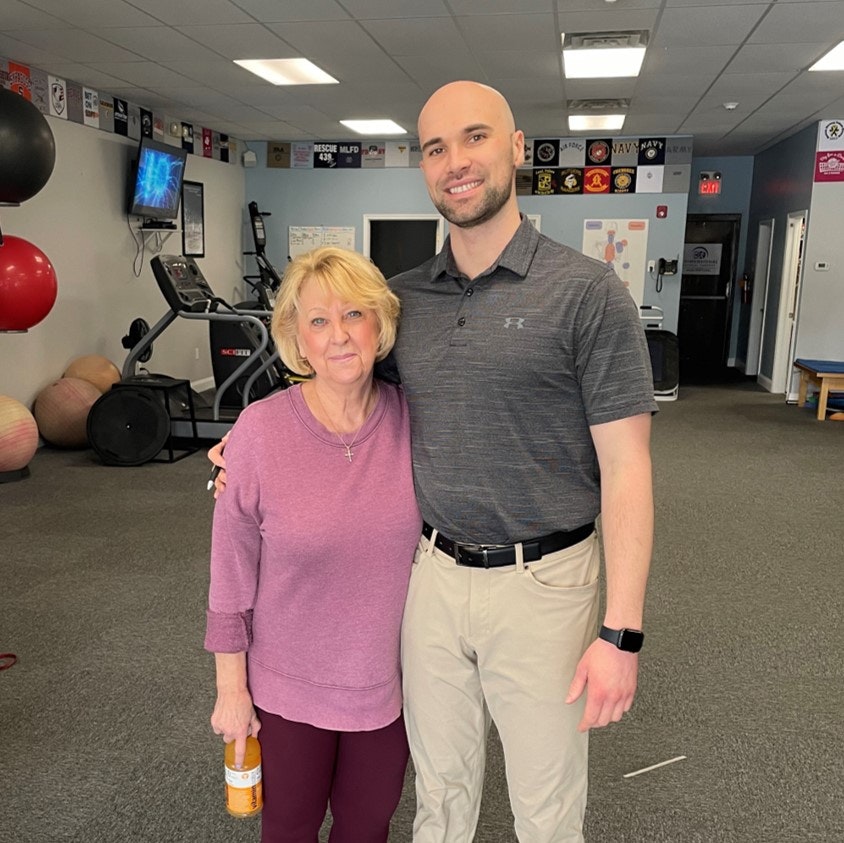 Barbara Benchoff is a patient at 3DPT Medford. About a year ago she began to develop difficulty with knee pain that limited her ability to bend down, walk up inclines, and ascend/descend stairs. Although she did end up having surgery to replace her knee joint, she learned about and then committed herself to many weeks of "prehabilitation" prior to her procedure to get as strong and mobile as possible. Although it was painful and difficult at many times, she always showed up to her sessions and brought a positive attitude. She set great examples for patients around her and was constantly encouraging and complimenting the progress of others. Her hard work translated to a very successful and rapid outcome after her procedure and she is currently being discharged after meeting all of her functional goals. For someone that was always celebrating others, Barb greatly deserves this recognition as 3DPT March Patient of the Month!
Here is what Barbara had to say about her injury and her road to recovery with 3DPT:
Tell us what brought you to physical therapy and how this affected your life.
Barbara: First, I would like to thank 3DPT for selecting me for the March Patient of the Month. I initially went to 3 Dimensional P/T after hurting my left knee and was told that eventually I would need a knee replacement. After hearing I might require knee replacement my physician suggested I try a series of 3 shots to both my knee, as well as, some P/T hoping that between the shots along with Physical Therapy it might help in my recovery. Unfortunately, the shots were not working as planned, however, the Physical Therapy absolutely helped to strengthen my resolve. After talking with my physician and physical therapist Sean, we all agreed it would be helpful to continue PT prior to surgery. Continuing to strengthen my thighs and lower legs pre-surgery could only help me heal faster.
Tell us a little about your recovery process. What has been the hardest part of your therapy?
Barbara: I'm happy to say, post surgery I was able to bend and straighten my knee at a faster rate each session. By the 4th and 5th week I was able to bend my knee at 140 degrees, and my therapist was as surprised as I was with my progress. I owe my recovery to Sean King, my physical therapist who continued to encourage me when I thought I should be doing better or when I got tired of the hurt. He was able to change my ugly mood and keep me going. Gabe is another physical therapist I've worked with while Sean was out. Gabe helped to support my therapy and had me doing PT a little different from Sean. I told Gabe about my back issue and asked if it was possible if my left leg was shorter than my right and could that throw my back out. He told me it could, he did what a physical therapist does to determine if this could possibly be my problem. After measuring my legs he found this to be the problem. Gabe was able to correct this problem and within a couple of days the pain had gone away!
What advice would you give to other people who suffered similar injuries or are going through the same situation?
Barbara: Don't give up. Physical therapy can be hard, but with continued effort you will recover from your injury.
Why would you recommend 3 Dimensional Physical Therapy?
Barbara: I'd like to say this about 3 Dimensional P/T and their staffing. Their Administrative Staff to the Physical Therapist and the young men and women who assist the Therapist these people are all incredible. Everyone of these individuals cheer you on and encourage you when you feel exhausted. They are a true family and they make their patients feel as if they are also a part of this very wonderful family. Lastly, If I ever needed PT again, 3DPT is where I'd want to go.
What are you most looking forward to that you may not have been able to do with your injury?Barbara: I'm up and walking again and enjoying life. I will miss my friends at 3DPT, but I do intend to stop by every once in a while to visit.