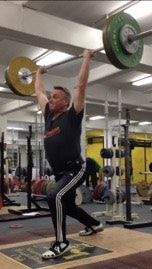 3DPT congratulates Bill Wallner on being nominated Patient of the Month! Bill is a competitive olympic weightlifter and has had ongoing back pain. Through therapy he is working on being able to maintain this high level of competition and activity. Bill sets a positive example of staying fit and active and not letting pain or injury limit his participation.
3DPT: Why did you seek out physical therapy for your low back pain?
Bill: After several months, if not years, of ongoing back issues I decided to take action to do to improve my back issues and improve my overall quality of life, which had been negatively impact due to my back issues. I also wanted to improve my performance in my weightlifting competitions.
3DPT: What is one of the biggest training mistakes you see people make in weight lifting?
Bill: Common mistakes in weightlifting typically consist of lifting too much weight, poor technique, setting unrealistic goals and lack of a consistent pre and post training stretching routine.
3DPT: What do you think a key to success is in athletics?
Bill: Depending on your level of engagement I believe that the keys to success in athletics in general is to have a knowledgeable coach/trainer, an appropriate training program, establishing realistic goals, tracking your results while having the drive and passion to succeed.
3DPT: How has your experience at 3DPT been different from other healthcare services?
Bill: I like that 3DPT has one on one patient/therapist interaction, the therapist are knowledgeable and provide exercises that can be performed at home.