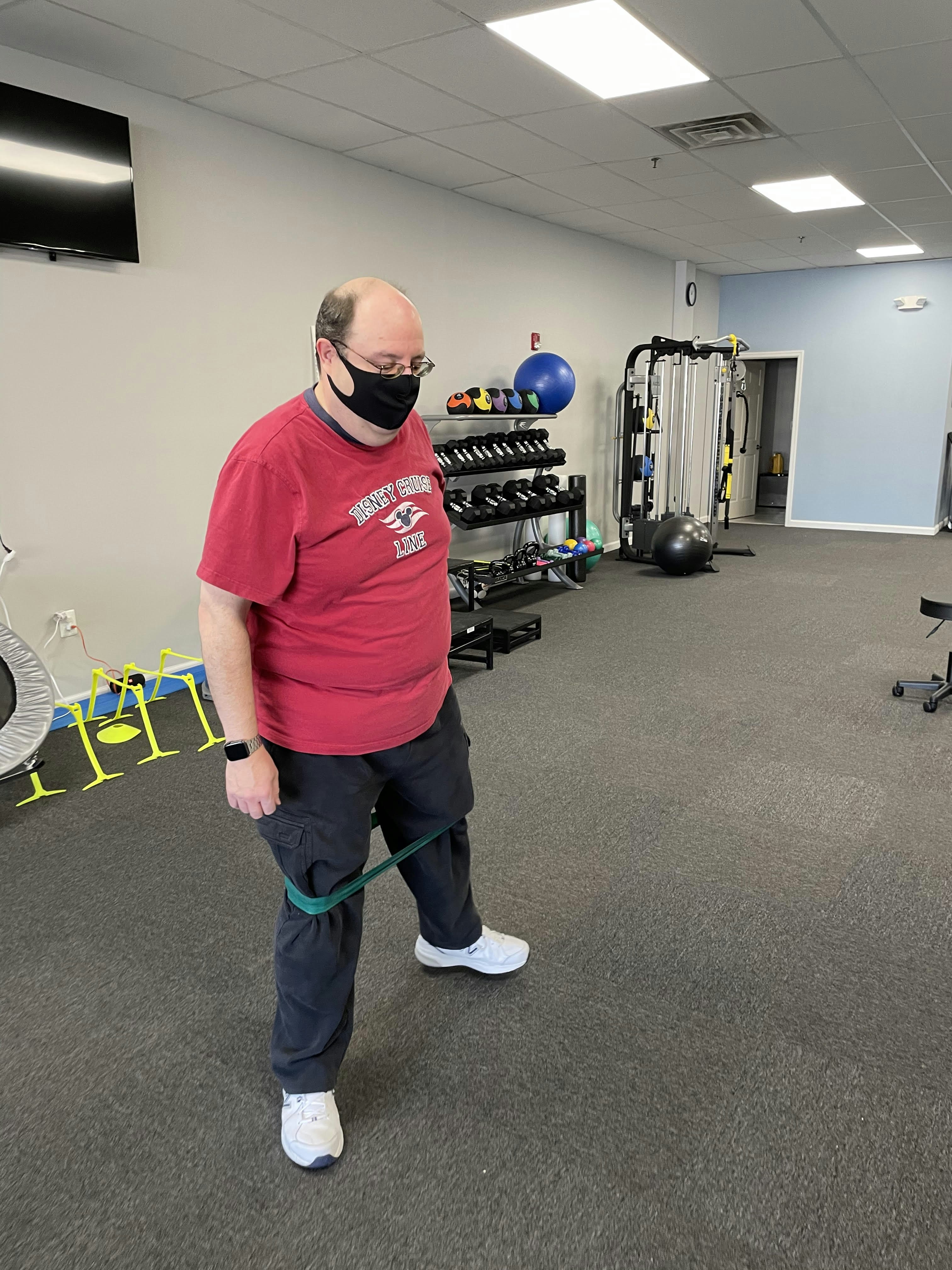 Bob Snyder has lived with back pain for many years. He tried physical therapy and spinal injections a few times to help with the pain but in November of 2021, Bob ended up having to have emergency back surgery to prevent permanent damage to his spinal nerves. After surgery Bob was ready to commit to getting back his mobility, flexibility and quality of life with a physical therapy program.
Thankfully, around this time in November is also when 3DPT Deptford opened close to Bob's home! For the past 2 months, Bob has been working with Dr. Zach Friedman 2-3 per week and is on his way to living pain-free!
Here's what Bob shared about his experience at 3DPT Deptford after just his first week of PT:
"I'm so happy that Zach chose Deptford for his practice. His personal attention, attitude, expertise and compassion have made my first week of physical therapy thoroughly enjoyable. Although I've done physical therapy in the past, this is the first time I'm truly excited about the process and eagerly anticipate the improvements I will be able to under his guidance. I wholeheartedly recommend this practice to anyone who needs physical therapy."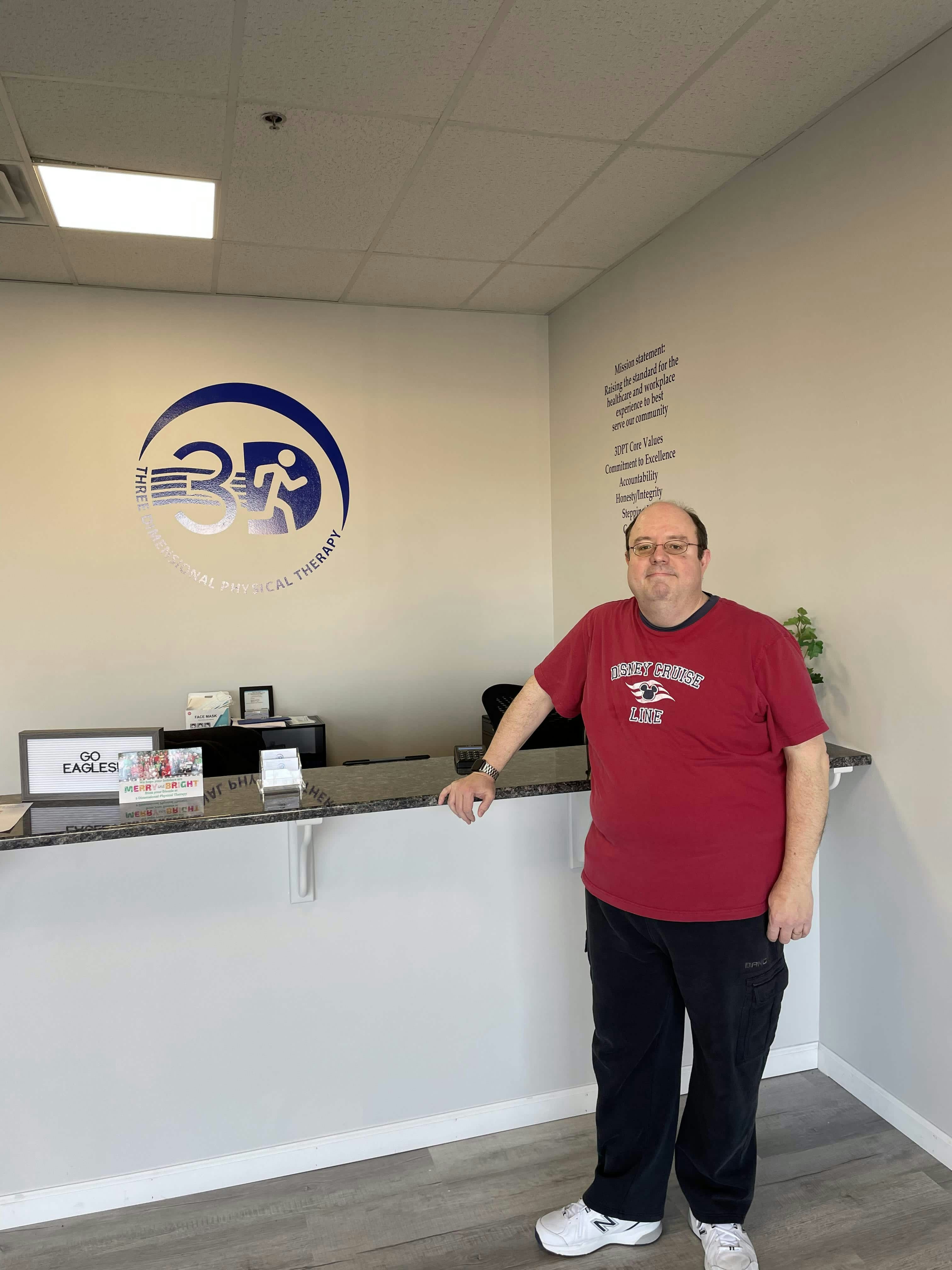 We got a chance to ask Bob more about his injury and journey so far, here's what he had to say:
3DPT: What brought you to physical therapy and how has it affected your life?
Bob: After managing a decades-old chronic back problem with epidural spinal injections for a few years, a recent flare-up resulted in Cauda Equina Syndrome. Emergency back surgery to remove a disc was required to avoid potential paralysis and loss of other essential functions. The surgery was able to correct the immediate danger, but physical therapy is necessary for recovery and to hopefully avoid the need for future surgery related to another damaged disc that was unable to be surgically remediated at that time.
3DPT: Tell us a little about your recovery process. What has been the hardest part of your therapy?
Bob: Starting the day after being discharged from the hospital, I have been attending PT two to three days a week for almost two months. In the beginning, some of the exercises were challenging as my back healed from surgery; however, Zach has designed a program that adapted to my initial limitations, and through continual dialogue and support, changed it to increase my stamina, flexibility, and endurance.
3DPT: What advice would you give to other people who suffered similar injuries or going through the same situation?
Bob: I had attempted physical therapy a few times previously for my back problem, but never really understood how consistent treatment could make such a large difference in my recovery and well-being. Zach has taken the time to understand my medical history, effectively communicate how to properly perform the exercises, and explain what the program is aiming to accomplish. It is apparent that he is truly invested in helping each of his patients on the road to recovery.
3DPT: Why would you recommend 3 Dimensional Physical Therapy?
Bob: Unlike prior experiences I've had with PT firms that were ancillary to orthopedic doctors, 3 Dimensional Physical Therapy's approach feels refreshingly different. Zach's personal attention, attitude, expertise and compassion have made physical therapy an integral part of my recovery. With each week, I can see and feel how physical therapy has improved my health and wellness.
Dr. Zach Friedman has shared that Bob is one of the most hard-working and dedicated individuals that he's had the pleasure of working with. Bob's journey is inspiring to us and is the perfect example that no matter what comes your way, you can take control and get on the path to pain-free!
Physical Therapy can help you achieve your goals too! Click here to make an appointment with a 3DPT Physical Therapist.