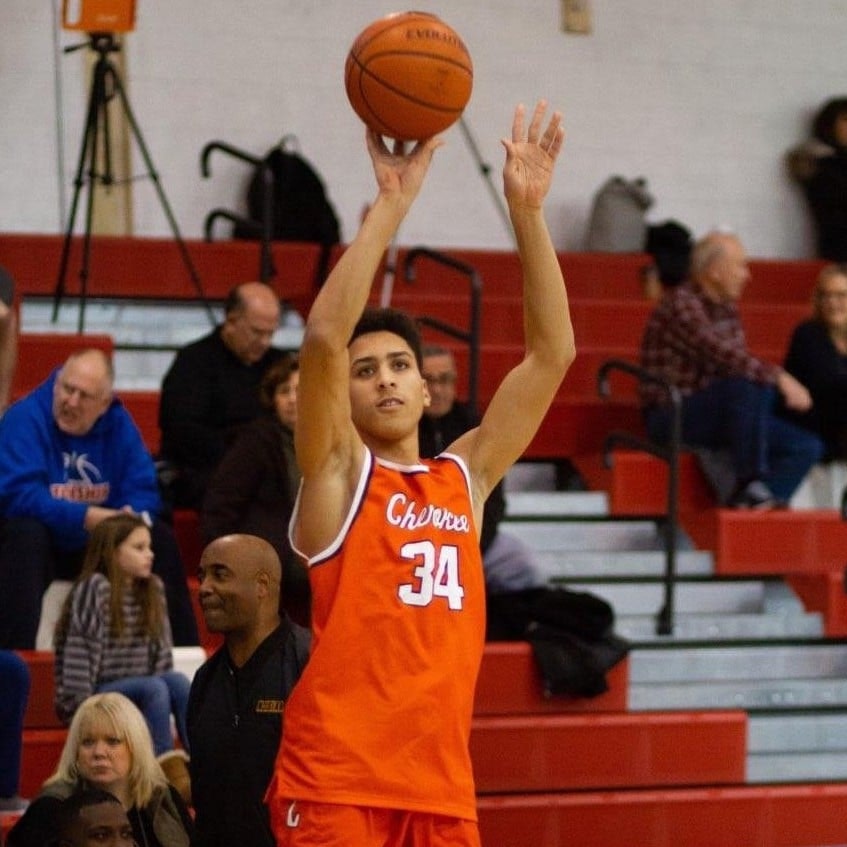 Among athletes, no matter the sport, the words "ACL tear" are probably among the most dreaded. Unfortunately, this injury is very common among athletes at all levels. The ACL, or Anterior Cruciate Ligament, is a ligament that provides stability to the knee. A tear to the ACL can happen to anyone, but in many cases, tears occur in athletes of sports that require explosive movement, like football, soccer and basketball.
At 3DPT we treat A LOT of patients with ACL injuries, and the great news is there is a (sports) life after an ACL tear! With surgery and a good PT program, most athletes are able to return to activities and high level sports without issue. That is certainly true of our TWO patients of the month, Ceci and Jaden!
Both Ceci and Jaden recently suffered an ACL tear, but if you take a look at the videos below you'd never know it! Their hard work in physical therapy has helped them recover and get back to do the things they love. Keep reading to learn more about Ceci and Jaden's road to recovery.
---
Ceci Deroian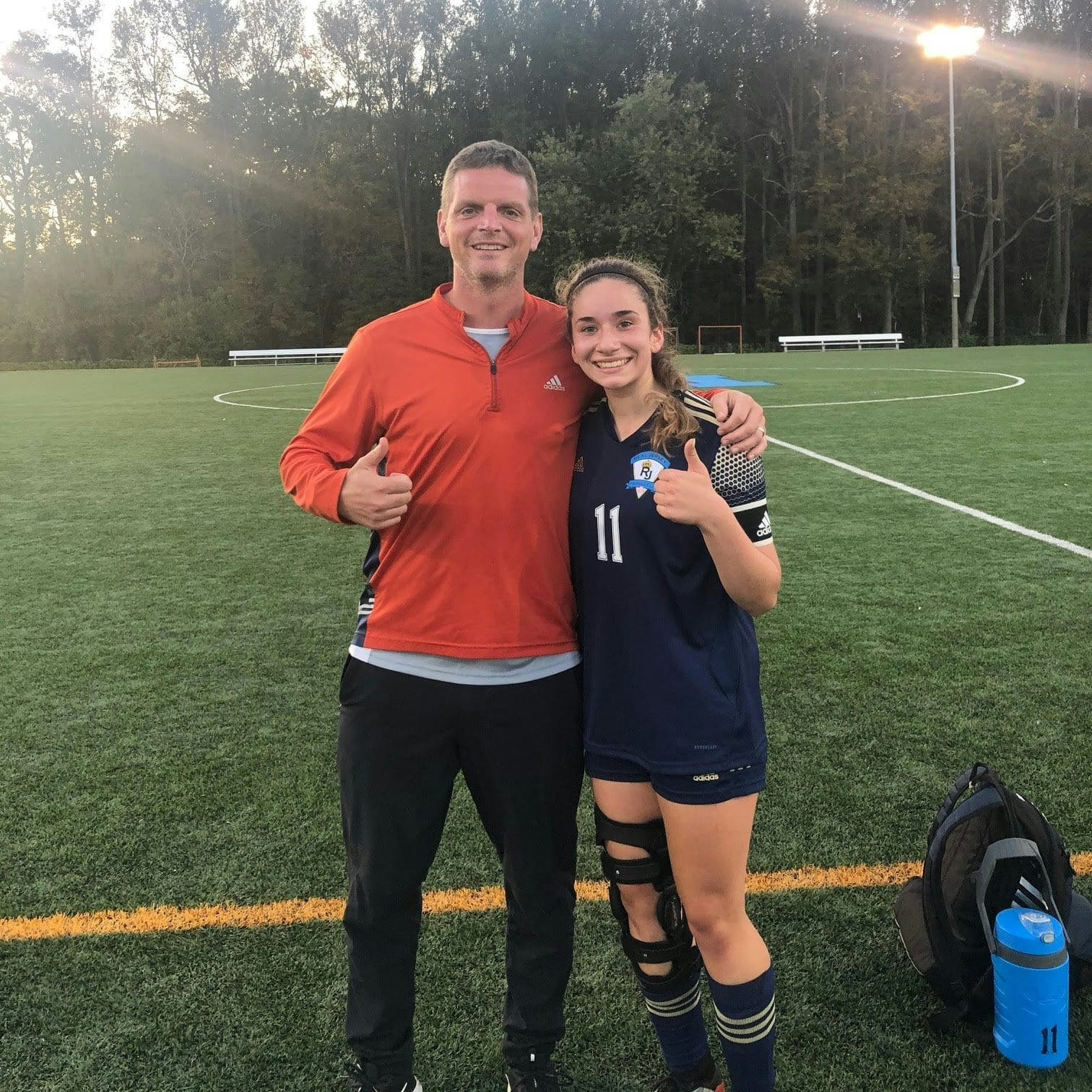 Ceci suffered her dreaded ACL injury at the beginning of her fall season in September 2019 while playing soccer for Real JFC. She had surgery in October and started PT right away. From her first few sessions, it was apparent Ceci had an outstanding work ethic – she never complained about anything we had her do and always wanted to be better than her last visit. The pandemic did not derail her progress – Ceci did Telehealth PT in her garage and driveway all spring and never missed a beat, even as her neighbors wondered what the heck she was doing! Ceci was finally cleared to play this past fall and is back on the field doing what she loves.
Here is a video of her in her first game back (hint: she scores!)

3DPT: Tell us how you got into playing soccer.
Ceci: I got into playing soccer when I was young. I was probably 4 years old, and I played because my dad loved soccer, so he got me into it, and it turns out I loved it.
3DPT: How was it having your dad as your coach your first few years of soccer?
Ceci: Having my dad as my coach was pretty cool. I guess it was another level of motivation because I wanted to impress him and make him proud. Plus, he wouldn't get in trouble for yelling at me from the sidelines as the coach, which probably made him happy.
3DPT: What are some things you learned as you went through your ACL rehab?
Ceci: I had never been seriously injured before tearing my ACL. Obviously bruises and cuts, but no broken bones, torn muscles, concussions or anything serious. And once I learned I tore my ACL, and that the recovery would be long, that was pretty tough. So, going through the rehab I learned what it was like to love your sport so much that you have the drive and dedication to work to get back to that sport.
3DPT: What were your top 2 favorite things to do in PT and your top 2 least favorite things to do in PT?
Ceci: My top 2 favorite things to do in PT was balancing on the bosu volleying the soccer ball back to Jeff or Wiggs, or whoever was throwing the ball. My other favorite was probably taking my return to play tests, because that meant I was so close to returning to soccer. My least favorite thing to do in PT was the stim to make my quad contract, because that got painful sometimes, and the versa climber. But, once you get done with any workout or anything hard, you're glad you did it and it feels good. Same thing with the versa climber.
Check out some highlights of Ceci's PT!
3DPT: What was going through your mind as you took the field for your first game back after your injury?
Ceci: I came off the bench in my first game. My first touch on the ball was a free kick from about 5 yards out away from the 18 yard line. (So like 23 yards from the goal). My thoughts were, "Y'know, it would be a pretty cool story if I scored a goal on my first touch on the ball in a year." The goalie saved my shot, but I didn't mind because I was so glad to be back.
3DPT: What was your reaction and your team's reaction when you scored your first goal?
Ceci: My first goal was off of a penalty kick, and obviously I was thrilled. I think usually people don't celebrate a whole lot on a PK because you're almost expected to score, but we celebrated. I ran up to my friend Joellie, she's probably my closest friend on the team and was by my side my entire recovery. I think I might've jumped on her, and then the whole team was screaming and crowding around me.
3DPT: What is your go to dinner the day before a big game?
Ceci: I don't really have a go to dinner the day before a big game, I really just eat whatever my mom makes, but I'm told spaghetti before a game is the best you can do.
3DPT: Who is your favorite men's soccer player and women's soccer player?
Ceci: My favorite men's soccer player is Wayne Rooney, and my favorite women's soccer player right now is probably Tobin Heath.
3DPT: Who would win in a 5K race – you or Jeff?
Ceci: I'm not sure why this is a question, because I thought we all already knew I'd win.
Sports have always been a big part of Jaden's life – he played football, basketball and baseball in high school (and was awesome at all of them!). Jaden first tore his ACL last year playing football and unfortunately tore his other ACL this year playing basketball! But take a look at this video of Jaden in action during PT – looks like he's ready to hit the court again!

3DPT: Tell us about your injury that brought you to physical therapy and how it affected your life.
Jaden: I have come to 3DPT after two ACL surgeries on different knees in the past two years. The first injury occurred in a football practice my senior year, and the second happened when I was playing basketball when I came home from college. Both times really affected my life because sports are a big part of my everyday life.
3DPT: Tell us a little about your recovery process. What has been the hardest part of your therapy?
Jaden: My recovery process has been really smooth. I think the hardest part of my therapy has been getting started right after surgery and then starting to try to run.
3DPT: What advice would you give to other people who suffered similar injuries?
Jaden: I would say to make sure that you are not doing too much too early and be patient because time will fly by and you will be back doing what you love in no time.
3DPT: Why would you recommend 3 Dimensional Physical Therapy?
Jaden: I would recommend 3DPT because everyone here knows what they're talking about and really wants to see you get back to normal. Everyone creates a comfortable environment and really supports the progress you are making until the end.
3DPT: What are you most looking forward to this winter that you may not have been able to do with your injury?
Jaden: Hopefully this winter I will be able to play some basketball and do some other athletic activities with my friends, as I am almost feeling 100%.