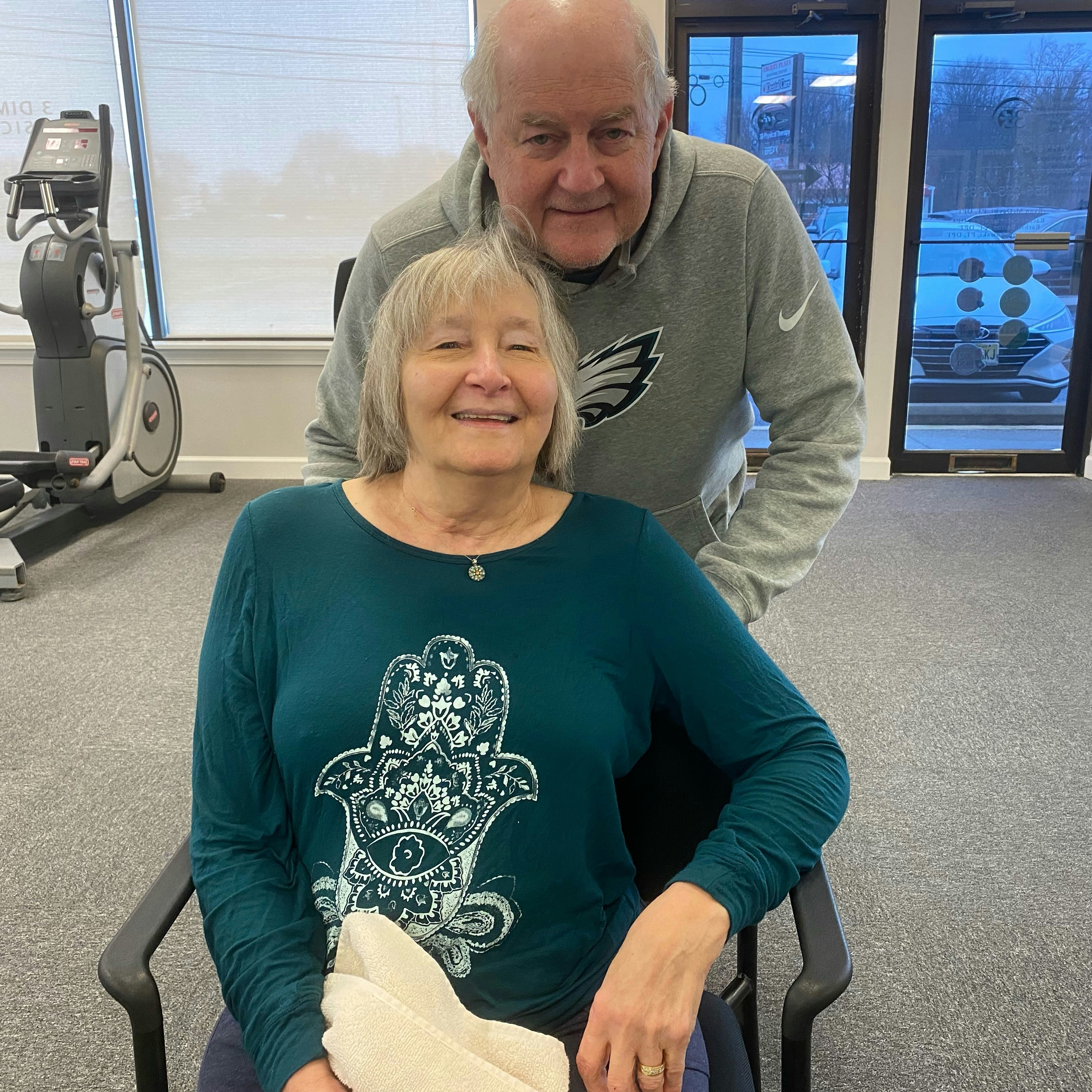 To say that 3DPT's March patient of the month, Christina McBride has had a rough couple of years, would be a huge understatement! Pretty much exactly 2 years ago, Christina was diagnosed with COVID and the complications kept her away from home for 8 months! Christina had lost muscle tone, nerve function, coordination and balance over that time, not to mention she also sustained a broken hip. But never doubt a determined lady who won't give up!
Christina came to 3DPT in a wheelchair and has progressed to a walker and now a cane. She is on her way to gaining back independence and we are excited to be on the journey with her!
3DPT: What brought you to physical therapy and how has it affected your life?
Christina: It's been a long journey for me! It started with being diagnosed with COVID in March of 2020. I spent the next four months in ICUs and was finally weaned off of the ventilator in July, after 92 days. I had lost most muscle tone, nerve function, coordination and the ability to eat. I was heavily sedated and don't have memory of those four months which they tell me had many ups and downs – fluctuations in my vitals requiring central line pressors, neurological concerns, and non responsiveness, and minor victories of squeezing the nurse's hands and blinking. I spent the next four months in a residential rehab facility, then other physical therapy facilities including home rehab. In those eight months away from home I often doubted that I would regain a reasonable quality of life.
One of the hardest things in my life to this point was learning to walk again and finding the right fit in a physical therapist. In between trying different PT facilities, I broke my hip. What a time to have this happen! I was worse off than before. I thought I was doomed to be in a wheelchair forever until I found 3 Dimensional Physical Therapy and Dan Deitz. This was the match I needed!
3DPT: Tell us a little about your recovery process. What has been the hardest part of your therapy?
Christina: With 3DPT and Dan's persistence and attentive therapy, I now walk with a cane with assistance. My journey is not done. I still have a ways to go, but I will get there with 3D and Dan helping me along my way. My journey has been intense and at times I wanted to give up. The hardest parts are the times my progress seems to stall. I have made great strides here and this is where I belong.
3DPT: What advice would you give to other people who suffered similar injuries or going through the same situation?
Christina: Never give up! The will to get out of ICU seclusion, Facetime calls and window visits and to actually hold my grandkids and return home after eight months is what got me through.
3DPT: Why would you recommend 3 Dimensional Physical Therapy?
Christina: The personal attention they give stands out, along with a positive supporting environment.
3DPT: What are you able to do now that you may not have been able to do with your injury?
Christina: I have progressed from using a wheelchair to a walker and now limited cane walking. I've gained more independence in the kitchen, bath, and laundry. I still have a way to go with things like attending and hosting family events, using the local gym, shopping, dining and a return to the important stuff. You only lose if you give up!
Christina's incredible journey has been long and difficult to say the least, but her courage and determination keep her moving forward every day & every PT session, every milestone.
Physical Therapy can help you achieve your goals too! Click here to make an appointment with a 3DPT Physical Therapist.