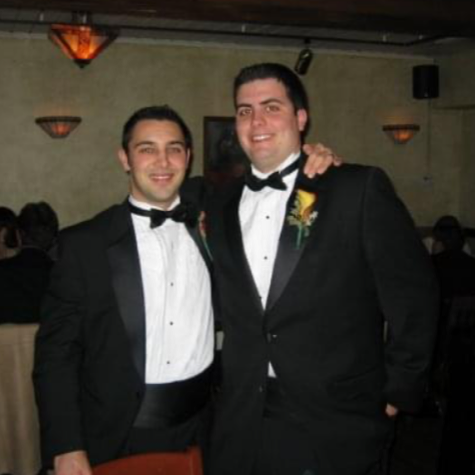 Cousins, Cliff and Merrill Martin are always trying to "one-up" each other – in sports, in life and now in PT! Earlier this year, Dr. Anthony Perrone had the opportunity to treat both cousins via telehealth at the same time.
Cliff had been suffering with chronic low back pain and Merrill with knee pain after a meniscus tear. Cliff and Merrill took their PT pretty seriously and never missed an appointment! Now, they're 3DPT's September patients of the month because even after their telehealth sessions, both cousins have been consistent with their home PT plans and remain pain free!
Keep reading to learn more about Cliff and Merrill, and be sure to check out the video to hear directly from the cousins about their experience at 3DPT!
Cliff Martin has had two back surgeries but his pain kept coming back. He has had a long history of chronic back and sciatic pain throughout his life which has affected his ability to be active and play with his kids. He was struggling during the beginning of quarantine with his pain so he contacted 3DPT for a telehealth appointment with Dr. Anthony Perrone. Anthony designed a progressive exercise program to build strength and flexibility – starting slowly with basic exercises so his back wouldn't flare up, and progressing over time. Cliff was patient and persistent with the rehab process, which is always a must with a challenging and chronic condition. He got so much stronger and was able to tolerate very challenging core exercises! Just recently he was able to lay sod and redo his backyard!
Cliff's cousin, Merrill Martin, has a history of meniscus surgery and knee pain, which affected his love of running. Merrill started to run during quarantine to lose weight but his knee was hurting him too badly. His cousin, Cliff suggested he contact Anthony at 3DPT too! He started PT and never missed an appointment for months. Now not only is he able to run without pain, but also lost 30 lbs because he was able to run and exercise more!
Families that do PT together, stay together!
Cliff and Merrill were able to challenge & encourage each other through their PT. Both cousins' commitment to their PT programs helped them to get the pain-free results they're enjoying now!
To check out our other Patients of the Month, click here.