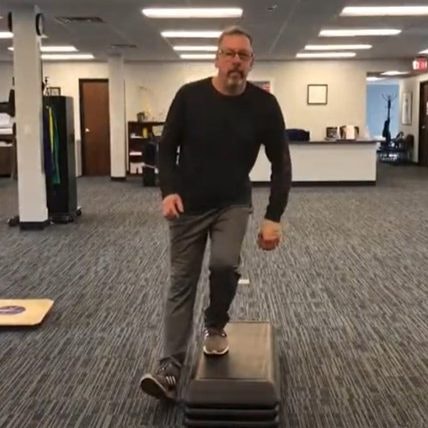 Congratulations to Dan Metrione – January's 3DPT Patient of the Month!
Dan Metrione is an avid hunter and outdoors-man who tore his ACL, PCL and meniscus while mountain biking last year. While many ACL injuries require surgery, Dan and his doctor decided surgery to repair his ACL wasn't the best option and instead he's been working hard at 3DPT Cherry Hill to get back to feeling and moving better. Dan's ready to get back to his favorite activities and his motivation in PT is paying off!
Learn more about Dan and his experience below
3DPT: Tell us about your injury that brought you to physical therapy and how it affected your life.
Dan: At the end of August I had a mountain biking accident. When I put my left leg down to brace myself while moving at a high speed, my left knee was hyper-extended. I did not seek any medical treatment for the first three months as I was waiting to see if I would recover on my own. Unfortunately, I realized I was not going to make a full recovery on my own. At that point I saw an orthopedic doctor who informed me that my ACL was completely severed, my PCL had a tear and my meniscus was damaged. I ended up having surgery for my meniscus but not for the ACL and PCL.
3DPT: Tell us a little about your recovery process. What was/has been the hardest part of your therapy?
Dan: Prior to the surgery my therapy focused on increasing my strength and balance. For me the biggest challenge has been to accept that I will have limited abilities until I am fully recovered. The greatest challenge with physical therapy is keeping motivated on days I am not at 3DPT. But by focusing on my end result desired, I have maintained my daily exercise regime.
3DPT: What advice would you give to other people who suffered similar injuries?
Dan: The best advice I can give someone who has had a similar injury is to seek medical advice immediately after a serious injury. But most importantly once you are in physical therapy, trust your therapist. When in therapy, push your limits. They will not let you go too far. The harder you work the more you will achieve.
3DPT: Why would you recommend 3DPT?
Dan: I've already recommended 3DPT to several family and friends. The reason is simple – they truly care about your recovery and progress and design a program to help you achieve your goals and the best possible outcome.
---
Physical Therapy for someone with a torn ACL who has not had surgery involves working with the patient to build strength in the muscles that support the knee joints, increasing balance and stability. We refer to these non-operative patients as "copers." To read more about non-operative ACL injuries and "copers," click here.
Check out the video below to see a snapshot of Dan's PT at 3DPT Cherry Hill!
Dan's made a lot of progress and we're excited to see him back to his active lifestyle!