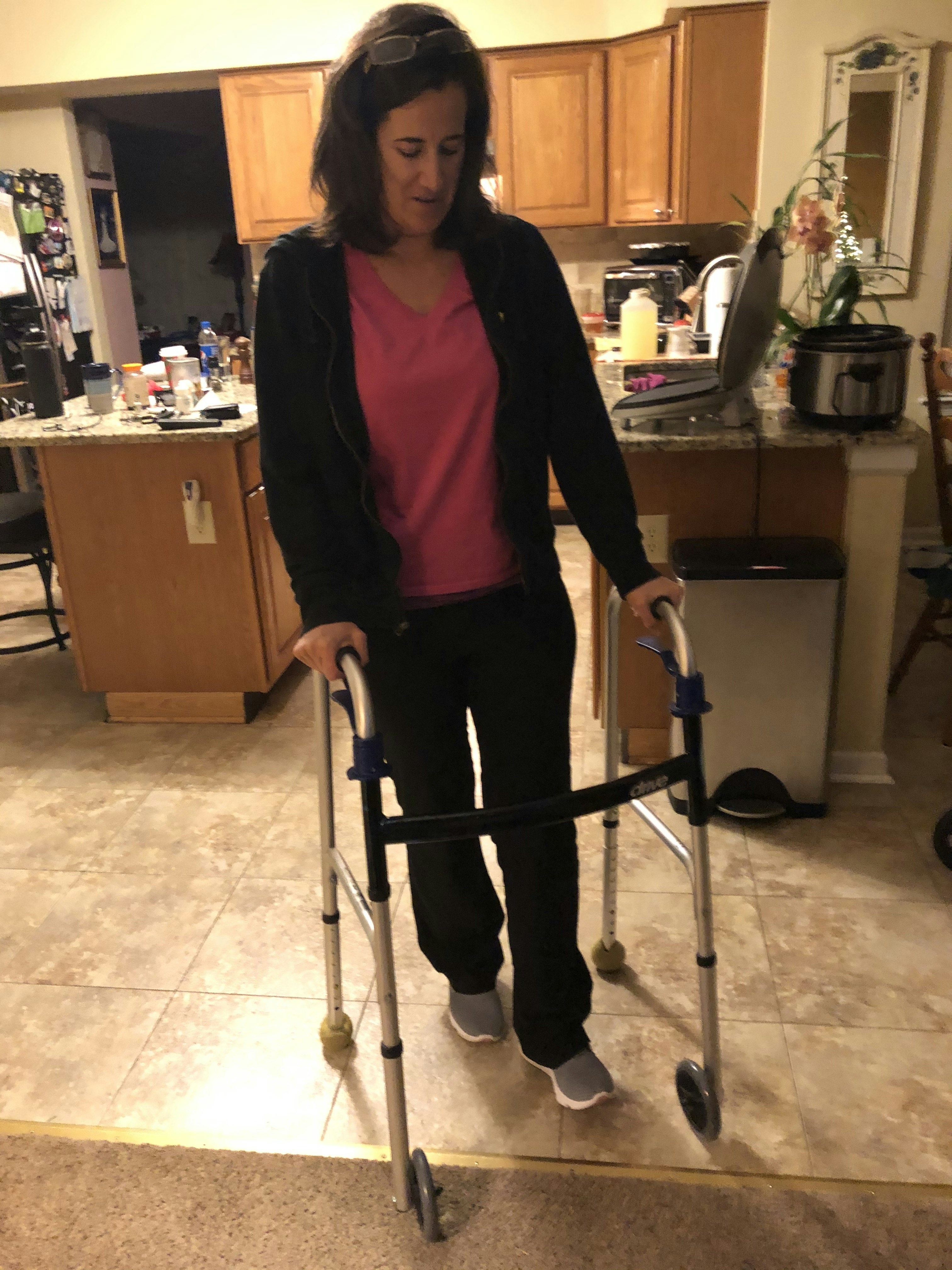 One of the greatest rewards as physical therapists is to see our patients recover from injuries and achieve their PT goals, whether it's getting back to playing a sport after surgery or getting back to playing with their kids or grandkids. Every recovery and every goal met is amazing to see!
Sometimes we have the unique opportunity to take part in helping a patient recover from a life-changing injury and while their road to recovery is usually long and hard, each milestone along the way is a chance to celebrate.
Our April patient of the month, Diane, had one of those life-changing injuries back in November 2020. While riding her bike, Diane was hit by a truck! After her accident, Diane could not even bend her knee and her doctor told her that she would have to have surgery if she couldn't get it to bend. Through stretching and physical therapy, Diane was able to avoid surgery but it was almost 3 months later before she could walk again unassisted. Her hard work and dedication have helped Diane to not just get back to walking – she has her sights set on getting back to riding her bike again!
Here's a small clip of Diane in Physical Therapy. Take a look and keep reading to learn more about Diane's injury and experience at 3DPT!
3DPT: Tell us about what brought you to physical therapy and how it affected your life.
Diane: In late September I was riding my bike in Ocean City, NJ and was struck by a pick-up truck. Since that morning, my life has not been the same. The major injuries that brought me to 3DPT as a result, were a torn meniscus and a bicondylar tibial plateau fracture.
3DPT: Tell us a little about your recovery process. What has been the hardest part of your therapy?
Diane: My recovery started at an inpatient facility, followed by in-home therapy, before coming to 3DPT in November. Although I am grateful for those facilities and the therapists, nothing can compare to my experience at 3D! I came to 3D still using a wheelchair around my home and a walker and ramp to get in and out of the house. I was frightened and very anxious which was honestly probably one of my greatest hurdles to overcome.
3DPT: What advice would you give to other people who suffered similar injuries?
Diane: No matter what the injury, I believe it is important to have patience with yourself, and know that recovery is a slow and gradual process but that it will happen. Communicate with your therapist open and honestly – they want you to succeed and get better just as much as you desire to do so and continue your program at home
3DPT: Why would you recommend 3 Dimensional Physical Therapy?
Diane: I would recommend 3DPT to absolutely anyone and I can say for certain that my recovery has been so successful because of the brilliance of my therapist, Matt (Dr. Vassalotti). He is kind, caring and has such a calm reassuring attitude; he frequently will remind me that everything is going to be okay and that he isn't worried about my progress. Matt consistently goes the extra mile to help me and all of his patients. I also believe that the overall caring nature and atmosphere of 3DPT has helped put me at ease which in turn allowed me to work harder. It is so comforting and beneficial to my well being every time I come to therapy, being addressed by my name by everyone I encounter. I never feel like a patient, I feel like a friend going to a place where the people genuinely care about me as a human being and I am truly grateful for the kindness and support I have received. It is truly a personalized experience for each patient here.
3DPT: What are you most looking forward to that you may not have been able to do since your injuries?
Diane: I have had several mini milestones along the way that I have enjoyed doing again, like driving (what a sense of independence!) and walking unassisted, just to name a few. But I do look forward to doing yoga again and hope to get back on a bike sometime again.