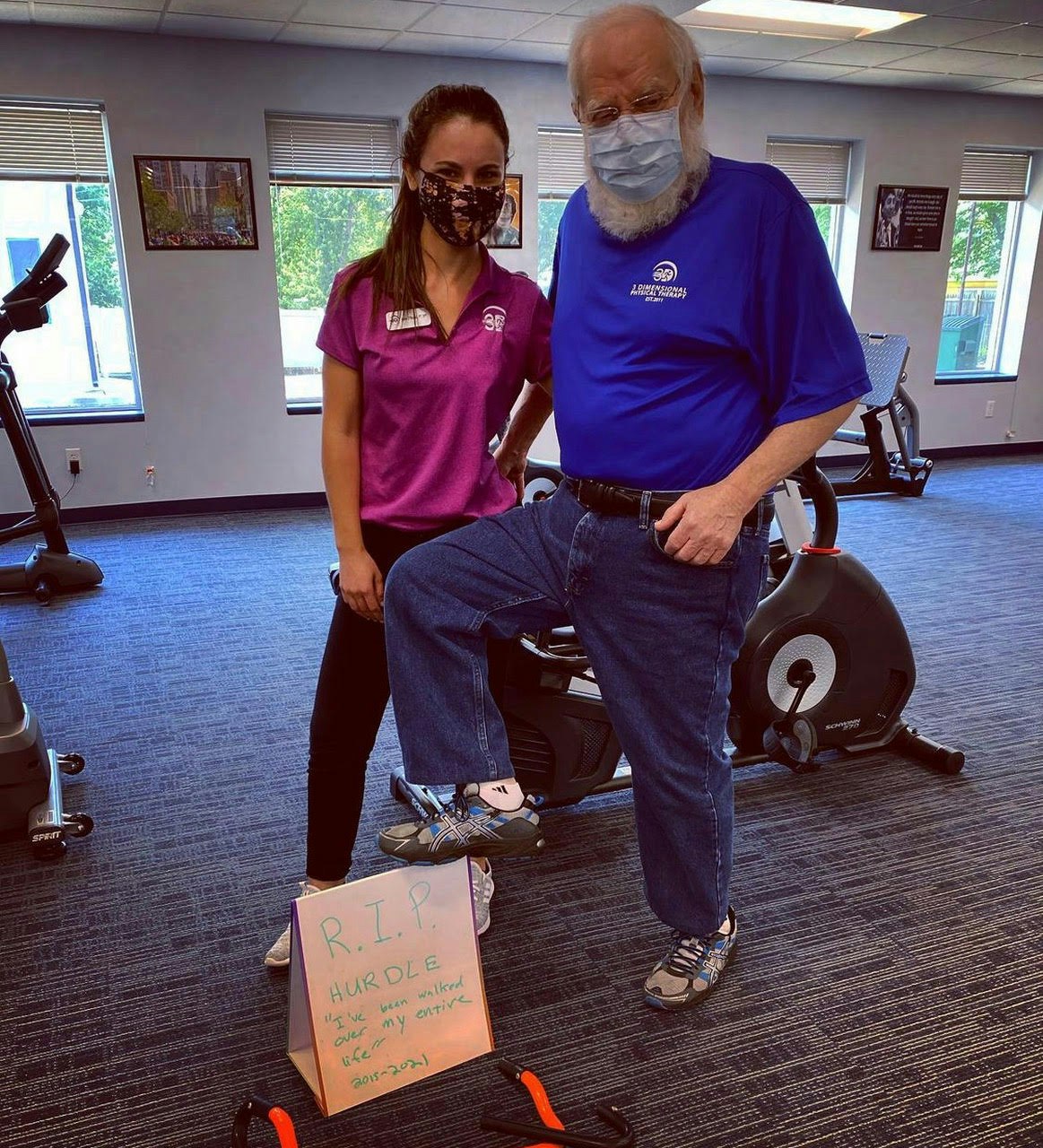 3DPT's July Patient of the Month, Gary Garnick, has been coming to 3DPT Cherry Hill since April to work on his balance, strength and mobility. Last year, Gary was diagnosed with cancer and spent a month in the hospital, with another 6 months of chemotherapy treatment afterward. Over that time, Gary became deconditioned and lost strength, balance and the ability to do many everyday activities on his own. As a normally active person, Gary was NOT a fan of this lack of independence!
Even trying in-home PT was not enough action for Gary! He was ready to get out and get moving and thankfully that's when he and his daughter, Heather, found 3DPT!
Gary's improvement has been amazing! He's out of a wheelchair and walking without a walker, and Dr. Katie O'Rourke's PT plan for him even includes walking over hurdles, which although is his least favorite thing to do, he's gotten pretty good at, too! (Occasionally he's broken a hurdle or 2 by stepping on it, but we're still not sure if that was on purpose or not! )
3DPT: Tell us about what brought you to physical therapy and how it affected your life.
Gary: Last July I was diagnosed with Large B Cell Lymphoma. I spent a month in the hospital and then had 6 months of chemotherapy. The cancer diagnosis caused me to have stability issues and I lost some strength.
3DPT: Tell us a little about your recovery process. What has been the hardest part of your therapy?
Gary: The most difficult part of treatment has been not getting frustrated with not moving faster in my recovery to re-build muscle mass throughout my body.
3DPT: What advice would you give to other people who suffered similar injuries?
Gary: The most important advice I could give to other people is to maintain a positive attitude and persistence.
3DPT: Why would you recommend 3 Dimensional Physical Therapy?
Gary: The compassion and respect that the therapists and staff provide to all their patients, no matter what the issue or level of their injury, is truly amazing. The PT's all care about their patients and their progress.
3DPT: What are you most looking forward to that you may not have been able to do with your injury?
Gary: With the help of the therapists at 3DPT, I can now walk without a walker or wheelchair. We are continuing to work on my stability as well as continuing to build muscle mass.
It's been a pleasure having Gary at 3DPT, and even though Katie still makes him walk over hurdles, he says that PT is now what he looks forward to the most each week!
Keep up the great work, Gary!