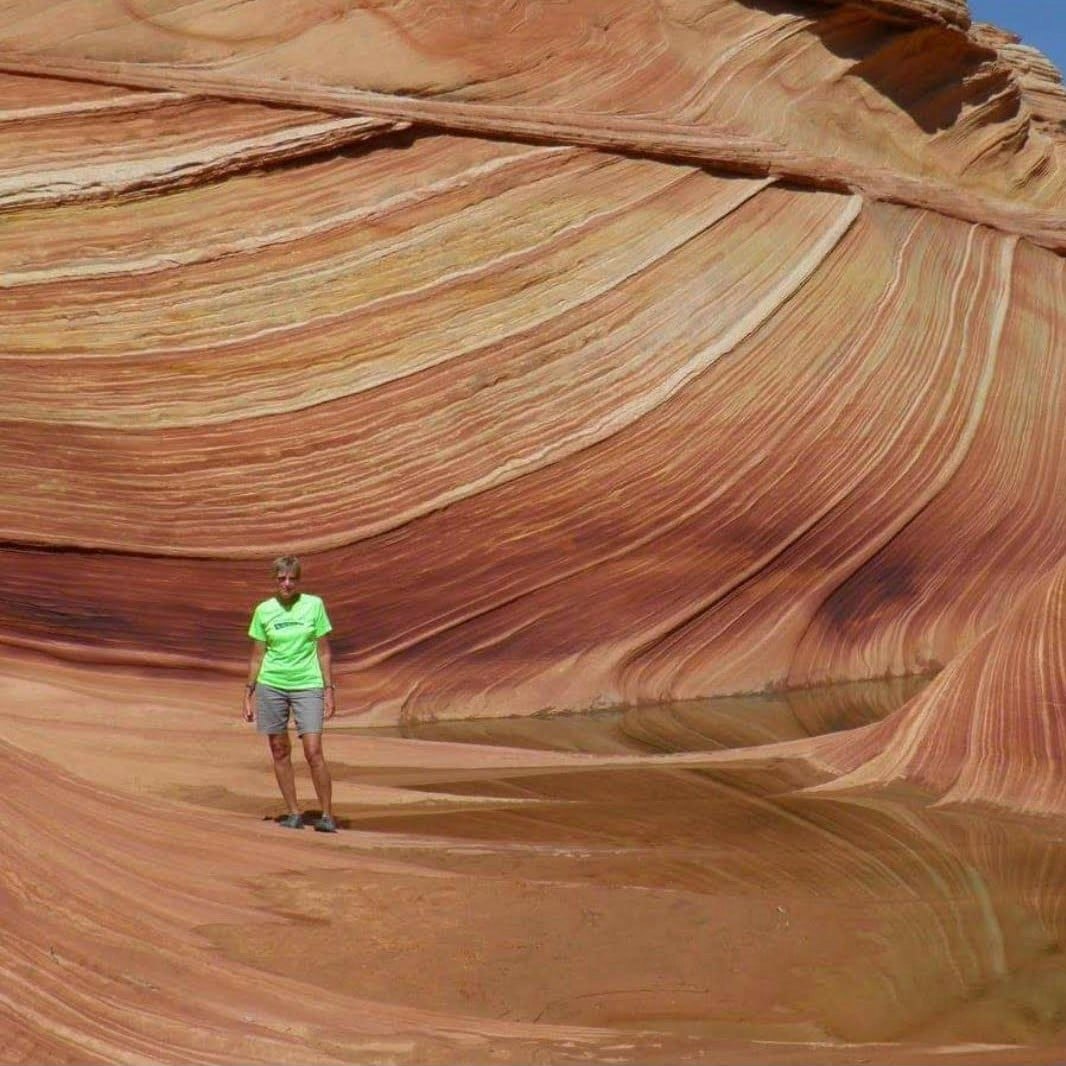 Jean Dixon loves hiking but for most of this year, she could barely walk without pain. She and her doctor decided a total knee replacement was necessary and this summer, Jean took the plunge!
Her recovery was hard but Jean's perseverance and some encouragement from her physical therapist, Sarah, helped her to progress further than she and her doctor expected! Now she's back to hiking pain free and looking forward to activities she hasn't been able to enjoy for a while.
Keep reading to learn more about Jean and her 3DPT story.
3DPT: Tell us about your injury that brought you to physical therapy and how it affected your life.
Jean: I had to have a total right knee replacement due to arthritis. I was unable to walk any more than a block, without pain for about 6 months. I am a hiker and this was unacceptable.
A few days before the Aug. 6th surgery, I stopped in at 3DPT because I had passed it many times going up Rte. 73 and needed to find a PT place. As I walked in, Ryan greeted me and told him my story and just wanted to see what their space looked like. He walked me around, I liked immediately what I saw, and made my evaluation appointment for Aug. 14th, 8 days post surgery.
I cannot express enough, my thanks to ALL the staff, for their humor, positivity, professions, and doggy visits!
3DPT: Tell us a little about your recovery process. What has been the hardest part of your therapy?
Jean: My recovery, for the first 2 week after I started PT, was a bit challenging, due to the pain I was having while trying to do the exercises/movements Sarah gave me. I had a lot of swelling and that caused a lot of pressure on the nerves in my knee. Although I wanted to get better, I couldn't make myself bend as much as my head wanted me to and that's when Sarah stepped in. She pushed me to my max, which I would not have done if not encouraged. She kept me from failing by taking baby steps and being verbally positive about every half inch of progress I made. One bad day, I made no progress at all and she was still giving me positive feedback. I was doing so poorly with the bending, that the doctor said I'd have to go under anesthesia again and they would bend my knee for me to break up the scar tissue, then start PT again, right away. He gave me 4 weeks to improve or he would schedule this procedure.
Well, thanks to Sarah and her "stick-to-itiveness" and gentle pushing, I made it well beyond what the doc ever thought I could do. He was impressed with the 140 degree bend! And thanks to Sarah, I am his gold star patient, making the most progress in a four week period of time. When I told Sarah, I think she was as excited as me!
Today, 8 weeks at 3DPT later, I am walking 3 miles every other day, absolutely pain free.
3DPT: What advice would you give to other people who suffered similar injuries?
Jean: Patience, perseverance, and pain pills. You have to realize that you might have a couple of bad days and that's okay. You might not make progress as quickly as you want and that's okay. You might not want to take a pill to take the edge off of the pain while at PT, but that just won't help you persevere. It's all related and it's all very important to talk with your PT expert about all of this.
3DPT: Why would you recommend 3 Dimensional Physical Therapy?
Jean: I will never ever go anywhere other than 3DPT Berlin for any therapy I may need in the future. From my first meeting with Ryan, the Manager, to Sarah O., my PT expert, to all the other PTs and assistants, and staff, I thank you all. You've made me laugh through pain and encouraged me to keep trying, and pushed me farther than I ever thought I could go. Everyone is friendly with all the other staff and all the other patients. Sanitizing is done constantly and automatically by staff with every piece of equipment. There are all ages of people there getting PT from kids to seniors and from athletes to couch potatoes but everyone receives the help they need.
I cannot express enough my thanks to ALL the staff for their encouragement, their humor, and their caring and positive attitudes.
3DPT: What are you most looking forward to this fall/winter that you may not have been able to do with your injury?
Jean: I will definitely be out there walking/hiking this winter. And skiing, and snowshoeing, and sledding…