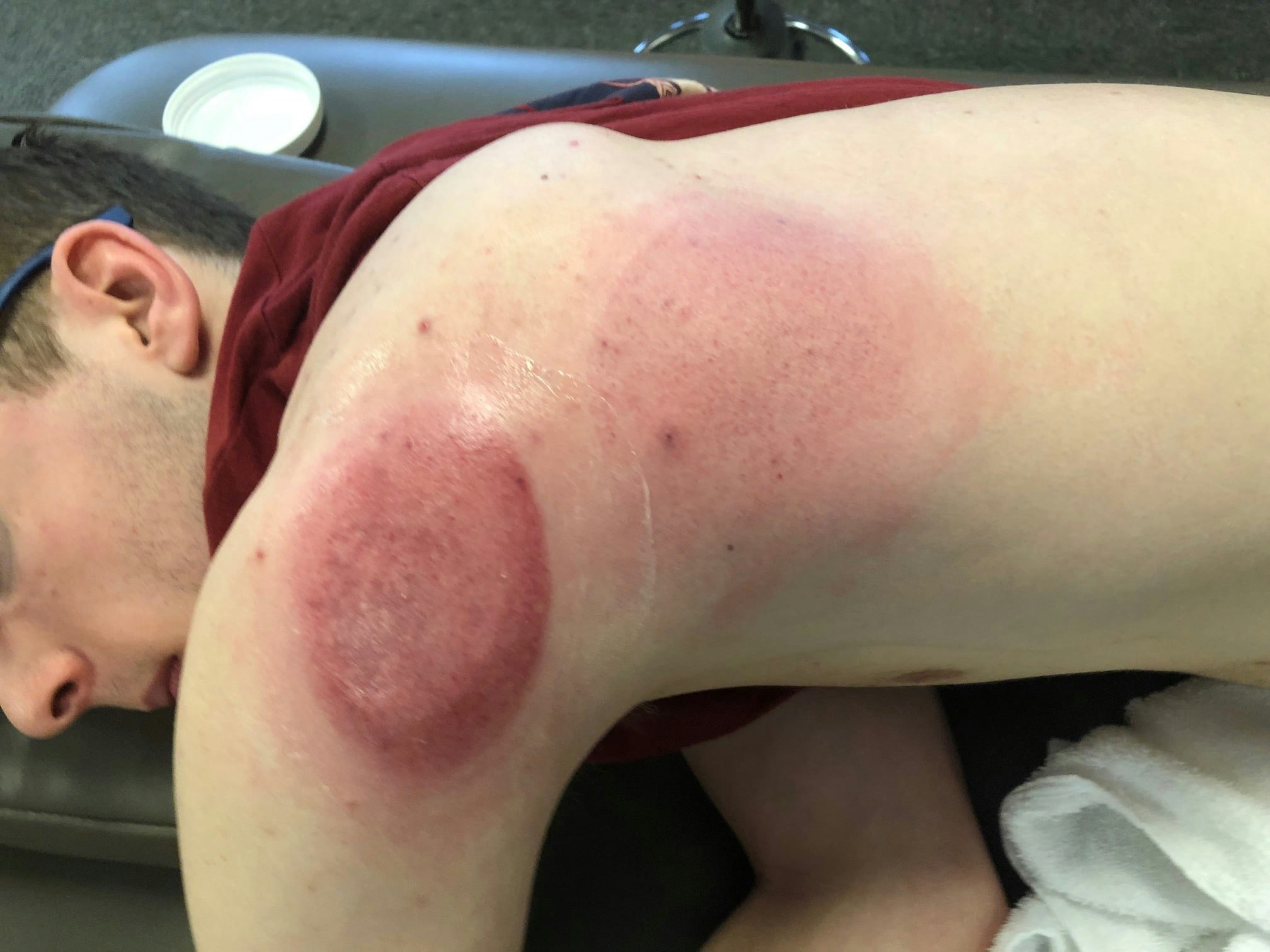 3DPT would like to recognize Kyle Hare as our April Patient of the Month!
In our last Clinical Highlight, we featured a technique called "cupping" that uses suction to help break apart muscle adhesions and tension (click here to see the video). A lot of our patients have gotten relief from cupping, including our April Patient of the Month, Kyle!
Kyle is an elite swimmer and was about to swim in his biggest meet of the year when he started getting shoulder pain. He came into 3DPT for Physical Therapy and multiple cupping treatments in the two weeks leading up to his meet. After PT, Kyle was ready for his meet and he ended up swimming his best times!
Read about Kyle's experience below
3DPT: What was your reason for coming in to 3DPT?
Kyle: I was having shoulder pain while training for the biggest swim meet of the year which was only 2 weeks away. I wanted to treat it as soon as possible so I could still compete at my best.
3DPT: What was your reaction the first time you saw your shoulder after Jeff had done cupping on you?
Kyle: Honestly, I thought it was pretty awesome! I have seen a lot of swimmers do it for swim meets and to recover from injuries, so I was really excited to try it and hoped it would help heal my shoulder quickly.
3DPT: What do you typically eat right after a hard swim workout?
Kyle: Protein bars! And then more protein, usually chicken, with a bunch of carbohydrates like bread and pasta for dinner.
3DPT: What do you do before a race to get yourself psyched up to swim?
Kyle: I usually listen to rap music behind the blocks, and look at the times I want to swim before going up to the blocks.
3DPT: How has swimming from a young age helped you deal with other challenges in your life?

Kyle: I believe swimming from a young age has taught me how to persevere through any challenges that come my way, and taught me to work harder to reach my goals. It has taught me to look past the failures and focus on reaching my next goal.
3DPT: What are the 2 most important factors that will determine where you swim in college?
Kyle: The first is a good education and good engineering program, where I can continue to challenge myself in and out of the pool.
The second would be a swim program with other swimmers that I feel comfortable with, as well as a coach that will help me improve even more and push me in the pool and at workouts.
3DPT: If Michael Phelps gave you a 20 meter head start in a 100 meter freestyle race, could you take him down?
Kyle: I probably could! My best time is 7 seconds slower than his best time. It takes about 10 seconds to go 20 meters, so I might be able to beat him out.
3DPT: If you gave your younger sister a 20 meter head start in a 100m freestyle race, could she take you down?
Kyle: She probably could! Her best time is about 8 seconds slower than my best time and it takes about 10 seconds to go 20 meters, but it would be very close!