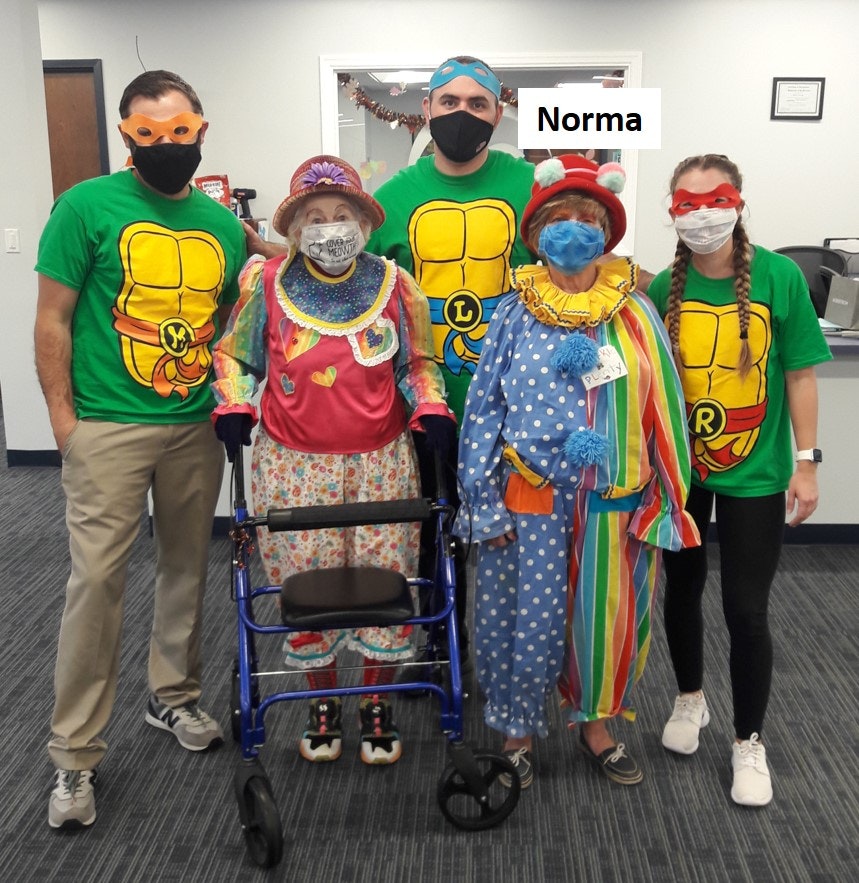 "Quarantined Life" over the last year has certainly changed the way we live in many ways – socially, mentally and physically! The effects of being inside and having less access to activities has taken a toll on many people.
An article was recently published discussing the increasing need for Physical Therapy after months of staying in more and working from home. The article states 2 main reasons for this:
1. Less activity – sitting more (and often not at the best workspaces) walking less, and not going to the gym
2. More activity – trying to do too much, too fast (ie starting an intensive workout program at home without having worked out regularly)
Thankfully many of our favorite activities have opened or are opening more, but the effects of less (or more) activity can have people feeling de-conditioned or in need of help with an injury.
This was the case of 3DPT Cherry Hill patient, Norma.
Norma has always led an active lifestyle – she was a professional clown years ago (Check out this photo when she dressed up for us this past Halloween!) and in early 2020 she was swimming 6 days a week. So when things shut down, Norma found herself deconditioned and experiencing injuries. She found her way to 3DPT and now she's our February Patient of the Month!
[one_half]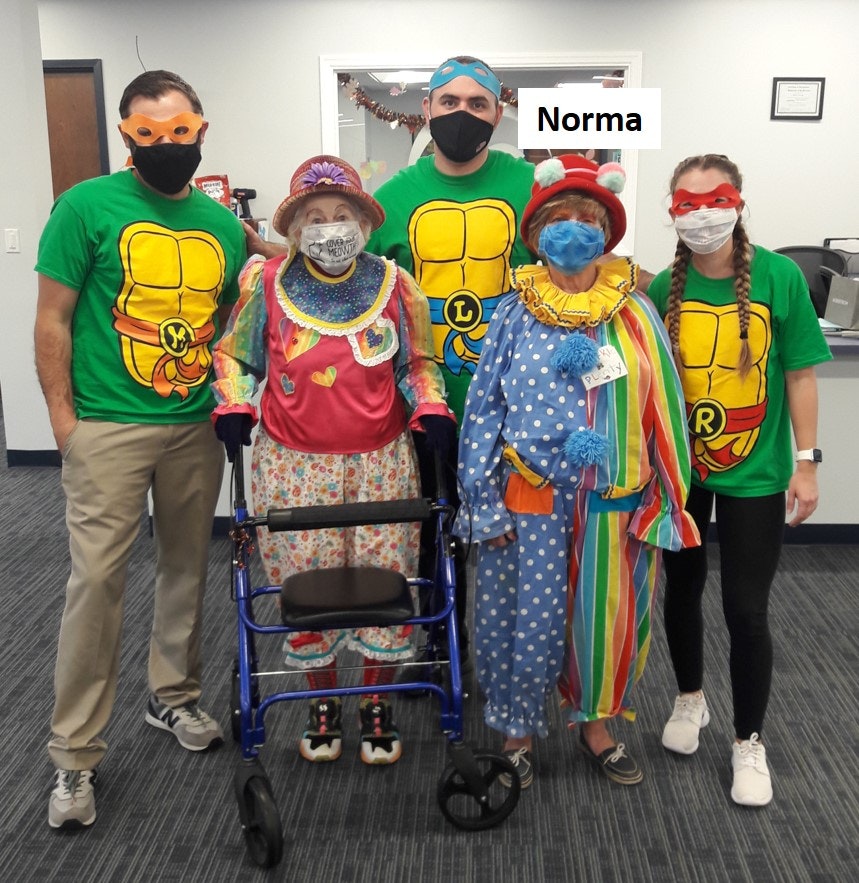 [/one_half]
[one_half_last]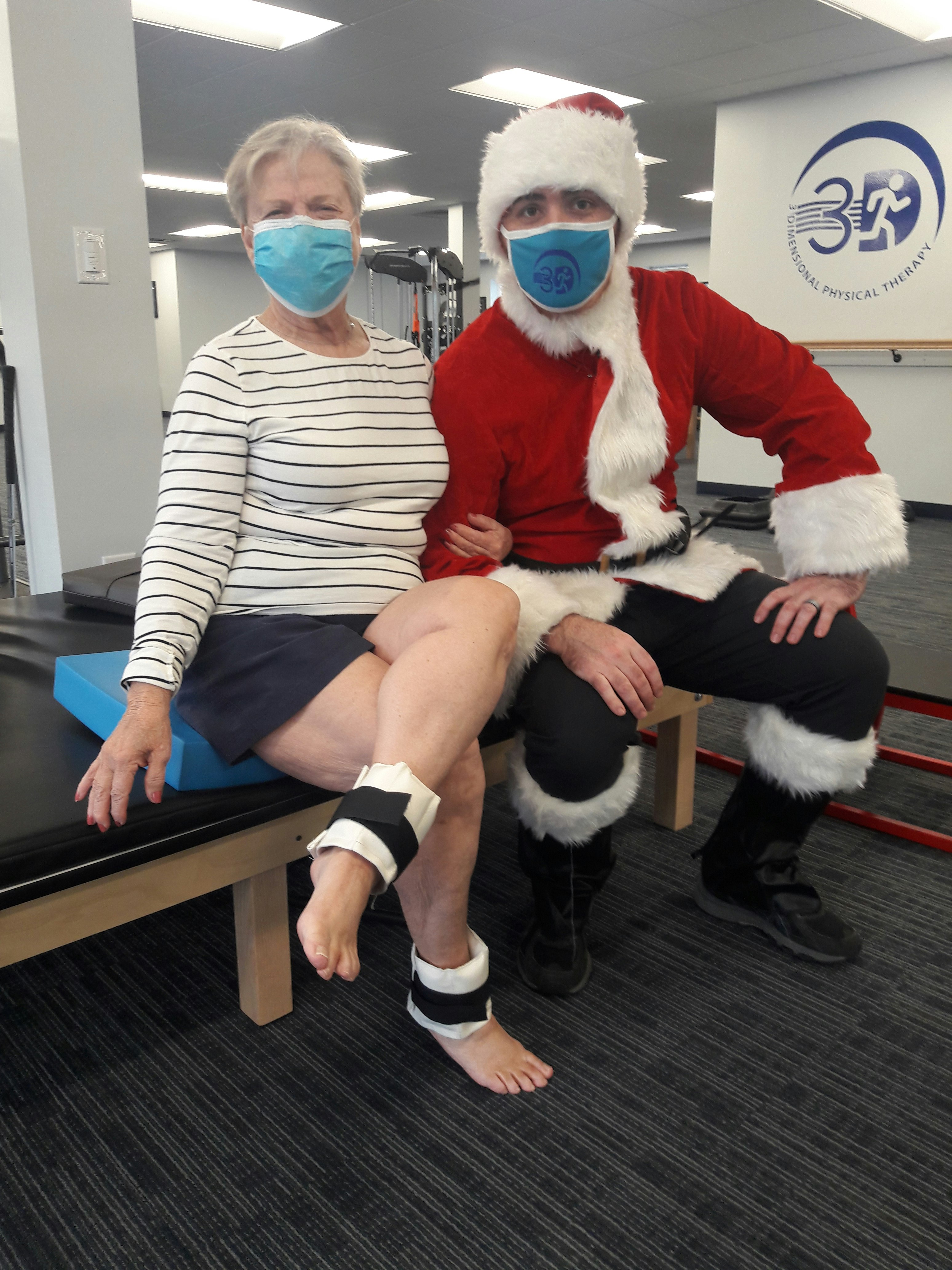 [/one_half_last]
---
3DPT: Tell us about what brought you to physical therapy and how it affected your life.
Norma: I usually swim every day and last year when they shut everything down I ended up in bed for 3 months not being able to move it all, and then another 2 months having difficulty moving. When I went to the doctor, he looked at the MRI and said that I had a herniated disc laying on my sciatic nerve. I was in a back brace at that point. I also had an epidural which helped relieve some pain but the sciatic nerve was very bad.
I was using a walker at that time and eventually went to a cane. Afterward I went to see Dr. DiMenna (from Family Foot and Ankle Center of SJ – their office is upstairs from 3DPT Cherry Hill), and he gave me a brace for my ankle. After a couple months I went back to Dr. DiMenna and he said that my ankle was still not holding. He immediately took me downstairs to 3DPT!
3DPT: Why would you recommend 3 Dimensional Physical Therapy?
Norma: During these months I have made so much progress that the only thing I can't do is walk up the steps at the pool. Chuck, Anthony, Kristen and the whole team at 3DPT Cherry Hill have helped me to get to where I am today!
3DPT: What are you most looking forward to that you may not have been able to do since your injuries?
Norma: Continuing to swim everyday and walking pain free!