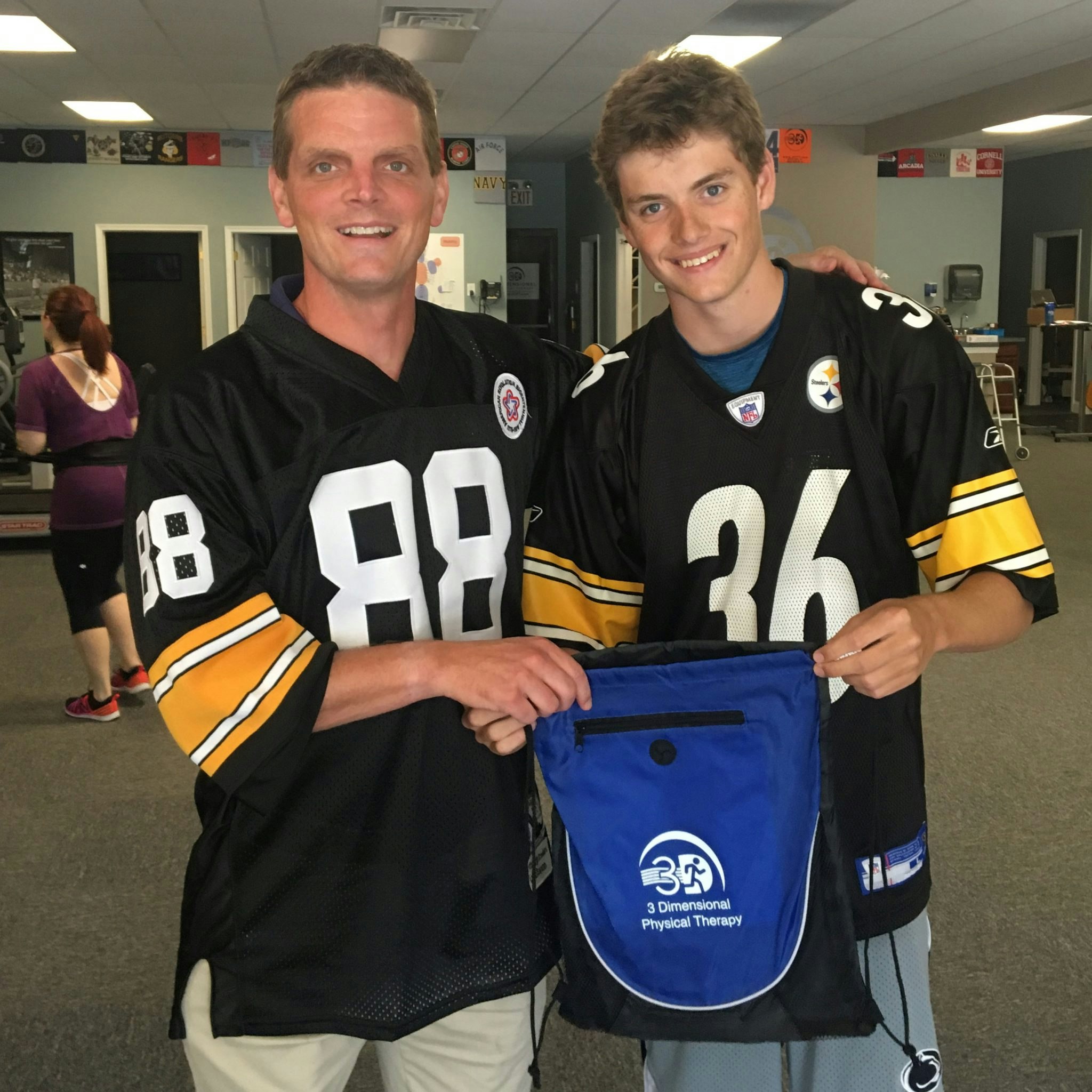 3DPT is proud to announce Patrick McGlynn as its latest patient of the month. Patrick has been an on and off patient since the beginning of 3DPT more than 5 years ago. Patrick will be a junior at Shawnee this fall and is a big fan of Philadelphia sports. Patrick is one of 3DPT's favorite patients, especially since he is such a good sport every time a team from Pittsburgh wins a championship – he and Jeff always bet and the loser has to wear a team Jersey from the other city. This is Patrick's third time wearing a Jerome Bettis Steelers jersey (Jeff has yet to wear a Philadelphia jersey). Great job Patrick – keep up the good work this summer and maybe one day soon there will be a parade in Philadelphia for you to go to.
3DPT: What is your favorite part of coming to physical therapy @ 3DPT?
PM: My favorite part of PT is seeing all of the people at the office and surprisingly enough I also like doing the workout.
3DPT: What is your least favorite exercise that you do in therapy?
PM: That is easy – my least favorite is doing planks.
3DPT: What would it take for you to become a fan of all of the Pittsburgh teams?
PM: I would never betray my Philadelphia roots and become a Pittsburgh fan.
3DPT: Who is your favorite athlete of all time?
PM: I have a couple – Carson Wentz (he is going to be a star), Joel Embiid (he is also going to be a star), and Claude Giroux.
3DPT: I know you and your dad like to travel around to different cities and go to baseball games. What is your favorite baseball stadium you have been to?
PM: Fenway Park is by far the best stadium I've been to.
3DPT: What is your favorite food to order at a Phillies game?
PM: A cheesesteak from Campos.
3DPT: What is your favorite place to go in the summer?
PM: My family spends a lot of time at Long Bach Island every summer.
3DPT: What is your favorite food to eat at the beach?
PM: Ice cream – my favorite is the Wizard of Oz ice cream sundae at a place called The Showplace Ice Cream Parlor.
3DPT: When is the next time you think you will have to wear another Pittsburgh jersey?
PM: I hope never again but it will probably end up being next year.