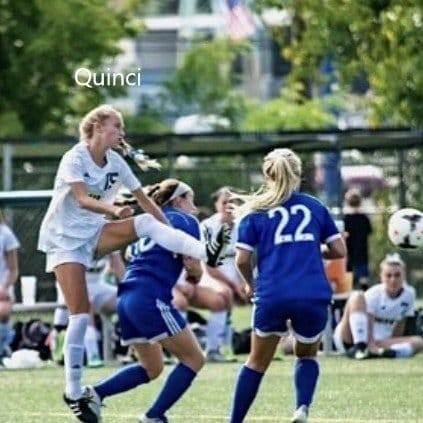 3DPT's October Patient of the Month, Quinci Bantle, is a Junior at Audobon High School and an avid athlete. Normally in the fall, Quinci plays soccer for her high school and club teams but unfortunately, she's been sidelined from playing this season because of a torn ACL injury she got this summer.
After her injury, Quinci felt discouraged but has since been using this time of healing as an opportunity to celebrate victories off the field!
Quinci came to 3DPT's Haddon Township clinic after having ACL Reconstruction surgery on August 22nd. The team has been incorporating Blood Flow Restriction therapy into her PT (check out the video below!) and she's been doing great – even her surgeon has been impressed with her progress already!
Read more about Quinci and her 3DPT experience!
---
3DPT: Tell us about your injury that brought you to physical therapy and how it affected your life/lifestyle.
Quinci: I tore my ACL in June 2019 during a summer league basketball game. I had my surgery on August 22nd and shortly after surgery I started physical therapy at 3 Dimensional Physical Therapy. In the beginning, I thought this injury was the end of the world, however, I quickly learned that it is not! Although it was tough mentally, it has also taught me the importance of hard work and determination. This injury has made me even more motivated to reach my future goals. It has also opened my eyes to other activities I enjoy beside sports. This injury has affected my life positively in many ways although it seemed horrible in the beginning.
3DPT: Tell us a little about your recovery process. What has been the hardest part of your therapy?
Quinci: The recovery process has been tough, but it also has been very rewarding. Every visit I can see my progress, and although it might be small it is rewarding knowing I am getting stronger. The hardest part of my therapy was definitely the first few visits. In the beginning I was scared to bend my leg or put pressure on it. Luckily, I have the best physical therapist who encouraged and helped me regain the trust in my knee.

3DPT: What advice would you give to other people who suffered similar injuries?
Quinci: The advice I would give to other people who suffered similar injuries is that although it seems like the end of the world, it does get better. I would also advise them to set little goals and celebrate them. Although, the goals might be little it is a huge part of the recovery process.
3DPT: Why would you recommend 3 Dimensional Physical Therapy?
Quinci: I would recommend 3 Dimensional Physical Therapy because the positive and welcoming environment. No matter the patient, the physical therapist always gives 100% into making their patients healthier and stronger. Throughout my recovery they have been my number one supporters who celebrate my accomplishments with me. They never fail to make you feel welcomed, and always put their patients before themselves. I am beyond thankful for 3 Dimensional Physical Therapy.
3DPT: What's your favorite thing about fall?
Quinci: My favorite thing about fall is Thanksgiving because I love to spend time with my family. Not being able to play sports has been tough on Quinci, but by bringing the dedication and drive she'd normally bring to the soccer field to her PT, we know that she will be back to the soccer field in no time!