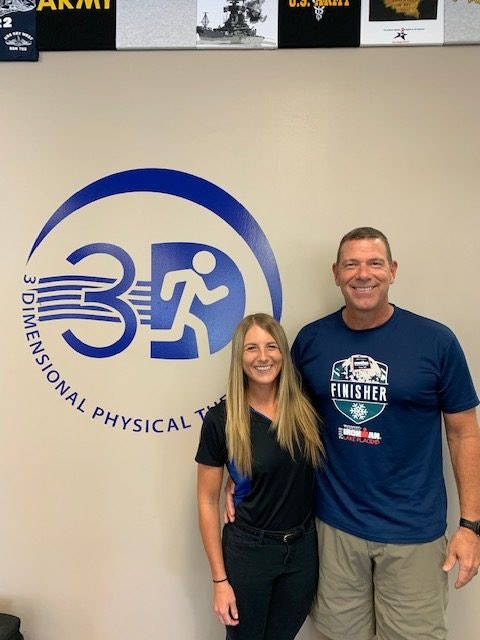 The Lake Placid IronMan triathlon consists of a 2.4-mile swim across Mirror Lake, a 112-mile bike ride through the Adirondack Mountains and a full 26.2-mile marathon through the mountains. Completing the course would be a challenge and a huge accomplishment for anyone, let alone someone recently had a partial knee replacement! But that's exactly what our September patient of the Month, Rob Rossi, has done!
Rob first came to 3DPT to rehabilitate after a meniscus repair surgery for his knee. It wasn't long into his PT with Rachel that Rob realized that his knee still wasn't where it should be. A visit back to his surgeon ended up with the recommendation for Rob to get a partial knee replacement. Initially after his knee replacement surgery, Rob just wanted to regain mobility in his knee and the ability to walk pain-free. But it didn't take long for him to let Rachel know his goals of running again. As a runner herself, Rachel was eager to help Rob meet his goals and pushed him throughout his therapy at 3DPT. Within a few months of therapy, Rob registered for the Lake Placed IronMan!
The video below is an interview with Rob sharing his experience as an IronMan triathlete and a 3DPT patient with his PT, Rachel and 3DPT's own IronMan triathlete, Jeff Sallade (who also had a joint replacement – his hip!). It's a remarkable story!
While not everyone is up for an Iron Man competition, everyone can relate to setting a goal and working towards it. At 3DPT, we're grateful for the opportunity to spend time getting to know each patient and their goals for physical therapy. Like Rachel, each of our PTs is dedicated to helping our patients feel better and accomplish amazing results!