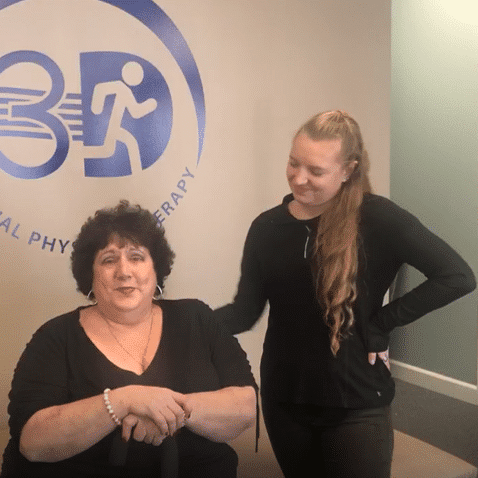 Roe Iles is 3DPT's February 2020 Patient of the Month! Roe is a patient at 3DPT Berlin working through the pain and effects of rheumatoid arthritis, osteoarthritis and fibromyalgia. After being prescribed various treatments and medication without improvement, Roe was feeling deflated and hopeless about ever getting her normal life back. Her doctor recommended she try physical therapy at 3DPT Berlin and within just 3 weeks, she was starting to feel better. Now after 2 months, she's seeing big improvements in her daily life and is feeling hopeful about getting back to her favorite activities!
In the video below, you'll see the emotional toll her condition has taken on her and the renewed hope of a better life! Read more about her experience below
3DPT: Tell us about your injury that brought you to physical therapy and how it affected your life.
Roe: After about six months of never feeling well with horrible joint and muscle pain, I was diagnosed with rheumatoid arthritis and osteoarthritis, and more recently, fibromyalgia. Doctors prescribed infusion treatments, medications and other treatments but I got no significant relief. With continuing moderate to severe pain, I became less active even though I tried to maintain a somewhat normal lifestyle. The pain kept increasing and it became more and more difficult for me to walk. My doctors had me on "standard medications" for my diagnosis with little relief. My condition affected every day of my prior active lifestyle. I became very depressed due to being in constant pain. My family doctor eventually referred me for physical therapy and strongly advised 3 Dimensional Physical Therapy.
3DPT: Tell us a little about your recovery process. What was/has been the hardest part of your therapy?
Roe: My recovery is still progressing! When I started physical therapy at 3DPT, I could just barely walk in with the help of a cane. I cried every day thinking I would never have my normal life back. Since being at 3DPT, I have received support for my recovery on so many levels. When I walk into the clinic, I am greeted with big smiles from the front desk, which in my opinion sets the tone of the workout. I am then greeted by my physical therapist, Barbie, with an upbeat attitude and smile asking how I feel. Many times I broke down crying and I expressed my biggest fear of never getting any better. Barbie, was caring, gave me lots of hugs, and reinforced that it will just take time. She listened to everything I said and modified my treatment as needed without compromising my treatment. Barbie gives me support on every level, mentally and physically. Even Ryan, the owner, gave me support and hope from time to time. Then day by day I saw marked improvements. The hardest part of my therapy was overcoming the fear that it was not working at first. However, after about 2 months I am making significant progress and am thrilled!. Being at 3DPT, and receiving treatment as a whole, I am well on my way to recovery. My family doctor strongly recommended 3DPT and I can see why. It's an amazing facility with skilled professional and caring staff members.
3DPT: What advice would you give to other people who suffered similar injuries?
Roe: I would advise other individuals suffering from my condition to stick with physical therapy and have a positive attitude. Also you must be patient. Physical therapy takes time and is successful with working hard and being consistent. You also need a positive atmosphere at your PT facility like what you will see here at 3DPT.
3DPT: Why would you recommend 3DPT?
Roe: I would recommend 3 Dimensional Physical Therapy because of its professional and knowledgeable staff. The therapists care about their patients so much. They listen to their patients. All of the aides are very eager to help and they work in tune with the physical therapists. 3DPT's facility is extremely clean. Aides are constantly cleaning equipment, chairs, benches, etc. I can truly say it's the best PT facility I ever experienced. I never have to wait more than a minute or two from my appointment time. They are well organized. Again, I would recommend this facility without hesitation.
3DPT: What are you most looking forward to this spring?
Roe: I am looking forward to spring because I can see a difference in my mobility and I'm able to walk better. I am feeling better now physically but most of all receiving treatments at 3DPT has given me a better attitude to continue to work hard knowing that it will all pay off. I am looking forward to getting back to an active lifestyle taking my time and knowing I have all the staff at 3DPT cheering me on. I am a senior but I believe I am going to have a quality lifestyle and continue to have success. 3DPT is the best PT facility I have ever visited. Thank you 3DPT!
With consistency and hard work, Roe has made great progress in her physical therapy program at 3DPT! Congratulations, Roe, We're so proud of you and can't wait to see what the future holds for you!!