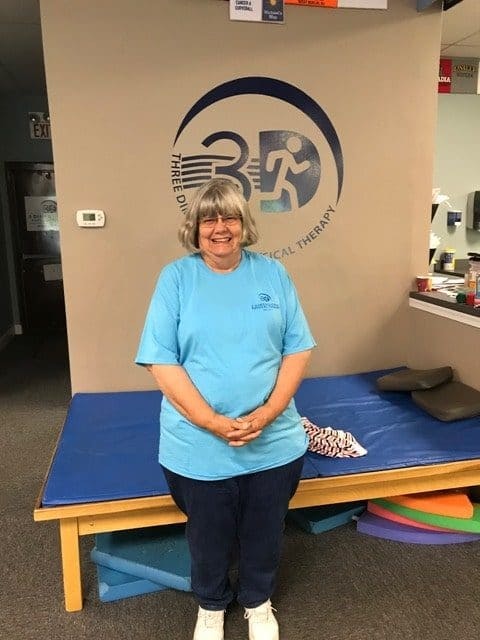 3 Dimensional Physical Therapy would like to congratulate Ruth on being named Patient of the Month! She came in with severe knee pain but has been diligent with performing her home exercises and is now happily skipping out of physical therapy- literally! Congratulations Ruth!
3DPT: Tell us what brought you to PT?
Ruth: Arthritis in my knee.
3DPT: What was your favorite part of coming to PT?
Ruth: My favorite part was getting better. I would wake up in the middle of the night because of pain. It was a struggle to get in and out of the car, even with the seat all the way back. I would limp every morning- it was a struggle to get down the stairs. NOW, I can go down the steps one at a time without pain. I can actually jump now! I'm not afraid to do the everyday things now that I was scared to death to do before! I scared the living daylights out of my PT when I showed her I could jump- but she was happy for me! Everybody at 3D is so nice and so friendly! 3D is very non-judgmental which I liked.
3DPT: What do you have planned for the rest of summer?
Ruth: Every year I say that I'm going to do a lot of little day trips. This year I plan to do them. We will see how it works out.
3DPT: What is your favorite song?
Ruth: I know I'm too old but "Let Me Clear My Throat" by DJ Kool. (Ruth was sure to remind me that this was spelled with a K, not a C) I am not sure why but I LOVE that song. I was so excited when Kingery made that his walk out song!