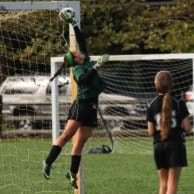 3 Dimensional Physical Therapy would like to congratulate Sam Andrews on being named Patient of the Month. Sam came in to PT and gave 110% at every session after undergoing surgery to repair a torn ACL. She is now getting ready to begin her season at Burlington County College.
3DPT: Tell us about the injury that brought you to 3DPT?
SA: The injury that brought me into 3D PT was an ACL and meniscus tear that happened during basketball practice. I did a move called a jump stomp during a scrimmage and instantly fell after hearing a pop that came from my right knee. After laying on the ground in pain for a minute I got right back up and thought I was fine even though I felt a slight difference when I walked. The athletic trainers did tests on my knee to try and figure out my injury and then sent me out to get an MRI.
3DPT: What was your favorite and least favorite part about PT?
SA: My favorite part about PT was coming in and seeing the wonderful staff. They made working out so fun and enjoyable; I would look forward to coming in every time.
My least favorite part about PT were the walk outs they made me do. Each and every rep was an obstacle and although I hated them I do have to admit they made my core way stronger.
3DPT: If you could eat one thing for the rest of your life, what would it be?
SA: If I could eat one thing for the rest of my life it would be spaghetti and meatballs.
3DPT: What do you like to do for fun, outside of soccer?
SA :What I like to do the most outside of soccer is play with my cat and listen to music.
3DPT: If you could travel anywhere, where would it be and why?
SA :If I could pick a place to travel to I would pick Greece because of it's amazing beauty. If I went I would be able to eat authentic Greek food which I've always wanted to do and I would also be able to relax on the beautiful beaches.
3DPT: What is something important that you've learned during your time in PT?
SA: Something important I've learned from PT is that your body is a lot more fragile that you think. Before my injury I never in a million years thought I would tear my ACL. Through PT I learned what makes you more susceptible to tearing you're ACL and I learned how to prevent it from happening again. I know now that you need strong hips and hamstrings to help prevent knee injuries. Also I learned the importance of having a strong core. 3D PT has changed the way I work out and live my life in a monumental way.
3DPT: We heard you helped evacuate a wild squirrel that entered the clinic this summer…what was running through your mind as you worked to help him escape?
SA: I did try and help a squirrel escape at PT one day. I was watching the staff hopelessly run around the facility so I decided to step in. Also the squirrel kept running into walls and hitting its head so I felt so bad. Knowing the dangers I still decided to try and pick it up but failed to do so. It ran towards the entrance and a man named Art lightly nudged him outside with his foot. It was a bad day to be a squirrel.