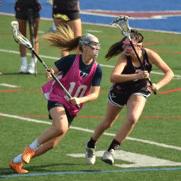 3 Dimensional Physical Therapy would like to congratulate our September patient of the month, Samantha MacDonald. Samantha is one of the most hard working and driven patients that 3D has had the pleasure working with. Samantha has had a long journey to get back to the lacrosse field but through her hard work and determination, she is now poised to have an unbelievable season! Great work Samantha, we can't wait to see you out on the field.
3DPT: Tell us about your injury that brought you to 3DPT?
Samantha: I first began my journey at 3DPT in the fall of 2017 when I was recovering from a bilateral stress reaction in my back. After months of hard work I was able to return in time for my high school lacrosse season. Unfortunately in the first few weeks of preseason I fractured my left pelvic bone. I missed my entire high school and summer lacrosse season. I have been rehabbing since May and I am excited and proud to say I've made a full recovery!
3DPT: What was your favorite part of coming to physical therapy?
Samantha: My favorite part of coming to physical therapy is getting in a good workout, because everytime I do I am defying the odds, "The comeback is always stronger than the setback".
3DPT: What goals do you have after leaving physical therapy and in the next 5 years in terms of sport?
Samantha: After leaving physical therapy my goal is to prove myself on the field and get recruited. My dream is to play division 1 college lacrosse and I am very determined to make that happen.
3DPT: What do you think a key to success is in athletics?
Samantha: I think that a key to success in athletics is to continue to have a positive attitude when faced with adversity
3DPT: What are your impressions of 3DPT?
Samantha: 3DPT is a family atmosphere and has become such a special place to me! Everyone is so nice and I couldn't thank Joey enough for all of his help!