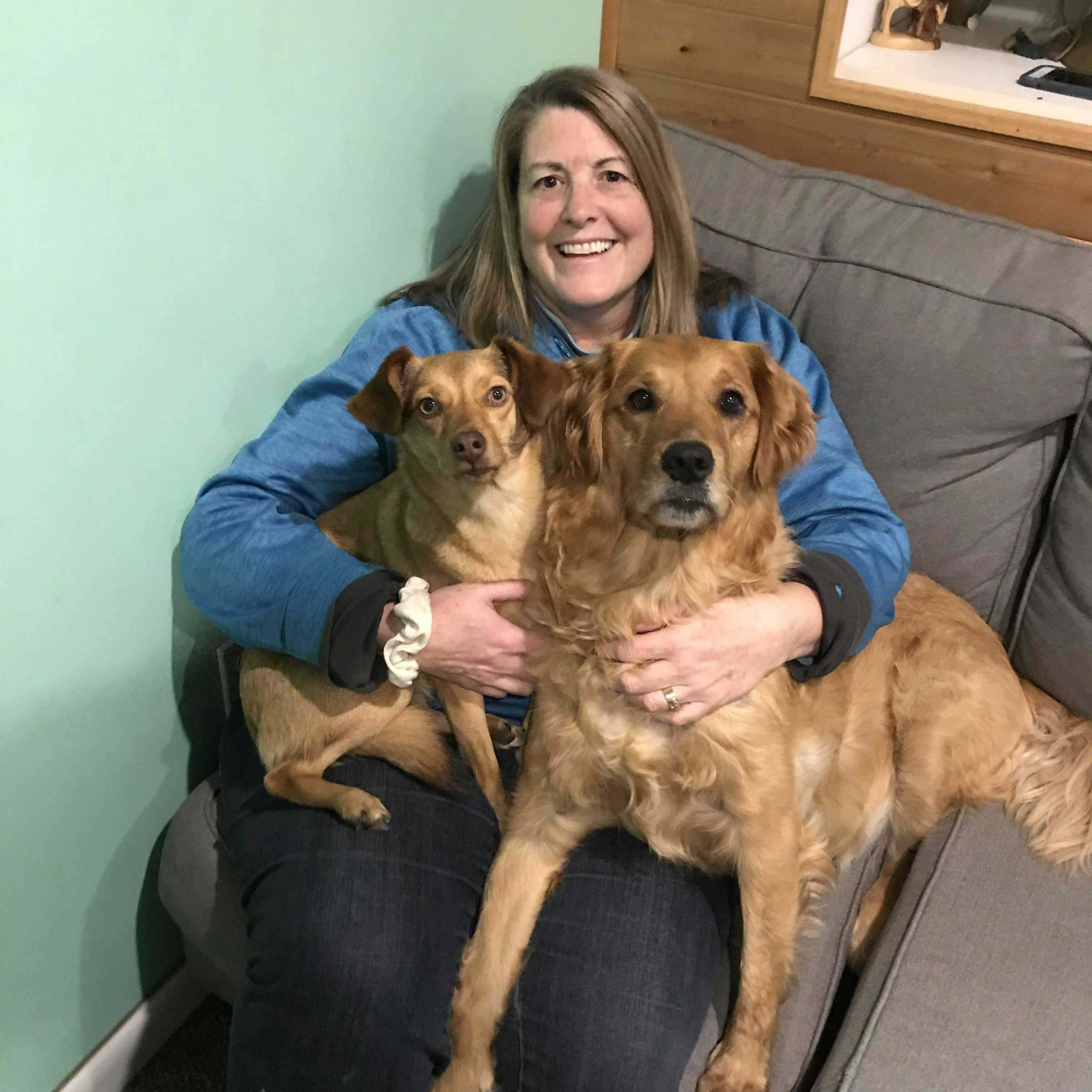 Meet Susan Obuchowski,
3DPT's November Patient of the Month!
Susan Obuchowski is used to a challenge!
She's a former college athlete, a mother of 3 and even beat thyroid cancer in 2017! After surgery to remove her thyroid, Susan experienced muscle weakness and subsequent injury. When she had pain and trouble walking her dogs, she knew she had a new challenge to overcome.
Susan made the decision to come to physical therapy and has been working hard to get moving again. She and her PT, Anthony, are seeing progress each session and she's even lost 25 pounds!
Read more about Susan and her experience at 3DPT!
---
3DPT: Tell us about your injury that brought you to physical therapy and how it affected your life
Susan: I'm coming to physical therapy for left knee pain and osteoarthritis. After being diagnosed with thyroid cancer in 2017, I underwent surgery to have my thyroid removed. The surgery was successful, and I received hormone therapy after. My body didn't respond well to the treatment, and I experienced subsequent muscle weakness. This weakness led to a tear in the plantar fascia of my left foot, which required surgery too, and my muscles never fully recovered after. I developed a limp with walking and had severe pain in my knee with most activity. I already had some arthritis in my knees from playing college sports, and the pain only worsened after my surgery. It got to a point that I couldn't even walk my dogs around the block.
3DPT: Tell us a little about your recovery process. What was/has been the hardest part of your therapy?
Susan: PT has been challenging but I have seen positive changes each week, which has been really exciting. We've been working on getting stronger and developing better walking patterns, even focusing on balance in each session. The hardest part of this process has been patience – it was hard in the beginning because I didn't see a lot of immediate progress and had to trust that I would get better. Now that I'm seeing how my hard work has paid off, I am so happy with my choice to go to PT.
3DPT: What advice would you give to other people who suffered similar injuries?
Susan: My advice would be to persevere through the challenges and be patient. Arthritis doesn't happen overnight, and fixing it won't happen overnight either. With patience and hard work though, you'll see good changes soon enough!!
3DPT: Why would you recommend 3 Dimensional Physical Therapy?
Susan: I would recommend 3DPT to everyone because my therapists have truly taken the time to listen to me and address my concerns. They relate every exercise to my goals which makes it easy to work hard. When I first walked into 3DPT and met Anthony, he was very encouraging and helped me understand that with the help of PT I could make a positive impact on my knee pain and my life too! With the help of Chuck, Brooke, Sam, and the rest of the 3DPT Cherry Hill team, I always leave the office with a smile. Since I started PT, I have been able to exercise more and have even lost 25 lbs, and I am very proud of the progress I have made so far. 3DPT has always put my goals first and for this reason I would recommend them to everyone.
3DPT: Your kids all play sports, what's your favorite (sport, not kid!) to watch and cheer for?
Susan: All three of my kids played lacrosse, which is a sport I truly love because I played it in college. My favorite game to cheer for, though, is football. I grew up watching my brother play football every Saturday, and when my sons decided to play, it brought back my love for the game.
Watch a snapshot of Susan's PT at 3DPT Cherry Hill:
Susan's dedication to her PT is paying off!