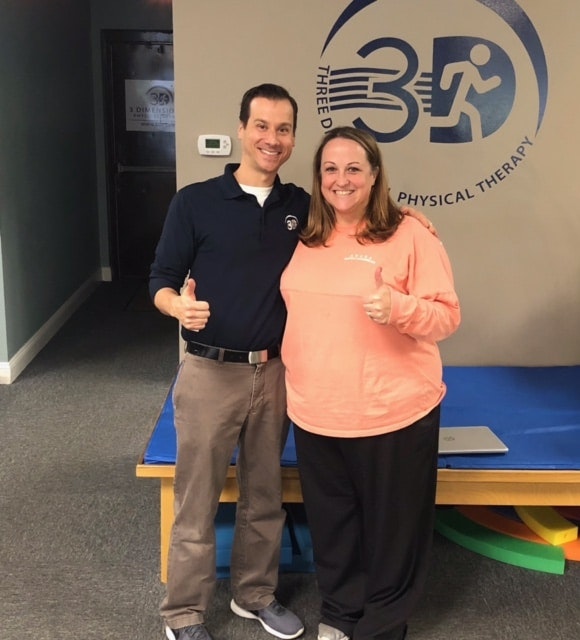 3DPT would like to recognize Tammy Herbert as our December Patient of the Month! We would like to thank Tammy for her positive attitude during each and every PT visit as well as her hard work in the clinic and at home. Tammy is working through a huge leg injury that made her unable to walk for a month, so she has had a lot to overcome. By following her program and giving her all each session, she is nearly finished with her rehab!
3DPT: Tell us about your injury that brought you to 3DPT?
Tammy: I was playing wiffle ball and running to second base when I tripped and broke my tibia plateau bone in my left knee and ripped every ligament and tendon off of my left foot/ankle.
3DPT: What was your favorite part of coming to PT?
Tammy: I have been going to 3-D PT since September 5 and I feel as though everybody there knows my name and has watched me progress in my rehab and healing. What I noticed spending some time there is just the hands on approach that all the doctors and therapist use there. They push you to a limit that is comfortable for you and encourage you to get stronger and better. They listen to what you are saying about your body.
3DPT: What was the most challenging?
Tammy: I would say the most challenging part of PT is pushing your body to uncomfortable limits to heal and stretch things I can't even see or understand. Now that I post-surgery and months of recovery it's a nuisance to stop what you're doing and go work on your strength. They taught me how to walk again so they know how and why and I trust them to get me back to the best version of me I can be! I will stay with them until I am cleared!
3DPT: What is your favorite Christmas movie and why?
Tammy: My favorite Christmas movie is such a hard question as I love many of them. I'm going to have to say Christmas with the Kranks is a movie I enjoy every year and I watch it to start off my holiday season. (well truly the movie Elf we watch every Thanksgiving Eve but that's kind of everyone's favorite)
3DPT: Why would you recommend 3DPT?
Tammy: I was referred by a friend to go to Ken at 3DPT so I did some research and I wanted to go to a place that didn't just want me to get back to athletic shape seeing as I'm a 42-year-old has been. (I say that jokingly because I played Division I softball in college and I had such a major injury playing recreational Wiffle ball) I feel like 3DPT has a great staff of people and even their interns want to learn, grow and encouraging people like myself to be stronger. They're constantly cleaning things down and washing their hands, I truly appreciate! It just feels like a positive, happy environment in addition to top-notch care. I couldn't be more thankful for this team of Doctors and words can't express my thankfulness as they helped me find my strength after a very bad injury. I will recommend everybody that I know to come here and as much as I love this team when my time is done I hope it's a long time before I have to return.