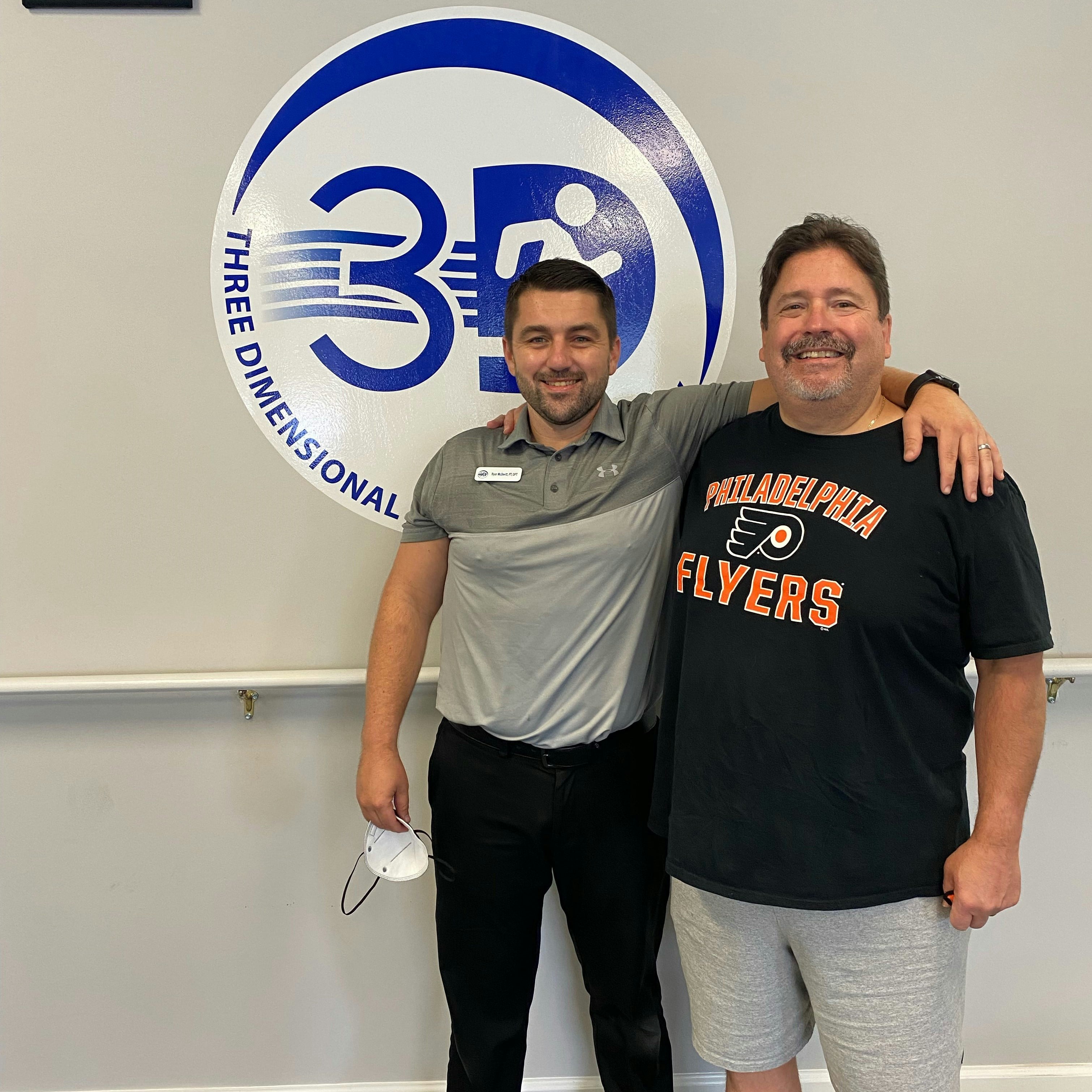 3DPT's August Patient of the Month, Todd Shannon, has been coming to 3DPT Berlin on and off over the last year, with severe pain in both hips and difficulty with walking. Over that time, Todd made good progress in PT but eventually he seemed to plateau. His PT, Dr. Ryan McDevitt, sent Todd over to see our friends at Reconstructive Orthopedics where he was diagnosed with severe arthritis and was recommended to have a hip replacement.
Todd decided to have his left hip replaced just a few weeks ago and since then, he's been running around the clinic like a new man! He's even lost an additional 25 lbs because he's been able to exercise now without pain. His daily walks increased from just a block or two to now laps around his neighborhood!
Todd is having his right hip replaced in September and his goal is to be able to chase Nick around the clinic with no pain!
Check Todd out in action in this video:
3DPT: Tell us about what brought you to physical therapy and how it affected your life.
Todd: I originally started PT back in Fall of 2019. I had been having pain and difficulty doing normal everyday tasks like walking, going up and down stairs, bending, etc. for many years. I had thought this was due to my weight, but after losing about 80 lbs I found myself still struggling, so I decided to look into PT.
In the beginning especially, the PT really helped with the pain and mobility, but eventually the arthritis in my hips got so bad I asked Ryan to recommend an orthopedic doctor to get their opinion. He recommended Dr. Murray at Reconstructive Orthopedics who diagnosed severe arthritis in both hips, and suggested a hip replacement. Dr. Murray referred me to Dr. Reid who performed my left hip replacement.
3DPT: Tell us a little about your recovery process. What has been the hardest part of your therapy?
Todd: My recovery has been incredible! With no pain in my left hip, Ryan was able to put together a program to build back strength and flexibility. For me, since I felt so much better, one of the hardest things was to make sure I took things one step at a time, and not do too much too fast. The other thing was making sure I followed through and did my home exercise routine that Ryan had put together for me. That said, the environment at 3DPT is incredible and I never think of my sessions as "work"!
3DPT: What advice would you give to other people who suffered similar injuries?
Todd: First, I would say that if you're getting your hip replaced, Reconstructive Orthopedics, who Ryan recommended, and Dr. Reid in particular, did a fantastic job with my surgery. Once you start your PT – and you will not find a better place than 3DPT for your recovery – just be sure to follow everything you're supposed to do, and you'll be great. Also, be sure to ask any question that comes to mind. I know in my case, having a joint replaced made me very anxious, but again, Ryan would put my mind at ease answering all my questions. Don't be afraid or embarrassed to ask anything.
3DPT: Why would you recommend 3 Dimensional Physical Therapy?
Todd: When I think back to 2019 and my search for a place to start my PT, I am so thankful that I chose 3D. At the time, I just liked what I read on the website and decided it looked like a good fit for me. It ended up being 1000% the right choice! Everything from referring me to a great surgeon, to the whole recovery process, things couldn't have gone better. I don't think you'll find a group of PTs and staff that are more knowledgeable than those at 3D. Then combine that knowledge with a fun, family like atmosphere, and personally, I can't imagine going anywhere else.
3DPT: What are you most looking forward to that you may not have been able to do with your injury?
Todd: Well, just being able to get up and walk around pain free after many years of pain and struggle makes me very happy. I'm looking forward to being able to explore different places I visit without having to find a bench or chair to sit on every 15 minutes because I'm so stiff and sore. But, one of the things I'm looking forward to is ice skating again. I played ice hockey until I was close to 40 years old, and while I'm not sure I want to do anything competitive now that I'm 60, I'm really looking forward to getting back on the ice to skate!