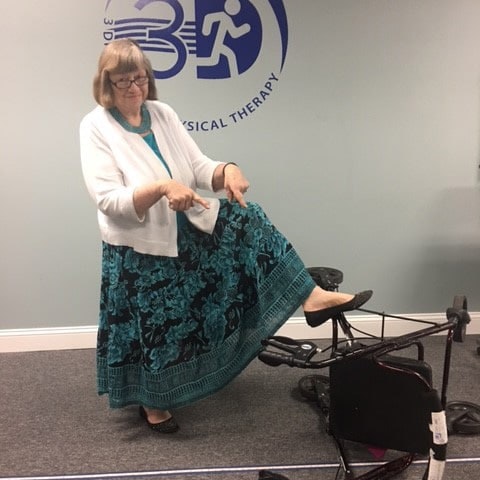 3 Dimensional Physical Therapy would like to congratulate Vaughn Heller on being named Patient of the Month! Vaughn suffered a traumatic injury and due to his unparalleled work ethic, determination, and positive outlook, he has returned to doing what he loves. Despite the severity of his injury, he came to PT ready to do whatever it was going to take to return to 100%. Read below for more on Vaughn's story
3DPT: Tell us about the injury that brought you to physical therapy.
VH: I was wrestling with my partner and we were doing under hooks, which is a type of wrestling move. It was his turn to go and when he went, he and I fell down and I braced my fall with my arm and both of us rolled over my arm and the bone popped out of its socket. The Athletic Trainer came down and called for the ambulance. Once I arrived at Virtua in Mt. Holly, I went to a room right away and got x-rays for my elbow. After that I had to go to another room to have my arm popped back in and they asked me if I wanted to be knocked out or have my arm numb, and I totally said knocked out. So they popped it back in and after 20 minutes I was able to go home.
3DPT: What was the hardest part/biggest obstacle of your physical therapy?
VH: My hardest part of physical was to get my arm fully straight and to get the strengthening back because it was in an elbow brace for a month.
3DPT: What was your favorite part of physical therapy?
VH: My favorite part of physical therapy was to learn about the elbow joint, how it moves and how to strengthen it. I really didn't know much about the elbow before.
3DPT: What is something important that you've learned during your time in PT?
VH: To be patient and don't do too much too quickly because if you do you will hurt yourself more.
3DPT: What advice would you give to anyone faced with an injury, or working their way through physical therapy?
VH: What I would tell a person that is going to go through physical therapy is not to worry and that it will be ok if you put in the work.
3DPT: Besides wrestling, what other sport(s) do you play? What position(s) do you play?
VH: The other sports I play are football and baseball. The position that I play for football is center, guard, and defense end. For baseball I play catcher.
3DPT: Who is your favorite sports team? Favorite player and why?
VH: My favorite sports teams are the Baltimore Ravens, Baltimore Orioles, Philadelphia Flyers, and the Boston Celtics. My favorite player is Ray Lewis because he was a Baltimore Raven also he has a great work ethic, is very inspirational and he is just amazing at football.
3DPT: What do you like to do for fun?
VH: I like to work out, play video games, and hang with friends.
3DPT: What is your favorite movie and why?
VH: The Incredibles because I can watch that movie all the time and it's just a great movie with action packed scenes, comedy, and the characters are just fantastic.