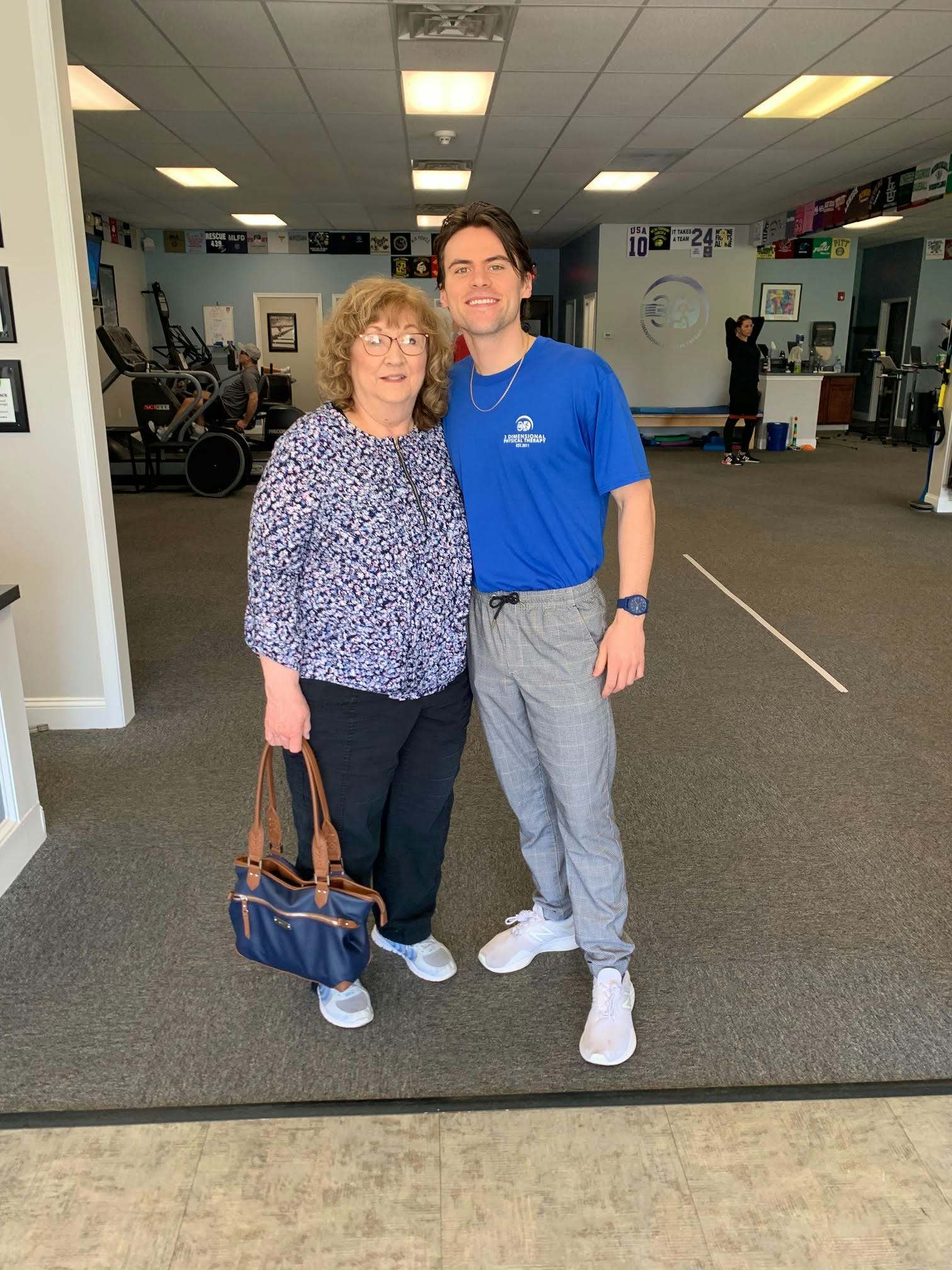 Imagine one day leading your normal, active life – going to work, the gym – to the next thing you know, waking up from a coma in a hospital bed, struggling to breathe. This life-altering experience is exactly what happened to our April Patient of the Month, Veronica!
Veronica contracted COVID-19 in April 2020 and her life has not been the same since. Even after "recovering" from COVID, the long-term effects of the virus have left Veronica with fatigue, sore joints and muscle weakness. Read more about her experience:
3DPT: What brought you to physical therapy and how has it affected your life?
Veronica: Prior to being infected with the COVID-19 virus on April 8, 2020 I was an extremely active young 70-year-old, working 50 to 60 hours a week as a Nursing Home Administrator. My role included financial and clinical operations while overseeing 400 employees and 200+ residents. In my spare time I visited a gym 3 times a week and managed to cook and clean our 2-story home.
On April 28, 2020 I woke up from a medically induced coma having been on a ventilator and found myself helpless, speechless, and totally dependent. For several months I struggled with breathing, walking, muscle weakness, and fatigue – I did not feel like the same person before I got sick. After several months I regained my strength, was walking without an assistive device and breathing comfortably. As time went on I began to experience hair shedding, low Ferritin blood levels, chronic fatigue syndrome, breathing problems, plantar fasciitis, knee pain and joint inflammation. The knee and joint pain were treated as arthritis for 6 months with no improvement. This is what brought me to 3 Dimensional Physical Therapy. After sharing the above with my Physical Therapist, Gabriel Pallante, we both agree that for the past 2 years I have been navigating a life changing event known as "Long COVID." His support and understanding of long COVID are vital and encourages me to continue my rehab program.
3DPT: Tell us a little about your recovery process. What has been the hardest part of your therapy?
Veronica: Recovery is painful at times. Along with the positive gains there are also setbacks which affect the physical and emotional health. It takes time to heal, much longer than I would like.
3DPT: What advice would you give to other people who suffered similar injuries or going through the same situation?
Veronica: You should expect some down times but don't let yourself stay there. The mind is very powerful, and you become what you think about. "It can enslave us or empower us."
3DPT: Why would you recommend 3 Dimensional Physical Therapy?
Veronica: It's a pleasant and comfortable environment. The Doctorate level Physical Therapists appreciate a client's story – where they have been, where they are – and where they want to be.
3DPT: What are you able to do now that you may not have been able to do with your injury?
Veronica: Currently I can walk 1 mile a day which I was not able to do 7 months ago. I am looking forward to being the person I was before COVID! I'm almost there.
Physical Therapy can help you achieve your goals too! Click here to make an appointment with a 3DPT Physical Therapist.