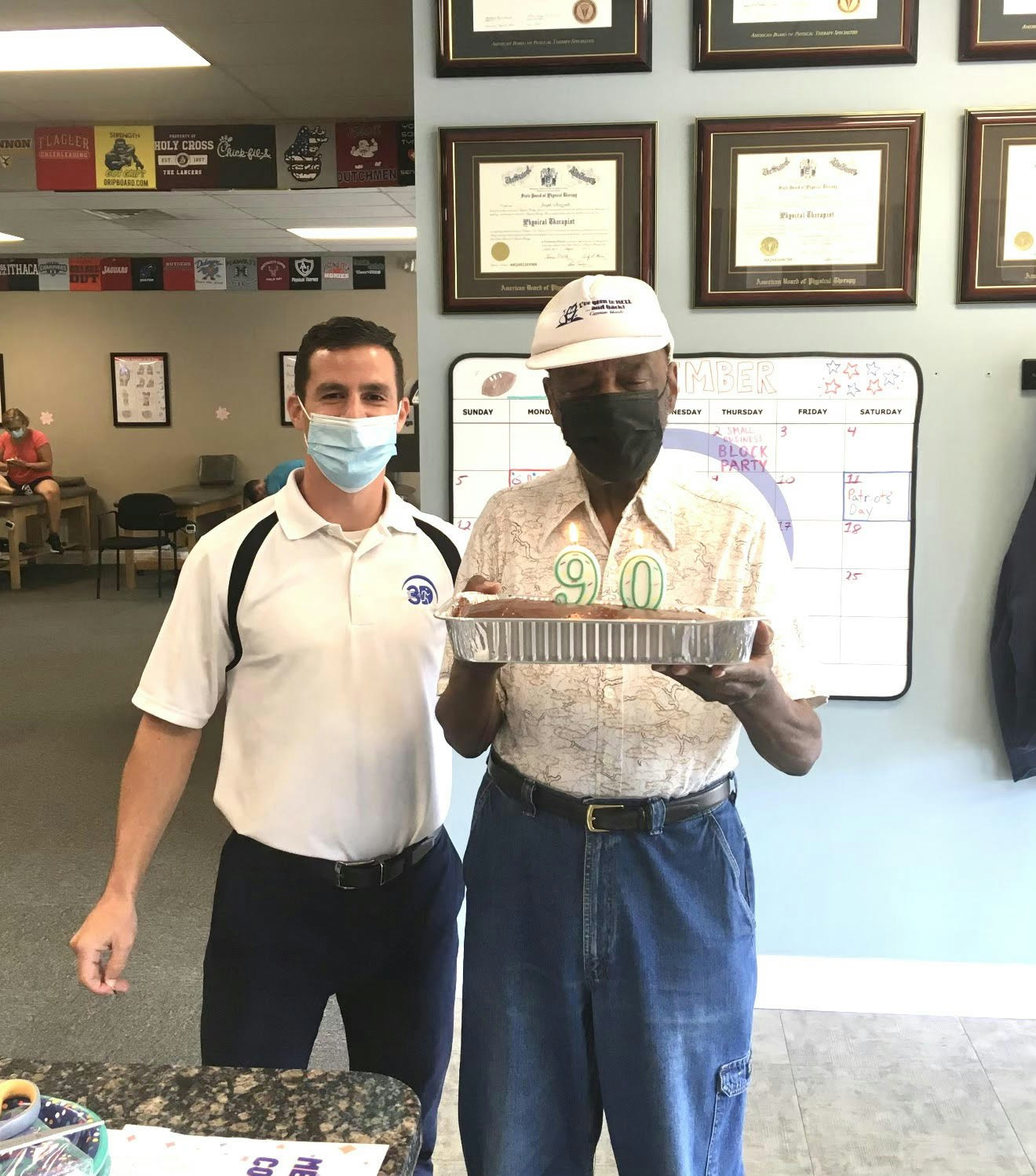 Earlier this month, we had the honor of celebrating the 90th birthday of our patient of the month, Mr. Vincent Henry – complete with birthday cake of course! (Alexis at our front desk made it 🙂
Vince may be 90 but he's not slowing down! In fact, he's moving better & better everyday since spending time at 3DPT Medford, working on strengthening his body after a stroke a few years ago. His recovery was put on hold for a bit in 2020, but Vince is making up for lost time and working hard in PT to regain strength and mobility!
Here's what he had to say about his recovery and time at 3DPT so far:
3DPT: Tell us about what brought you to physical therapy and how it affected your life.
Vince: What brought me to therapy this time was a stroke on the left side. It's my fourth or so time at 3DPT, the first being in 2017 when I was referred by my neurologist after a seizure. It was from her that I first heard about 3DPT. The stroke caused a heaviness in the muscles of my shoulder, arms, hip and thigh on the left side, causing me to need a cane for balance in order to walk.
3DPT: Tell us a little about your recovery process. What has been the hardest part of your therapy?
Vince: The recovery process was interrupted by Covid restrictions which cost months of delay. That made for a longer recovery process.
3DPT: What advice would you give to other people who suffered similar injuries?
Vince: My advice to anyone experiencing a stroke or any other need for physical therapy would be to get started as soon as possible in order to obtain a better and faster result.
3DPT: Why would you recommend 3 Dimensional Physical Therapy?
Vince: My experiences at 3DPT over these years would make me quick to give a strong recommendation to 3DPT because from the very beginning I found that they deliberately choose staff who are not only excellent at their jobs (Doctors of Physical Therapy) but who are warm, personable and fun from the receptionist when you first enter until you leave. That spirit is contagious. It spreads among the patients. And so it is a very pleasant atmosphere in which to get the serious work done.
3DPT: What are you most looking forward to that you may not have been able to do with your injury?
Vince: I'm looking forward to becoming entirely independent of my use of the cane, waking up without a heavy shoulder, arm and leg on the left side, and feeling normal again.