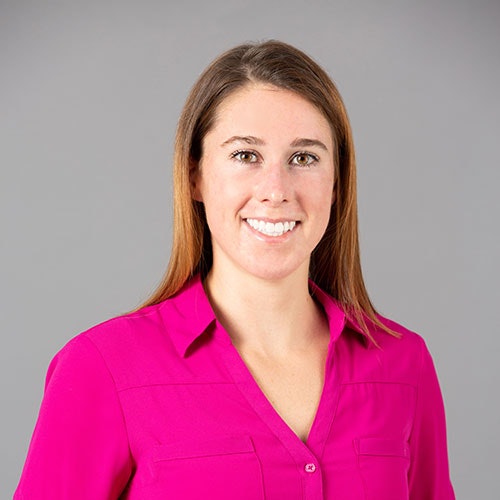 Katy Loughran
PT, DPT, CSCS, Clinic Director
Education
Post-Doctoral Orthopedic Residency; Musculoskeletal Physical Therapy Certificate, Arcadia University
Doctorate in Physical Therapy, Thomas Jefferson University
Bachelors of Science in Exercise Science, University of Delaware
Strath Haven High School in Delaware County, PA
Certifications
Certified Strength and Conditioning Specialist
Active Release Technique Lower Extremity Certification
Treatment areas of interest/specialties
I enjoy treating all patients, particularly athletes, runners, and post-op patients, as well as working on general conditioning with patients.
Why I became a physical therapist
I've been an athlete all my life, and growing up I knew I wanted to work in the sports medicine field. In college, I suffered an injury to my right hip which required physical therapy. I enjoyed spending time in the PT clinic rehabbing my injury and learning more about various muscles, movements, and exercises. After looking further into the career, I was drawn to the complexity of physical therapy and was excited that as a therapist I would be able to positively impact individuals of all ages. I wanted to be the one to help patients rehab an injury and get back to their specific sport, activity, or job
What do you feel are the most important qualities in a physical therapist?
Connecting with patients on a personal level is very important to me. I want all my patients to feel comfortable under my care and know I want to get to know the individual beyond his/her injury. I love learning about patients, their families, and daily interests.
I also believe it's important for therapists to be able to adapt to any and all situations. Physical Therapy can be unpredictable and therapists need to be able to adjust to any and all situations to ensure patients are receiving the best care
Personal interests/hobbies
Running, watching Philadelphia sports teams, anything outdoors, trying local restaurants and breweries