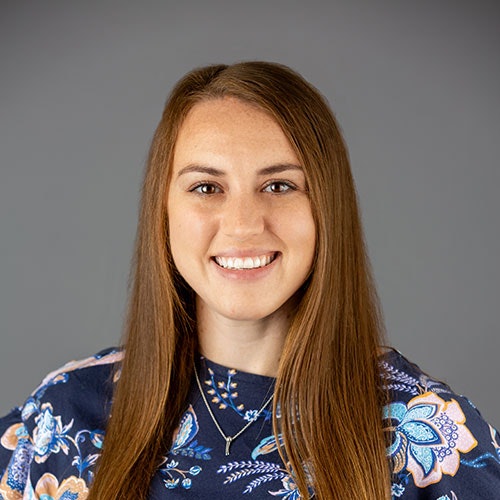 Sarah Obuchowski
PT, DPT, Owner
Education
Doctorate in Physical Therapy, Arcadia University
Bachelors of Science in Biology, Arcadia University
Camden Catholic High School
Certifications
Treatment Areas of Interest/Specialties
I love treating sports injuries, especially those that are post-operative or related to the lower extremity. I love working with runners, too. I also have experience working with people who have balance deficits related to chronic illness.
Why I became a physical therapist
I decided to become a physical therapist because, during high school, I sustained injuries playing sports that required rehab in order to return to play. Sports have always been very important to me so being injured was really frustrating, and during some points of my recovery, it seemed impossible that I would be able to play again without re-injuring myself. My PT worked with me to help me get past my fears so that I could return without restrictions. I was so grateful to be able to return to doing what I loved the most, and this experience instilled in me a desire to help other people return to doing what they love as well.
What do you feel are the most important qualities in a physical therapist?
The most important qualities in a physical therapist are persistence and empathy. Persistence is key because we work with our patients to ensure they recover function and achieve their goals, and this process is not always easy or straightforward. Our patients rely on us to be dedicated to their progress even when things do not go as planned. Being persistent and working hard so that patients can improve, despite any setbacks, helps our patients to be successful and achieve their goals. Also, with this occupation, there are constant opportunities to learn. Having that drive to improve as a clinician by seeking out learning opportunities ensures that you can be the best PT possible. Empathy is another quality that is so important in this profession. We work with people who are in pain and going through hardship. Being able to empathize with their struggles allows us to understand how they're feeling so that we can help them through their recovery. The fact that patients know they have us to support them can make all the difference during this process.
Personal interests/hobbies
I love running and spending time outside. I am an assistant coach for college lacrosse and watch a lot of football with my family. I also love animals, especially dogs, and am a self-proclaimed coffee enthusiast.