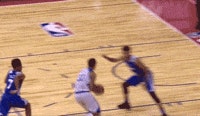 How bad is the Fultz injury?
Markelle Fultz is the latest Sixers rookie to be injured before ever playing a game for the team. If anyone else was watching the summer league to see what the #1 overall pick looked like, you probably saw and gasped when he landed on another player's foot and his ankle rolled. Luckily the x-rays were negative for a fracture, but it was scary seeing him being helped off the court unable to put any weight through his leg. What does a grade 1 ankle sprain mean, and what will his rehab look like?
The injury and anatomy:
When someone "rolls" their ankle, they usually suffer an injury to the outside of the ankle. There are three main ligaments (connection of bone to bone) on the outside of the ankle that keep stability. When someone has a grade 1 sprain, it is usually an injury to the anterior talofibular ligament, or ATFL. A sprain is a tear, and a tear is a sprain. So this means that Markelle Fultz has a partial tear of the ATFL. Sounds scary, but it isn't in the grand scheme of things.
Rehab:
The Athletic Trainers (ATCs), Physical Therapists, and strength coaches will work with Markelle to maintain ankle mobility as the body heals from the injury. They will also strengthen the muscles on the outside of the leg called the peroneals to support and stabilize when he is jumping, running, or cutting. Proprioception, or balance, will be another key component to his rehab. The ATCs will also tape and provide proper support for Markelle's ankle to provide as much stability as possible. Between the functional strength of the peroneals, improved proprioception, and taping/shoewear support, Markelle will be just as good as ever when the season starts!
#TTP (Trust the Proprioception)
Stay Tuned for our next article, which will show some common ankle exercises along with basketball-specific drills that will help with an injury like this.
Categorized as: Ankle & Foot