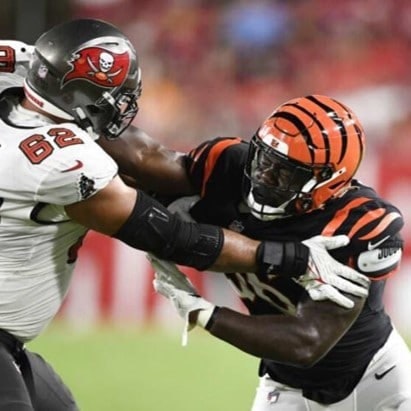 At a Glance –
Player: Cameron Sample
Position: Defensive End
Team: Cincinnati Bengals
Injury: Adductor (Groin) Strain
Projected Recovery Time: 2-8 weeks
The Cincinnati Bengals have been very impressive this season, and this past weekend was no exception. After defeating the Titans in the Divisional Round, the Bengals are heading to the conference championship, but not without injury. During Saturday's game, Cameron Sample, a rookie Defensive End, exited the game and did not return due to a groin injury. Reports have not confirmed whether Sample will be ready to play in the Conference Championship, but with the nature of this sort of injury, his ability to play will likely be a game-time decision.
Injury to the muscles of the groin, also known as the adductors, is common in sports that require running and jumping. This type of injury often occurs due to tightness and over-stressing of the adductor muscle group, leading to a good bit of pain when walking or running. Sample's return will be likely dependent on the grade of the strain, which can be mild (Grade I) to severe (Grade III). If the strain is less than a grade 3, which is a complete tear to the muscle or tendon, Sample will likely be ready to play in the upcoming game vs the Chiefs. However, he will be putting the time in with his physical therapist to ensure that he is ready (and safe) to return. Sample's treatment plan will focus on addressing strength and flexibility impairments so he can return to sport with minimal risk of re-injury, as recurrence rates are high, and manual therapy and other modalities will be used to improve pain level so he can make a quicker return. Typical exercises to "bulletproof" the adductor muscles are slider lunges, adductor stretches, and adductor lifts. Sample may be able to return as early as this week to football, but he is going to continue rehabbing those adductors in the offseason. If last weekend's game is any indication of how the conference championship will play out, the Bengals will need to play close to perfect to stop the Chiefs from making it back to the Super Bowl.
Watch this video to see the team demonstrate a few exercises that address strength and flexibility impairments associated with this injury.

Source:
https://stripehype.com/2021/08/22/bengals-rookie-defensive-ends/

Categorized as: 2021 NFL Blog