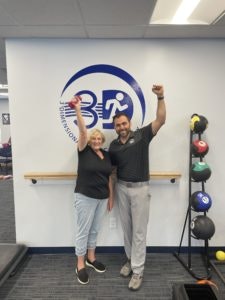 Florence had extensive loss of strength and range of motion but as you can see in this video of her before PT and after, Florence now has had a dramatic improvement in her ability to move her shoulder!
Here's what Florence had to say about her injury and experience so far:
3DPT: Tell us about what brought you to physical therapy, and how this affected your life.
Florence: In Feb 2022, I slipped on black ice and suffered a full thickness rotator cuff tear. I was in a lot of pain, and my right arm was practically useless. I could barely move it past my right ear. I was really in shock as I had never dealt with this type of injury. The injury had major consequences for both me and my husband who has health issues and no longer drives. I panicked about not being able to drive. Also, we had just welcomed a new grandchild into the world, and I wasn't able to hold her. And, of course, my golfing came to a halt. These were just a few of the many consequences of this injury. It certainly opened my eyes to how much can change with one sudden fall!
After consulting with two shoulder specialists, I began PT 2 to 3x weekly . Both specialists said that the tear was too massive to be repaired and suggested that PT might bring about better results than shoulder replacement surgery if I worked hard at it. So that's what I did and continue to do with the help of the amazing physical therapists at 3DPT.
3DPT: Tell us a little about your recovery process. What has been the hardest part of your therapy?
Florence: I have found that hard work in PT—i.e. 2 to 3 times a week—pays off. PT has been a major part of my life for the past 6 months. A rotator cuff recovery is slow but steady. It requires patience and consistency under the guidance of knowledgeable professionals ( thank you Anthony and team!). After 6 months, I can now raise my right arm over my head and extend it laterally. My range of motion is beyond what I thought I could achieve and perhaps better than what a shoulder replacement could have done for me. I am so happy that the shoulder specialists I saw encouraged me to try PT and so happy to have chosen 3DPT. One of the hardest things is being patient with the amount of PT needed, but it is totally worth it.
3DPT: What advice would you give to other people who suffered similar injuries or are going through a similar situation?
Florence: I would get the opinions of 2 or 3 shoulder specialists and discuss PT vs. rotator cuff or shoulder repair/replacement to determine what's right for your individual case. In my situation, I have had excellent results with PT.
I would consider a cortisone shot if the pain is severe. I could not sleep at night for the first 6 week due to the intense pain. When I went for a follow-up appointment with a shoulder specialist, I received a cortisone shot. I had never had one before, and I felt immediate relief. It also helped me relax a bit with the continuing PT. I would encourage exploring that option for severe pain.
I would make sure that the inability to drive doesn't stand in your way. I organized so many rides during the 1st six weeks when I couldn't drive. It was hard to be dependent on others, but it made the difference between my getting to PT or not. A shout out goes to my awesome friends and neighbors for helping so much!
3DPT: Why would you recommend 3 Dimensional Physical Therapy?
Florence: Each PT is qualified, professional, and caring. The whole environment is welcoming, and the PTs and assistants work very well together. I have been there long enough to see their results, not only for me but for the many individuals they treat.
3DPT: What are you most looking forward to that you may not have been able to do with your injury?
Florence: Holding my grandchild, driving and being able to golf again!
Patients who earn the Patient of the Month title are those who inspire other patients and our 3DPT staff. Florence has done just that throughout her PT and we are proud to call Florence the 3DPT July Patient of the Month! Next steps in Florence's PT will be to focus on returning her back to golf safely without reinjuring her shoulder – We have no doubts she'll get there!
Physical Therapy can help you achieve your goals too! Click here to schedule an appointment with a physical therapist.