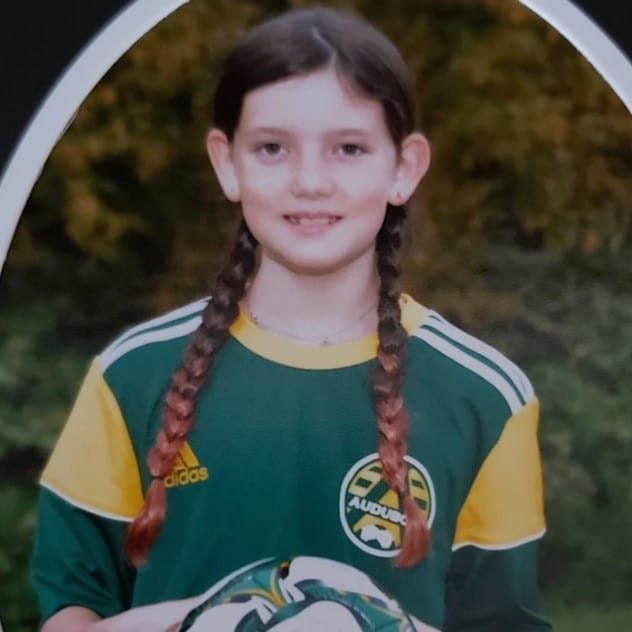 Hannah is about as active as any 10 year old can be! She has dance rehearsals 3 days a week of AND plays soccer.
So when Hannah hurt her knee after she fell off her trampoline this summer, missing activities made her injury feel even worse!
Hannah's fall caused her to experience Patellofemoral Pain, or PFP. PFP is typically described as knee pain in the front of the knee that involves the knee cap. Additionally, the muscles around Hannah's knee cap became weakened because she wasn't moving around due to the pain from her injury.
When Hannah came to 3DPT Haddon Township, she was in a knee brace and was not able to participate in either dance or soccer. Her physical therapist, Dr. Nate Fullam, put together a PT program that involved lots of activities & challenges that helped the 10 year old athlete enjoy her time getting stronger. After only 4 sessions, Hannah was able to go back to soccer, but at a lower intensity. Instead of Hannah's normal offense position (aka lots of running), Nate suggested she try out being a goalie!
After 3 weeks, Hannah got rid of her knee brace and now, she is just about back to normal running, jumping and balancing on her toes just in time for her dance recital! We even got to celebrate with Hannah when she scored her first soccer goal ever!
Hannah has worked hard to get back to doing all of her activities and on top of that, she always has a smile and lots to talk about We asked Hannah to share about her injury and experience at 3DPT – check out her answers below!
3DPT: Tell us about what brought you to physical therapy and how it affected your life.
Hannah: I hurt my knee over the summer. I couldn't dance or play soccer because it was too painful.
3DPT: Tell us a little about your recovery process. What has been the hardest part of your therapy?
Hannah: I took a little bit of time off from my activities while my knee got stronger at PT. I remembered to do my exercises! I learned how to be the goalie for my soccer team when it was still too hard to run. It has been hard not being able to do everything I used to do.
3DPT: What advice would you give to other people who suffered similar injuries or going through the same situation?
Hannah: Don't give up. You will get stronger. Don't be afraid to try something new.
3DPT: Why would you recommend 3 Dimensional Physical Therapy?
Hannah: We have a lot of fun at therapy. Everyone is really nice. They helped me get stronger.
3DPT: What are you able to do now that you may not have been able to do with your injury?
Hannah: I can play offense again for soccer and I scored a goal! I am also practicing for the Holiday Show at dance!
Hannah's injury, Patellofemoral Pain, is actually one of the most common issues we see in physical therapy and affects many active people. Click here to read more about PFP and to see some exercises that can help alleviate pain and strengthen your knees!
Physical Therapy can help you achieve your goals too, whether you're recovering from a surgery, injury or just want to move pain-free!
Click here to make an appointment with a 3DPT Physical Therapist