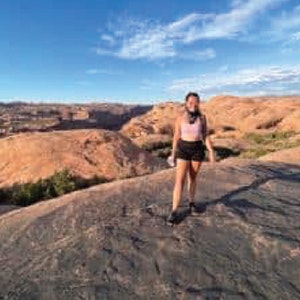 Our August Patient of the Month, Heather English, has been recovering from 2 back-to-back (unplanned!) surgeries…on the same leg! She tore her ACL during a skiing accident, then only 2 days after ACL surgery she fell and broke her tibia. This of course set her ACL recovery back, but she has been working hard and has not given up.
Heather has been a rockstar in PT! She came in with a unique situation as you typically do not see someone who has a fracture after they have gotten their ACL reconstructed, but she was and continues to be super motivated. She comes in each week with a great mindset, always willing to push herself, and gives 100% each day. Her hard work certainly paid off as she was able to go on an awesome hiking trip out west only 2 months after her surgeries.
In fact you'd never know about her injuries seeing her in action in this video:
For someone who has really been through a lot over this past year Heather comes in with a smile everyday and is a joy to be around, even for our other patients!
Here's what Heather had to say about her injury and experience so far:
3DPT: Tell us about what brought you to physical therapy, and how this affected your life.
Heather: I started physical therapy in May of this year to help me recover from two knee surgeries. I tore my ACL while skiing and had an ACL reconstruction. A few days after my surgery I took a fall and actually broke my tibia in the same leg. This required a second surgery and set me back quite a bit in my ACL recovery.
3DPT: Tell us a little about your recovery process. What has been the hardest part of your therapy?
Heather: All things considered, my recovery process has been going pretty smoothly. The hardest part of the recovery has definitely been the mental aspect. It is hard to feel like I am "starting over" in terms of strength and endurance.
3DPT: What advice would you give to other people who suffered similar injuries or are going through a similar situation?
Heather: If I could advise anyone in my situation or anyone who may have a setback in an already challenging recovery, it would be to make sure that you are pushing yourself and sticking to your therapy routine.
3DPT: Why would you recommend 3 Dimensional Physical Therapy?
Heather: My experience in 3D Physical therapy has exceeded my expectations and helped me get back to normal activities. Zach, Benjamin, and Nate have all been incredible and super accommodating to me and my unique situation. They are constantly trying new things with me to help me recover and get me back to the sports and things I love.
3DPT: What are you looking forward to doing now that you're feeling better?
Heather: I am so happy with how far I've come with the help of 3D Physical Therapy and so excited to see my progress as I continue to get closer to returning to sports!
We know Heather will continue to crush PT and will be hitting the slopes come this winter! Physical Therapy can help you achieve your goals too! Click here to schedule an appointment with a physical therapist.