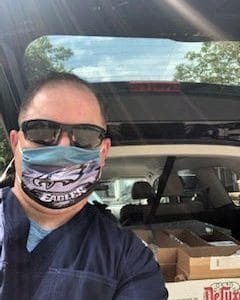 Did you know that evidence shows that exercise and movement, like part of a Physical Therapy program, can be more effective for relieving Low Back Pain than pain medication?
It's true – Ask our July Patient of the Month, Joe Muhlberger!
After a debilitating back injury at work, Joe could barely walk without the help of a cane. He's been dedicated to his physical therapy program and attributes PT to helping him avoid back surgery!
Joe is back to doing the activities he loves with his family and ready to (hopefully) cheer on his favorite Philadelphia Eagles this fall!
Watch this video to hear Joe talk about his road to recovery at 3DPT
Want to know more about relieving back pain? Click here to read The top 10 burning questions about back pain and sciatica.
Are you experiencing back pain? We can help!
Click here to make an appointment with a 3DPT therapist!