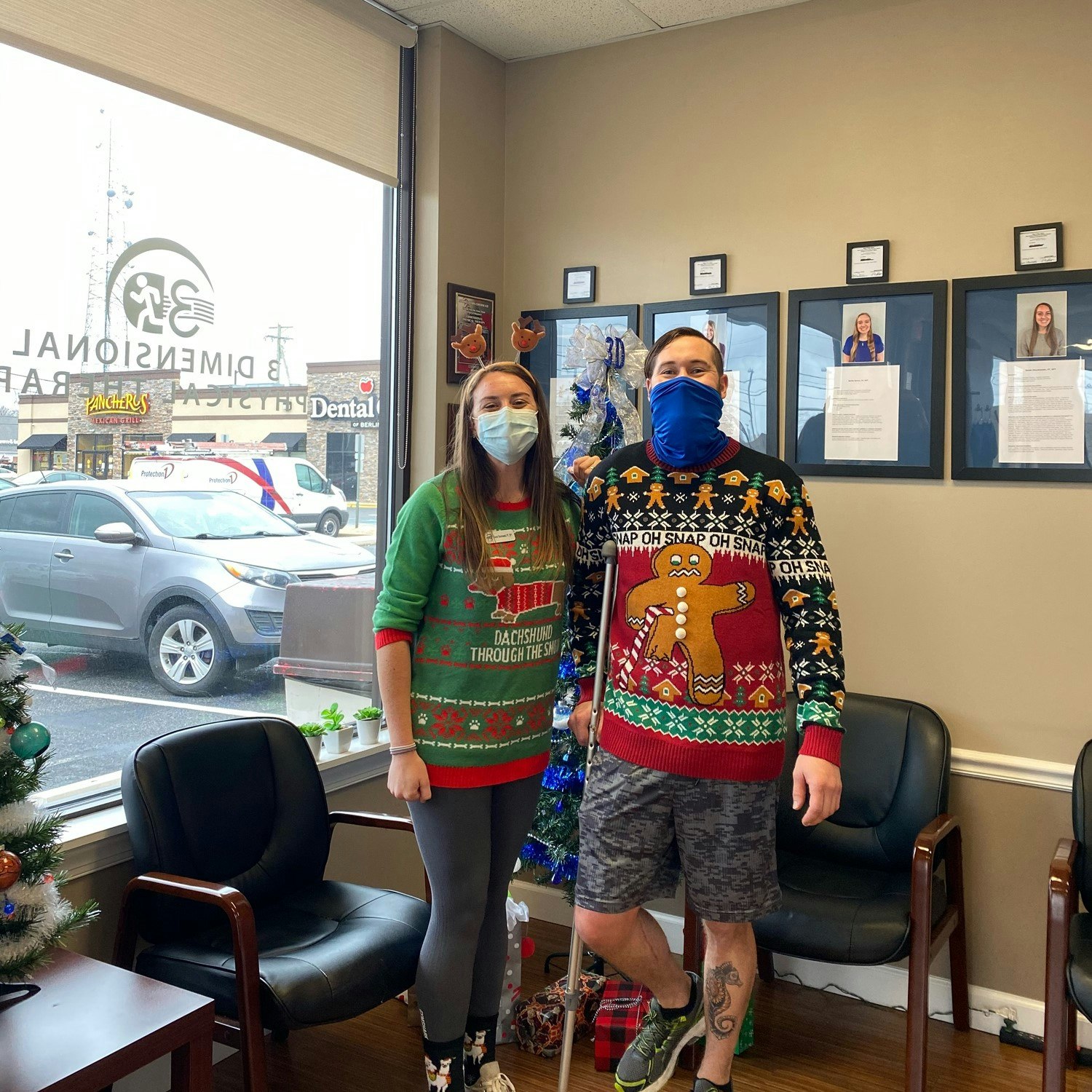 Being involved in sports is a great way to stay active, have fun and take part in a team experience. Organized sports and school teams make participating easy when you're young, but it's not so simple when you're older! For the vast majority of people that don't go on to have a professional sports career after high school or college, competitive sports typically come to an end.
Of course we get busy with careers and life in place of school and sports, but once you're an athlete, that desire to play doesn't just go away!
Fortunately, there are lots of opportunities to find new ways to stay active – gyms, fitness classes and adult sports leagues. Unfortunately, it takes a lot more effort to stay involved when we have other responsibilities.
Probably hardest of all though, might be the realization that without that consistent practice, we may not be at the same level of play that we once were, making jumping back into an activity at full force, a little risky!
Our March Patient of the Month, Josh, learned this first hand! After 10 years off from playing competitive lacrosse, Josh was itching to get back on the field and joined an adult lacrosse league. Lacrosse is a pretty rough sport but if you're out of practice, it can be even rougher, and unfortunately Josh's season ended early due to a pretty bad injury.
After surgery and dedication to his physical therapy program at 3DPT West Berlin, he's back to moving and feeling great. Josh is ready to be active again, because well, once an athlete, always an athlete!
Read below to learn more about Josh's injury and experience at 3DPT!
3DPT: Tell us about what brought you to physical therapy and how it affected your life.
Josh: After about a 10 year break from any competitive sports, I joined a men's summer lacrosse league to give it a whirl again. Four games in and I managed to injure my right leg – displaced fracture of my tibia near my knee. The injury required immediate surgery, and I'm now the owner of two metal plates and numerous screws in that leg. The injury also put me out of work for almost 5 months!
3DPT: Tell us a little about your recovery process. What has been the hardest part of your therapy?
Josh: Recovery was certainly no easy task, as I couldn't put any weight on my right leg for about 10 weeks. Learning to get around on crutches, and maneuvering up and down stairs was something that took some time to get used to. The hardest part of therapy was trying to regain the muscle strength doing squats, sit to stands and heel touches.
3DPT: What advice would you give to other people who suffered similar injuries?
Josh: The best advice I can give someone with a leg injury would probably be to take your time! The body will heal if you let it, but you don't want to push it and make it take longer. Also, try to eat healthy and stay hydrated!
3DPT: Why would you recommend 3 Dimensional Physical Therapy?
Josh: 3 Dimensional PT has been a wonderful place for recovery. Every staff member is caring, kind and willing to help whatever way they can. Sarah is an incredibly intelligent person and tailors to your individual needs for recovery, and is supportive through the whole process.
3DPT: What are you most looking forward to that you may not have been able to do since your injuries?
Josh: I am greatly looking forward to being able to stay active and healthy, by running and working out. Also to continue with my career as an automotive technician, where I am on my feet all day long, so being able to work and lift things without pain is a great thing!
Staying active is an important part of a healthy lifestyle, but starting too much exercise too fast, can lead to an injury. If you do find yourself with an injury, Physical therapy can help you get back to feeling and moving great so you can start exercise that progresses to your level.
If you're looking for a great way to ease into an exercise program this spring, like running, we've got you covered! Run Strong with 3DPT is a physical therapist created program that provides a gradual progression of activity that will take you from sitting on the couch to being able to run a 5K in just 8 weeks!
You can access all the information, plus lots of additional resources, like nutrition information, strength training workouts and stretching videos, here.
You can also follow along by joining our Run Strong with 3DPT Facebook group. We'll be posting information each week and you can interact with other members of the group. Click here to join: https://www.facebook.com/groups/runstrong3dpt/
To read about other Patient of the Month stories, click here.