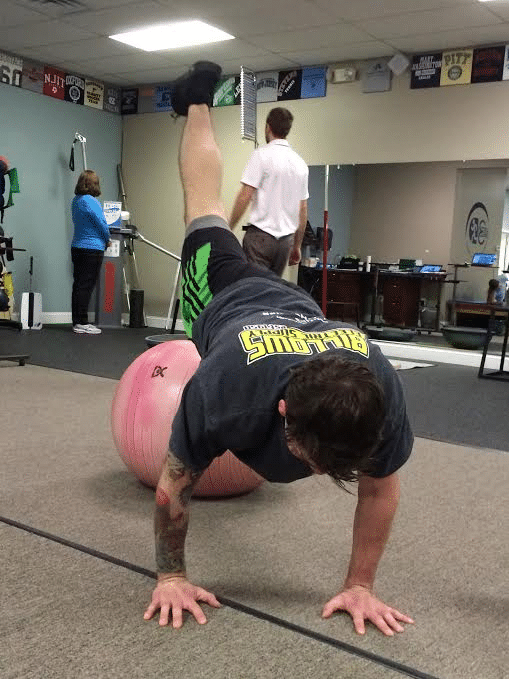 3DPT Names Matthew Kuehn December Patient of the Month!!!
We would like to congratulate Matthew Kuehn, Electrician by day and recreational soccer player by night, for being named December patient of the month. Matthew sustained an ACL tear requiring reconstructive surgery and preventing him from working for a few weeks. Matthew comes in with a positive attitude, works extremely hard and is always willing to give 100%, impressing other patients and the staff with his hard work and dedication.
3DPT: Tell us about your injury that brought you to physical therapy:
Matthew: I was playing soccer in the Casa League over in Philly. I was running down the sideline trying to force the opposing team either out of bounds or slow them down so we could recover from a counter. I poked the ball out of bounds and my knee twisted one way and then the opponent collided with my knee and it twisted the opposite way. When I planted my foot I heard and felt a pop. I went down like a stack of bricks.
3DPT: What was the hardest part of your therapy thus far?
Matthew: The hardest part of physical therapy would be making sure the form of the exercises is correct. Small details, like how you position your foot or where you place your weight can completely change the exercise and make you use the muscles that need to be worked versus compensating with the ones that are already strong.
3DPT: What has coming into therapy taught you?
Matthew: I've learned that recovering takes time. I certainly wouldn't be able recover on my own. Coming to 3D made me push myself to get better, the right way. Unlike when I broke my foot and decided I would be fine to play soccer 3 weeks later (I re-broke my foot that time). But such is life and you have to learn from the mistakes.
3DPT: What have you liked most about coming to physical therapy at 3DPT?
Matthew: I like coming to 3D Physical Therapy because everyone generally seems to be polite and happy. It helps to keep me motivated and going strong when I need it.
3DPT: What are you most looking forward to when you return to the field?
Matthew: I can't wait to return to soccer. Not only because I get to play, but the people I play with all have the same sense of humor and it makes games fun weather we win or lose.
3DPT: What are some of your hobbies outside of playing soccer?
Matthew: Some of my hobbies outside of soccer are: Hanging with friends, throwing darts, relaxing, playing pool, going to the beach, fishing, crabbing, and just relaxing as much as possible.