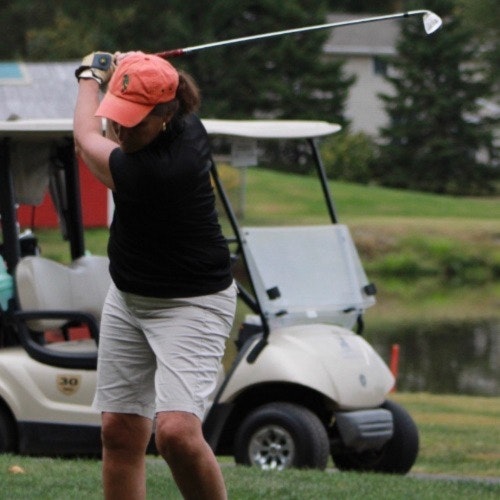 Peggy Murphy is a patient at 3DPT in Haddon Heights. She has been a patient since 2019. She used to do a lot of cardio workouts, but started experiencing acute calf pain after a short quarter mile run. She learned some exercises that helped alleviate the pain, but she became frustrated when the pain returned. After many tests and ultrasounds, a vascular surgeon found a cyst behind her knee that was causing blood flow issues to her calf muscle. She had the cyst removed and is back in physical therapy working towards her goals of running again, walking 18 holes on a golf course and being pain free.
Here is what Peggy had to say about her injury and her road to recovery with 3DPT:
Tell us what brought you to physical therapy and how this affected your life.
Peggy: I first started going to 3DPT in April 2019 because I was experiencing acute pain in my left calf muscle right after a 1/ 4-1/2 mile run. I used to do cardiovascular workouts daily. With the pain, I no longer could walk a round of golf, run, or even walk , but a short distance. The pain kept me from doing things I loved to do. I knew I needed physical therapy to relieve the pain. Jessica Jennings was one of the first therapists, in Haddon Township, who worked with my pain management. Jessica was so great. Jessica
introduced good exercises that seemed to alleviate the pain. The pain-free feeling was short-lived. I was able to do minimal jogging and walking, but I could never walk 18 holes of golf like I had in the past. Getting back my ability to jog or even walk became my goal. After 16 physical therapy sessions, I stopped going because I became frustrated that my calf was still causing me acute pain even with therapy 3 times/week.
Tell us a little about your recovery process. What has been the hardest part of your therapy?
Peggy: In April 2022 I sought advice from doctors who I thought could explain the cause of my calf pain. With the assistance of venous duplex ultrasounds, arterial ultrasounds, nerve conduction studies, and a whole lot of other tests to diagnose my condition; nothing seemed to be conclusive. Jessica Jennings told me, with confidence, that she thought I had a condition known as compartmentalization. She explained to me that my calf and foot were not receiving the adequate blood flow necessary for my muscle to work properly thus causing the pain. I realized at that point I needed to address this challenging condition. I sought the advice of a vascular surgeon who diagnosed a cyst lodged in my popliteal artery behind my left knee. The cyst was blocking my blood flow to my calf and foot. He performed an angioplasty procedure to try to move the cyst away from behind my knee in hopes of clearing the blockage. I returned to 3DPT in April, to try again, to minimize the pain after my procedure. I continued to experience pain in my calf, even after many sessions of physical therapy. I became frustrated but I remained optimistic. My doctor decided to perform popliteal arterial surgery to remove the blocking cyst. I was exhilarated that my doctor was able to remove the cyst that caused me so much pain. Lauren Wagner provided tremendous assistance both as a physical therapist and as a companion. She helped me focus on strengthening my core, legs, and hips.
What advice would you give to other people who suffered similar injuries or are going through the same situation?
Peggy: The best advice that I would give to other people who suffer similar injuries or are going through the same situation that I experienced would be to stay focused and optimistic. Physical therapy was necessary. Fifty additional physical therapy sessions at 3DPT in Haddon Heights with Jessica, Lauren, Brian, Elena, John, and many other competent physical therapists proved to be invaluable. I grew stronger each session. Not one time did I feel I was wasting my time. Every session benefitted me and brought me closer to my goals. My advice should have been to ask for " blading therapy." By far, blade therapy is what kept me coming back both for my blood circulation and the massage of my calf muscle. Blading, cup therapy, hip flexor manipulation and stimulation of the nerves were the best treatments. Every therapist provided so many different styles of treatment for my challenging condition of neuropathy and the knee and hip issues that arose with it.

Why would you recommend 3 Dimensional Physical Therapy?
Peggy: I would recommend 3-Dimensional Physical Therapy, and I have to many people. All the therapists have excellent listening skills. All the therapists have addressed my knee pain, hip flexor pain and neuropathy, caused by nerve damage. Each therapist is compassionate and able to address personal requests of clients. Praise to them for helping me overcome this huge challenge and giving me the confidence to continue.
What are you most looking forward to that you may not have been able to do with your injury?
Peggy: I am most looking forward to running again, walking 18 holes of golf and being pain free. I have started golfing on Tuesdays in a golf league. I can overcome adversity and so can anyone… One day at a time. Walking and running for distance, shall be my next goal. 3-Dimensional Physical Therapy is the best in their field!