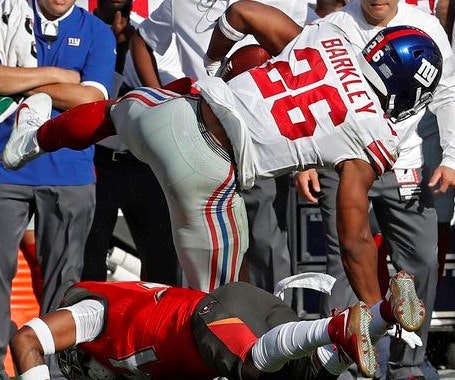 In Week 3 of the 2019 NFL season, thankfully the Philadelphia Eagles did not experience any big injuries… But we don't have to look far for a big impact injury. Penn State grad and NY Giants superstar running back, Saquon Barkley, went down early in the game against Tampa Bay with his ankle bending awkwardly. Barkley was helped off the field by trainers and was later seen on the sidelines using crutches, unable to put any weight on his injured ankle. The initial diagnosis for Saquon's injury is a high ankle sprain, which could be bad news for the Giants.
A high ankle sprain is typically worse than the more common lateral ankle sprain, due to more tissues involved. The ankle joint is shaped like an arch with a dome (talus bone) underneath.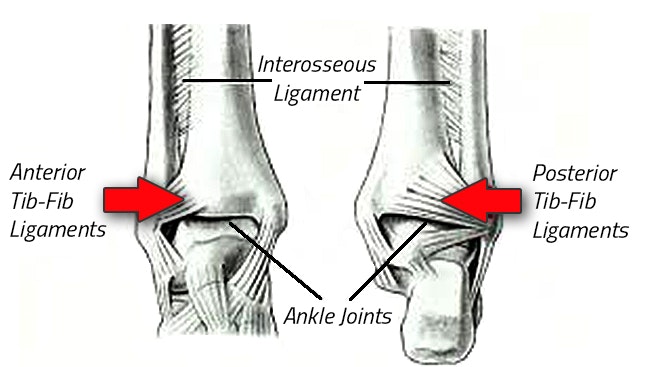 In a high ankle sprain that dome is forced upwards and with the rotation component seen with Barkley's injury, the bones forming the arch are forced apart. Those bones, the fibula and tibia, are held together by ligaments and the interosseous membrane (see photo). The extent of ligament damage varies with each injury. There is also a risk of fracturing the fibula with this injury, but fortunately the preliminary x-rays for Barkley were negative for a fracture.
The initial stage of recovery following a high ankle sprain involves protecting the ligaments to prevent further damage and trying to control pain and swelling. The patient may be non-weight bearing (on crutches) for several days to allow healing, but will progress to weight bearing as pain allows. Early treatment following the initial stage focuses on regaining motion through the joint and strengthening the muscles around to better protect the damaged structures. Ankle stability is especially important for an athlete like Saquon and since the ligaments are affected, it is important to train the muscle to better stabilize the ankle. Balance is also a key component to work on as the ankle assists with maintaining balance. Once the patient is pain free and demonstrating improved stability, they can begin working towards more advanced drills to return to sport.
Recovery generally takes 4-6 weeks for a high ankle sprain and can be up to 8 weeks depending on severity of damage and demands of the sport. Barkley apparently experienced a similar injury his freshman year of college and only missed 2 weeks, but that is not common. This injury may not affect the outcome of the Giants season, but the Eagles will probably have to face Barkley back at full strength when they teams meet December.
Categorized as: Ankle & Foot,Blog