3DPT's 2023 Muffin Madness Contest
March 13 @ 8:00 am

-

8:00 pm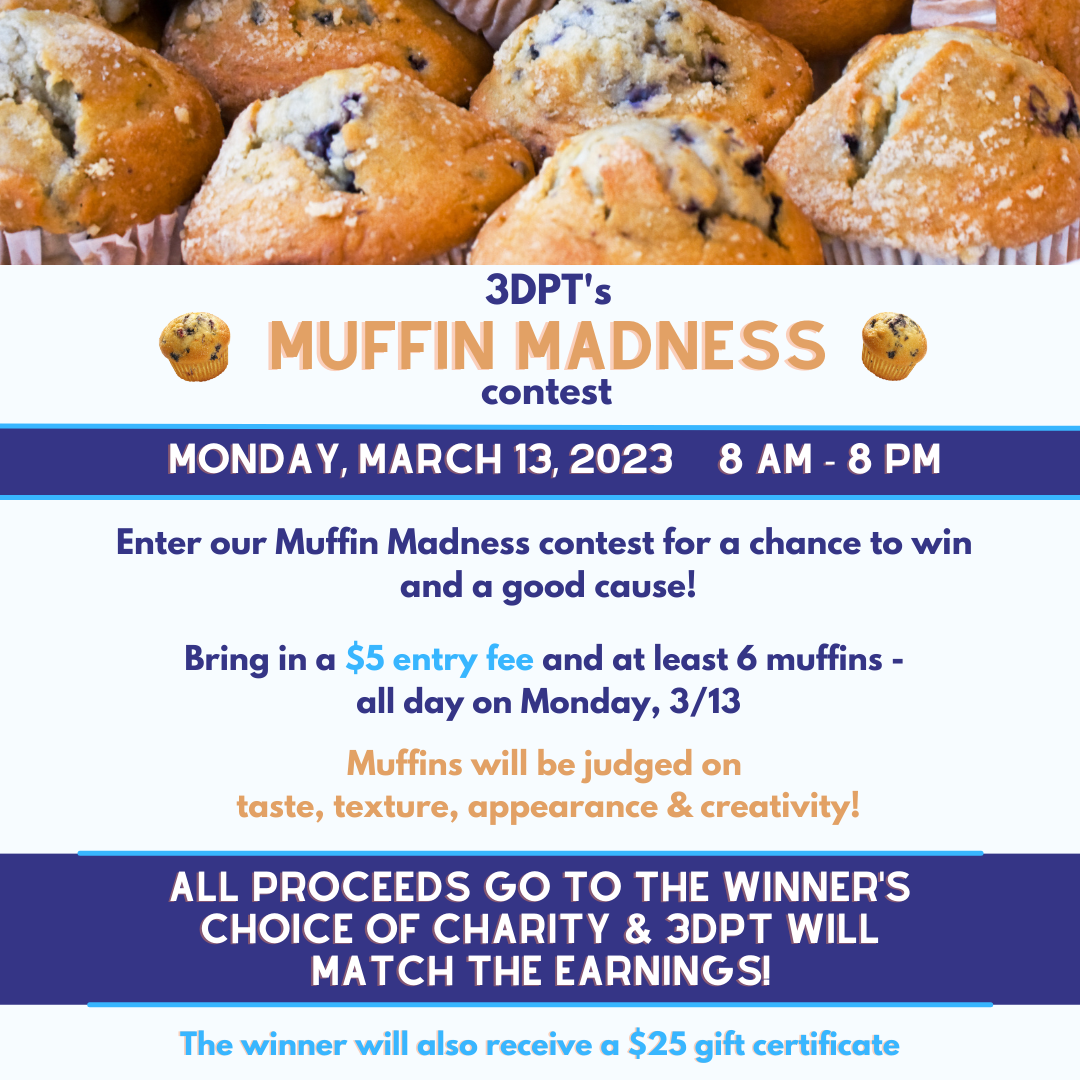 𝘔𝘢𝘳𝘤𝘩 𝘔𝘢𝘥𝘯𝘦𝘴𝘴 is around the corner… But first comes 𝕄𝕦𝕗𝕗𝕚𝕟 𝕄𝕒𝕕𝕟𝕖𝕤𝕤!
On 𝐌𝐨𝐧𝐝𝐚𝐲, 𝐌𝐚𝐫𝐜𝐡 𝟏𝟑𝐭𝐡, we will be hosting our annual 𝟑𝐃𝐏𝐓 𝐌𝐮𝐟𝐟𝐢𝐧 𝐌𝐚𝐝𝐧𝐞𝐬𝐬 𝐜𝐨𝐧𝐭𝐞𝐬𝐭 – a chance for patients, employees and friends to show off their muffin baking skills AND help raise money for a good cause!
Here's how it works:
On 𝐌𝐨𝐧𝐝𝐚𝐲, 𝐌𝐚𝐫𝐜𝐡 𝟏𝟑𝐭𝐡 bring in 6 of your best muffins and a $5 entry free to your local 3DPT. 1 muffin will be used for judging and any additional muffins will be available for purchase by anyone tempted by the goodies!
Judges will choose their favorite muffin based on taste, texture, appearance and creativity. The winner will get a $25 gift card AND will choose an organization/charity to receive all of the proceeds from the contest.
𝟑𝐃𝐏𝐓 𝐰𝐢𝐥𝐥 𝐦𝐚𝐭𝐜𝐡 𝐭𝐡𝐞 𝐭𝐨𝐭𝐚𝐥 𝐚𝐦𝐨𝐮𝐧𝐭 𝐫𝐚𝐢𝐬𝐞𝐝 𝐭𝐨 𝐝𝐨𝐮𝐛𝐥𝐞 𝐭𝐡𝐞 𝐩𝐫𝐨𝐜𝐞𝐞𝐝𝐬!
Break out those muffin pans and your best ideas to join the MUFFIN MADNESS on 3/13!
Entries will be accepted until 8 pm