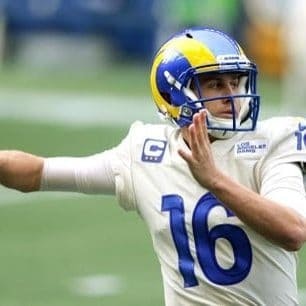 At a Glance –
Player: Jared Goff
Position: Quarterback
Team: Los Angeles Rams
Injury: Broken and dislocated thumb
Projected Recovery Time: 2-8 wks
This next week is pivotal for the Los Angeles Rams to finalize their spot in the playoffs. If they win, they're in, but they have to beat the Arizona Cardinals and Kyler Murray without their QB Jared Goff, who hasn't missed a game since 2018. During this past week against the Seattle Seahawks, Goff sustained a pretty serious injury, dislocating his thumb. However, after reducing the dislocation himself, Goff finished out the game, which is pretty impressive despite the loss. Reports have since surfaced that Goff dislocated and fractured his thumb, which requires surgical correction, with the hopes that he can return if the Rams make the playoffs. Though the Rams control their destiny, they are putting a lot of faith in their backup QB, John Wolford, who has never thrown a pass in an NFL game.
Though it was not disclosed specifically what damage Goff sustained to his thumb, he likely injured ligaments since he needed surgery to return to play. For this sort of injury, it typically takes 6-8 weeks to recover. However, Goff aims to be back around the weekend of January 9-10th, meaning he will have less than 2 weeks to work back to playing shape. He will be spending a lot of time with his physical therapist to help manage pain, swelling, and other bothersome symptoms that people deal with post-op. Because he is returning to football, Goff will likely wear some form of a brace to limit motion and protect the joint. If there is ligament damage, the brace will definitely restrict thumb motion to some degree which may make playing quarterback difficult. The thumb is absolutely essential for gripping and throwing a football so the brace will likely feel awkward and cumbersome for Goff – going through exercises and drills to help Goff acclimate to his new accessory will ensure he can return to the game confidently. Even if Goff is able to make that impressive return in 2 weeks, he will work with his physical therapist for the following weeks, even into the offseason, to ensure his motion and strength returns to normal to prevent re-injury. Goff's return is contingent on the Rams making the playoffs, however, so it is unclear if he will have the opportunity to play in the post-season at all. The fate of the Rams rests on Wolford's shoulders, and the rest of us will be watching to see if the Rams will make a playoff appearance after narrowly missing last year.
Sources:
https://bleacherreport.com/articles/2924517-rams-jared-goff-to-have-surgery-on-thumb-injury-hopes-to-be-back-for-playoffs
Categorized as: 2020 NFL Blog