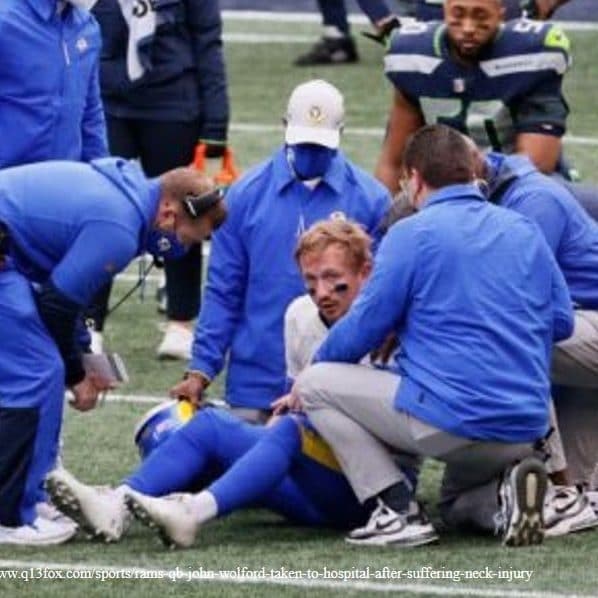 At a Glance –
Player: John Wolford
Position: Quarterback
Team: LA Rams
Injury: Stinger
Projected Recovery Time: 1-4 wks
The Rams put on an impressive display during Wildcard Weekend, defeating the Seahawks despite problems at the quarterback position. Jared Goff, the Rams' starter, suffered a thumb dislocation and underwent subsequent surgery during Week 16; this past weekend, he was the backup, not ready just yet to play a full game, until Wolford, the backup-turned-starter, suffered a nasty hit to the head and neck and had to leave the game. Goff had to step in, despite his injury, and led his team to a well-deserved victory. The hit Wolford sustained was worrisome, as his head collided with Jamal Adams' shoulder pad, but he was able to walk off the field despite appearing to be in significant pain. Wolford's condition was unknown for the remainder of the game, but it was released that he was taken to the hospital shortly after leaving the field. Reports surfaced this week that this hospital trip was merely precautionary and that Wolford simply suffered a stinger injury, which means he may be able to play in the upcoming Divisional Round, should the Rams need him.
A stinger is a nerve injury, and it is very common in football. This type of injury most commonly occurs when the neck and head are forced back or to the opposite side, putting tension on a bundle of nerves known as the brachial plexus, which is located in the neck. This tension causes what most describe as "electric-shock pain" to radiate down the arm for a very short period of time (around 10 seconds or less). Afterward, though that sharp pain is gone, a person's function continues to be impacted as the nerves that break off of the brachial plexus and travel down the arm are irritated and unable to function normally. A large complaint from people who experience this injury is decreased ability to move or use the upper extremity, which would make it pretty difficult to throw a football. The rate of recovery largely depends on how severe the injury is, as well as if a person participates in physical therapy. Wolford will likely start working with his physical therapist as soon as he can to alleviate symptoms and recover function sooner. Rehab for stingers include strengthening upper extremity muscles affected by the stinger, as well as addressing neck muscle weakness, to help a person avoid further injury when returning to higher level activity. Another major component of rehab is addressing aggravated nerves. When using the upper extremity, tension is applied to the nerves, and after a stinger injury, nerves are much more sensitive to any tugging. There are specific nerve stretches and mobilizations a physical therapist can do with Wolford to help Wolford's nerve develop a better tolerance to being moved again, allowing him to return to football without reaggravating symptoms. Stingers vary in terms of recovery time, but Wolford can return as early as this week if his symptoms are mild enough. The Rams face a heavily favored Packers team this upcoming weekend, and Head Coach Sean McVay hasn't named a starter yet, so Wolford is certainly in the mix… for now.
Sources:
https://www.sports-health.com/sports-injuries/head-and-neck-injuries/stinger-injuries-what-know
https://theramswire.usatoday.com/2021/01/10/rams-starting-quarterback-playoffs-goff-wolford/
Categorized as: 2020 NFL Blog