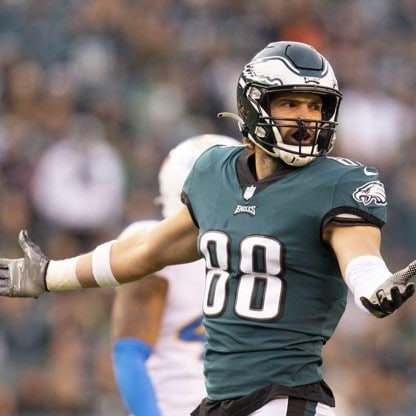 At a Glance –
Player: Dallas Goedert
Position: Tight End
Team: Philadelphia Eagles
Injury: Concussion
Projected Recovery Time: 2 weeks – 2+ months
In Detail:
The Philadelphia Eagles are certainly not out of playoff contention, especially with their victory against the Broncos this week. However, the Eagles lost their tight end, Dallas Goedert, only 10 minutes into the game after Goedert suffered a helmet-to-helmet hit while being tackled. Goedert was quickly ruled out for the game and is currently participating in the NFL's concussion protocol. He will likely need physical therapy intervention to help him return to the field safely. Concussions are mild traumatic brain injuries, caused by a blow or jolt to the head, that may leave a person with behavioral, cognitive, or physical symptoms for weeks to months. They are serious injuries that can disrupt the brain's chemistry and function, and it is important to diagnose the injury and allow the brain to heal. Physical therapists are trained to identify and understand symptoms to ensure a person safely returns to activity, and Goedert's PT will definitely have a role in determining his return to the field.
Concussions are a difficult injury to treat as people present differently, depending on the severity of the concussion, but the biggest goal of Goedert's physical therapy program will be to re-introduce activities gradually. If someone returns to higher level activities too quickly, a brain bleed can develop from excessive swelling, or a person may develop post-concussive syndrome, in which symptoms last for several months. One of the best ways to treat concussions is exercise, surprisingly enough. Studies have shown that exercise improves blood flow to the brain and strengthens the brain's communication pathways, and by returning to exercise gradually, a person can start returning to daily activities. Typical symptoms include headaches, dizziness, and "feeling foggy", and early interventions in Goedert's PT program will help him improve his tolerance to moving his head, standing, and performing daily activities. Goedert will also work on strengthening key muscle groups in the neck, as well as addressing vestibular impairments, which are very common with concussions. Vestibular (or inner ear) problems interfere with balance and coordination, and PTs have a variety of exercises to help Goedert improve his stability. As he progresses, the exercises will become more difficult to ensure he can tolerate the demands of professional football. There is even a formal treadmill program that measures heartrate and symptoms that Goedert will likely participate in to make sure he can return to football safely. His PTs will know the signs of a poor response to exercise to make sure he isn't doing too much, and hopefully in the next 2-4 weeks, he will be able to make a full recovery and return to football, just in time for the Eagles to make their playoff run.
Wondering what PT for a concussion might look like?
Take a look at this video to see a few activities that would be included in the early and late stages of rehab for a concussion.
Sources:
https://www.choosept.com/symptomsconditionsdetail/physical-therapy-guide-to-concussion
Categorized as: 2021 NFL Blog