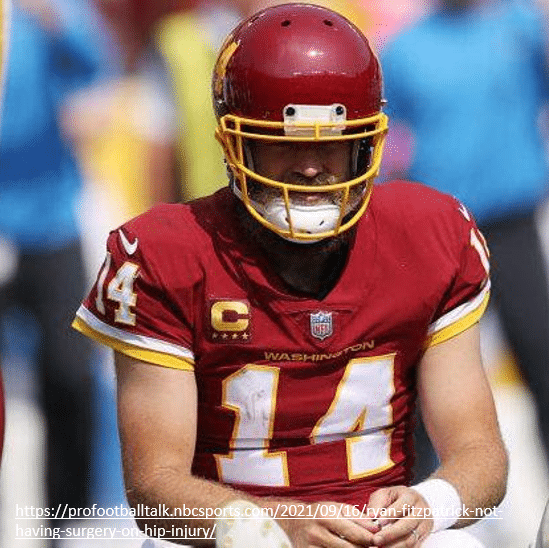 At a Glance –
Player:  Ryan Fitzpatrick
Position: Quarterback
Team: Washington Football Team
Injury: Subluxed Hip
Projected Recovery Time: 6-8 weeks
In Detail: 
The Washington Football Team has lost a legend (for at least 6 weeks) during their opening game to the LA Chargers. Ryan Fitzpatrick, a seasoned veteran in the NFL, suffered a subluxed hip from a hit during the second quarter and didn't return for the duration of the game. He was placed on the IR shortly after, with reports confirming the extent of the injury and the potential for Fitzpatrick to have to undergo surgery in the upcoming week. However, after consulting multiple physicians, Fitzpatrick decided to treat his injury conservatively, meaning he opted not to have surgery and participate in rehabilitation instead, and he is hoping to be back to play after the bye week in Week 9. This return date will be determined by the severity of Fitzpatrick's injury, as well as how well Fitzpatrick responds to physical therapy.
A hip subluxation is a partially dislocated hip, in which the femur is partially forced out of the hip socket. The hip is a particularly stable joint, meaning that this sort of injury takes a lot of force to occur. The severity of the injury depends on damage to the surrounding connective tissue, as well as if there was any damage to the femur itself. Oftentimes, if there is a femur fracture, surgery is required to reduce the femur (or put it back) into place. Connective tissue damage can equally warrant surgery, especially if the labrum, which provides essential stability for the hip, is damaged, which can really prolong the recovery. However, since Fitz is able to avoid surgery for now, it seems that the extent of soft/bony tissue damage is minimal, meaning he can aim to be back sooner rather than later. His ability to return safely, though, is largely determined by how his rehab goes. Physical therapy is going to be a huge part of Fitzpatrick's routine in the upcoming weeks. During the course of rehab, focus will be on increasing muscle strength, as well as restoring hip movement, in a safe and graded way. The earlier phases of hip rehab will emphasize lower level strengthening, including isometrics (strengthening muscles without movement), and care will be taken to avoid motions that may aggravate the hip or elicit symptoms of instability. As Fitzpatrick gains his strength, he will be able to progress to single leg activities and plyometrics. It won't be until the later phase of rehab that he will be cleared to participate in practice without limitation. Since meaningful improvements in muscle strength take at least 6 weeks to see, Fitz won't be ready to go until Week 8 at the earliest, though a more realistic timeframe is Week 10, as long as Fitz doesn't see any setbacks during his recovery. Until then, The Football Team will have to rely on Taylor Heinicke, who had an impressive showing against the Bucs during playoffs last season. From the looks of Week 2, the Football Team seems to be in capable hands.
Watch this video to see a few demonstrations of exercises that may be included in the rehab of a hip subluxation – 2 for early stage rehab and 2 for late stage rehab.

Source:
https://profootballtalk.nbcsports.com/2021/09/16/ryan-fitzpatrick-not-having-surgery-on-hip-injury/
Categorized as: 2021 NFL Blog