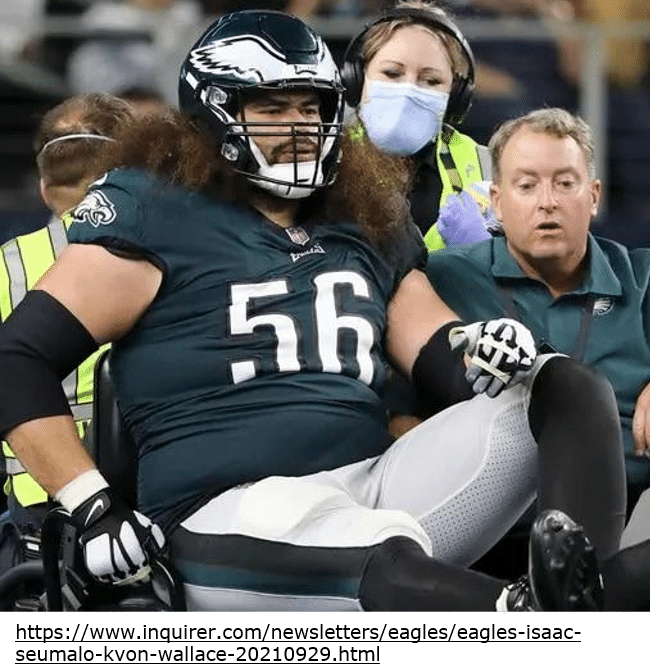 At a Glance –
Player:  Isaac Seumalo
Position: Guard
Team: Philadelphia Eagles
Injury: Lisfranc
Projected Recovery Time: 6-9 months
In Detail: 
Not the offensive line again!
The Eagles suffered yet another hit to their offensive line during Monday night's game against Dallas. Isaac Seumalo became the third O-lineman to be injured this season already, and his particular injury to the foot, known as a Lisfranc injury, means he will be out for more than this past week's loss against the Chiefs – this injury is season-ending.
The Lisfranc injury occurs when there is an insult to the Lisfranc ligament, which runs from the 2nd metatarsal (long bone of 2nd toe) and medial cuneiform (a bone on the inner part of your foot). If there is disruption of this ligament, the bones in the foot can become misaligned and a person may experience feelings of instability at the midfoot joints. Additionally, with this type of injury, fractures of surrounding bone and damage to connective tissue are common. If the injury consists of bone fractures, cartilage damage, and/or midfoot misalignment, conservative treatment is not enough, and surgery must be utilized to correct the injury. Though the extent of Seumalo's injury has not been disclosed, it is clear that there is significant damage to his foot as he is indeed undergoing surgery in the upcoming weeks for his Lisfranc injury.
Surgery typically involves re-aligning the base of the 2nd metatarsal to the medial cuneiform bones and stabilizing them via plates and screws. Immediately after surgery, progress is typically slow-going, as Seumalo will be under non-weightbearing restrictions for up to 6 weeks to allow the foot to heal. Around the 6-week mark, he will get the "ok" to walk in a boot and start working with his physical therapist, and the goal of this early phase is to start to address range-of-motion and foot strength impairments. He will progress to full weightbearing around the 8-week mark and be able to progress to more dynamic strengthening and balance training. Around the 16-week mark, he will be able to progress to lower level dynamic activities, meaning at this point he will be able to start his return to running process if he has adequate calf strength and ankle range-of-motion, as well as low pain levels. At this phase, patients typically struggle with calf strength and balance, which are both essential for the guard position as it requires a lot of calf power and lower body stability, and a major focus of Seumalo's rehab sessions as this time will focus on those two components to ensure that he will be able to return to football without risk of re-injury. It can take up to 9 months for him to be fully ready to return to games, which gives him plenty of time to prepare for the 2022 season. As for the Eagles, hopefully their lineman problems stop here so they can recover and refocus their efforts on beating the Panthers this Sunday.
Sources:
https://www.inquirer.com/newsletters/eagles/eagles-isaac-seumalo-kvon-wallace-20210929.html
https://www.orthovirginia.com/UserFiles/File/microsites/Eastwood/Eastwood-Lis-Franc-Protocol.pdf
To see some of the things Seumalo will likely be doing once he does start PT, take a look at the video below to see the team demonstrate a few early stage and late stage rehab exercises for a lisfranc injury.
Categorized as: 2021 NFL Blog