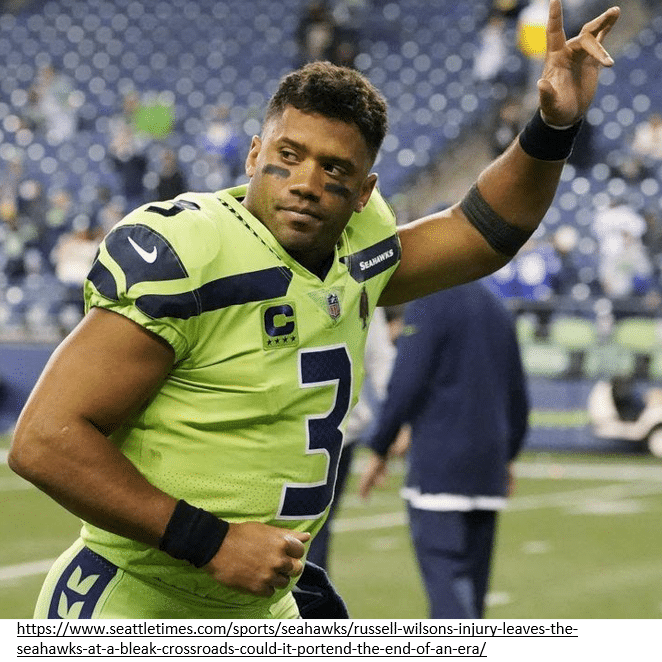 At a Glance –
Player:  Russell Wilson
Position: Quarterback
Team: Seattle Seahawks
Injury: Mallet finger, finger fracture
Projected Recovery Time: 4-12 weeks
In Detail:
Thursday night's game was Russell Wilson's 165th consecutive start as a QB.
Russell Wilson is one of those quarterbacks that is always fun to watch, and everyone knows when he's on the field, that the Seattle Seahawks always have a chance to win. Wilson is also known as one of the most reliable players in football, as he has never missed one game in his career in the NFL (which began in 2012!!!). That is, until this week, when Russ suffered an injury to his throwing hand during the Seahawks vs Rams on Thursday night. During a throw in the third quarter, Russ hit his hand on D-tackle Aaron Donald and was unable to play after the following possession. Russ was unable to finish out the second half, and after a few days, it was confirmed that Russ suffered 2 pretty serious finger injuries – a finger joint fracture and, even worse, a ruptured finger extensor tendon (which is known as mallet finger). The ruptured tendon typically requires surgery to help a person return to sports, and Russ has already undergone surgery to start his recovery process. He will hopefully be ready to return around Week 8 at the earliest.
Russ will start working with his physical therapist within the first few days post-op. There are specially trained PTs who treat hand injuries specifically, known as Certified Hand Therapists, and a Hand Therapist will likely be the one in charge of Russ' care. Recovery from mallet finger requires several weeks of immobilization of the hand via a protective orthosis, which his therapist will fabricate for him personally, and Russ will be wearing this for most hours of the day for the first 8-10 weeks post-op, especially with sleeping. For tendon repairs, active finger extension (straightening) and passive finger flexion (bending) are off-limits for the first 8 weeks as there is often a second surgery during that time frame to remove the pin that fixates the healing bone/tendon, and early goals of rehab will revolve around maintaining strength and mobility of the uninvolved fingers, as well as preserving range-of-motion of the joints of the finger involved. It will take ~6-8 weeks for the involved joint to heal from the fracture as well. As the weeks progress and Russ has less limitations in motion, he will be able to initiate strengthening, and a major focus of treatment will then transition to building grip strength, which is a major impairment from this injury. As you can imagine, grip strength is extremely important to hold and then throw a football, and Russ will spend plenty of time practicing throwing with his PT to make sure his form and comfort levels are similar to pre-injury. In a normal patient population, recovery takes 12+ weeks, but elite athletes are always the exception, and Russ may return in as little as 4 weeks if everything goes smoothly. Until then, Geno Smith will take over as starting QB, hopefully keeping the Seahawks in the competition until Russ can have his spot back.
Russell Wilson's physical therapy program will likely be with a hand specialist and may include some of the exercises you can see in this video.

Sources:
https://www.orthoillinois.com/wp-content/uploads/2016/12/ExtensorTendonISurgeryMalletFinger2017.pdf
https://www.seattletimes.com/sports/seahawks/russell-wilsons-injury-leaves-the-seahawks-at-a-bleak-crossroads-could-it-portend-the-end-of-an-era/
Categorized as: 2021 NFL Blog