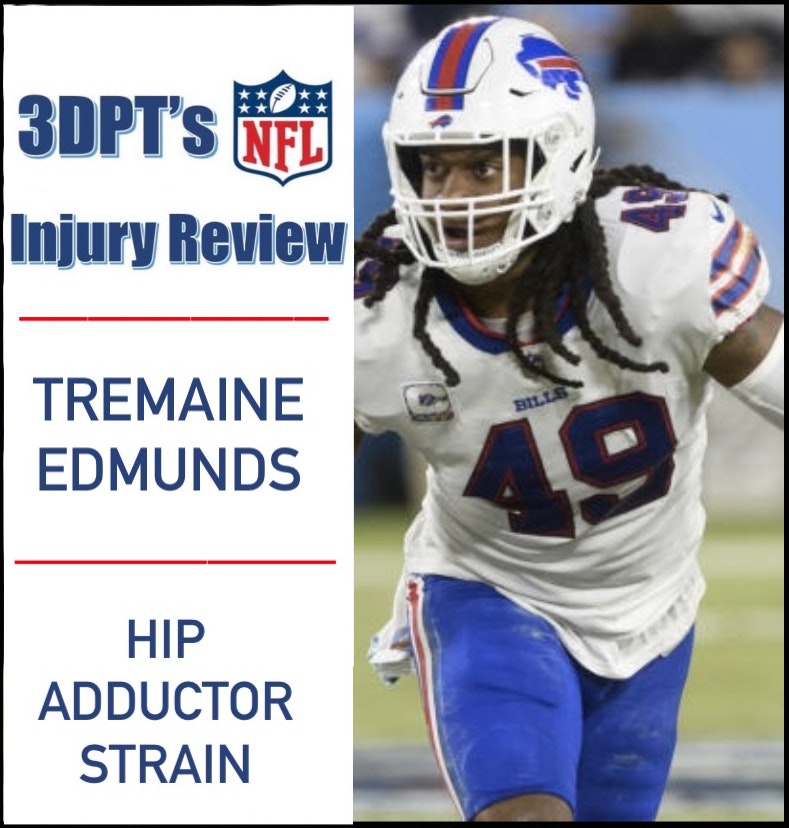 At a Glance –
Player: Tremaine Edmunds
Position: Linebacker
Team: Buffalo Bills
Injury: Adductor injury
Projected Recovery Time: 2-8 weeks.
The Bills played in what many have been calling the "Game of the Year" this past weekend against the Minnesota Vikings. The Bills defense was key in the first half of the game, holding the Vikings to 10 points. However, the Bills offense made some key errors that changed the outcome of the game, and the Bills lost a key player on the defensive end, Tremaine Edmunds, to an adductor injury. It has not yet been disclosed as to what the extent of the injury was, nor has Edmunds' return to play been discussed.
Injury to the muscles of the groin, also known as the adductors, is common in sports that require running and jumping. This type of injury often occurs due to tightness and over-stressing of the adductor muscle group, leading to a good bit of pain when walking or running. Sample's return will be likely dependent on the grade of the strain, which can be mild (Grade I) to severe (Grade III). If the strain is less than a grade 3, which is a complete tear to the muscle or tendon, Edmunds will likely be ready to play in the upcoming game vs the Browns. However, he will be putting the time in with his physical therapist to ensure that he is ready (and safe) to return. Edmunds's treatment plan will focus on addressing strength and flexibility impairments so he can return to sport with minimal risk of re-injury, as recurrence rates are high, and manual therapy and other modalities will be used to improve pain level so he can make a quicker return. Typical exercises to "bulletproof" the adductor muscles are slider lunges, adductor stretches, and adductor lifts. Edmunds may be able to return as early as this week to football, but he is going to continue rehabbing those adductors for the remainder of the season. The Bills' Defense could use him in the upcoming game against the Browns.
In this video, the 3DPT demonstrates a few exercises that could be incorporated into a rehab program for an adductor injury.
Early Stage: Lateral Slider lunge
Late Stage: Copenhagen Plank
Return to Sport: Carioca shuffle with hip drive
Source: https://sports.yahoo.com/bills-lb-tremaine-edmunds-injury-230044269.html?src=rss
Categorized as: 2022 NFL Blog,3DPT's NFL Injury Review